Miami is legendary for its party scene, and the beautiful people that abound in every nook and cranny of this delightfully seedy land of alligator filled swamps and glitzy beaches. So it makes sense that the most swanky hotel chain in Beijing would expand operations to this far away land.
To celebrate the opening of Swire's East, Miami, in Miami Beach they will be throwing a satellite party called Miami Nights at Xian this Saturday (Jun 18), with loads of South Florida-themed cocktails, food, and other vices to give you a little taste of this exotic land at the opposite side of the globe.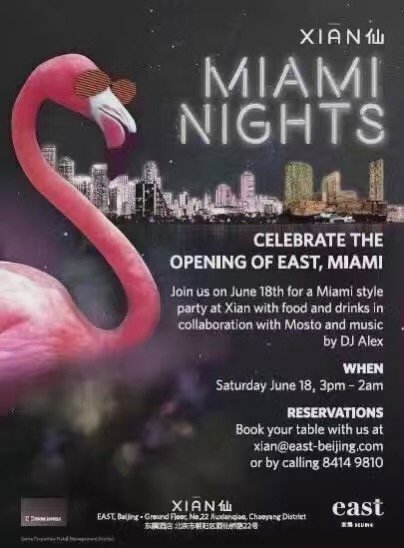 They have enlisted some help from the Latin food maniacs over at Mosto, who will be dishing out mouthwatering food to the masses, which includes ceviche, Cuban sandwiches, and other Miami staples so that you can get an authentic taste of the rich flavors. Of course, it wouldn't be a legit party without some of the drinks typical of this beautiful city, some of which include broiled lemon margaritas, red pisco sours, and a sure to be feisty drink of their own creation called the Miami Bitch. Only the best, and we're sure there won't be a basic mojito in sight.
Last but not least, prepare yourselves as award winning bartender, Douglas Williams of BBC makes you feel like Scarface with a special rum and cigar tasting if you happen to take part in these sinful but delicious vices. Your alcohol induced belligerence will no doubt have you calling everyone cockroach by the party's end.
Leave to the folks at East, Beijing to continually schedule great events that excite locals and travelers alike. But be forewarned, this party is going to be feisty and needless to say hot hot hot. Keep your abuelitas at home.
More stories by this author here.
Email: [email protected] 
WeChat: kippwhittaker
Weibo: @KippWhittaker 
Instagram: @KIDDWHIZ
Photos courtesy of East, Beijing

Visit the original source and full text: the Beijinger Blog