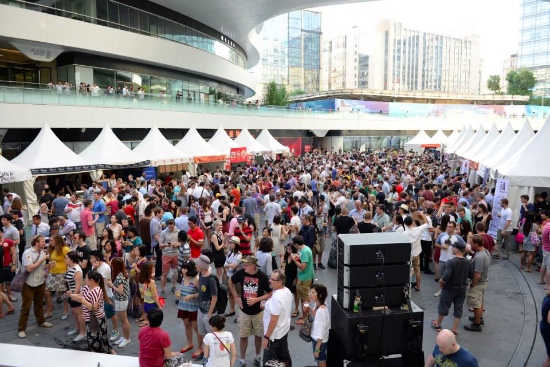 As we mentioned last week, Great Leap Brewing's Fourth Beijing Craft Beer Festival returns this Friday (1pm-11pm) and Saturday (midday-11pm) at Galaxy Soho. There's no entrance fee (hurray!) and beers will be served in 360ml cups for RMB 35 a pop. The throthy lineup is as follows:
Great Leap (Beijing): Honey Ma Gold, Imperial Honey Ma, Honey Ma Black, Beer Dictator Quadruple IPA, and Wall Builder Imperial Stout
Arrow Factory (Beijing): Seeing Double IPA, English Longbowman, Manman Lai session IPA, and Two Birds Lager
Jing-A (Beijing): Flying Fist IPA, Mandarin Wheat, Tuhao Gold Pilsner, Gaige Kaifang Triple IPA, and Mikayla
Slow Boat (Beijing): Monkey's Fist IPA, Endeavor Vienna Lager, Sea Anchor Imperial Vanilla Stout, Seamonster Seaweed Pale Ale, and Slutty Mermaid Triple IPA
Dongli Brewery (Beijing): Amber #21, Backyard Pale Ale, and DongLi IPA.
N Beer (Beijing)
Panda Brew(Beijing): Panda Eyes Honey Ale, Kuding-Ta IPA, Tang Dynasty Barley Wine, and the House Cider.
Boxing Cat (Shanghai): Mao Mat Lemongrass Lager, Contender Extra Pale, Brawlin' Belgian Witbier, and King Louie Imperial Stout            
Guangtu Brewing (Shanghai): Osmanthus Wheat and Guangtou IPA         
Bad Monkey (Yunnan): Wheat Ale, IPA, Stout, and American Pale Ale
Le Blé D'or (Taiwan): Honey Lager and more        
No.18 Beer (Wuhan): Film G. Milk Stout, Fog and Haze Wheat, and Nine Headed Phoenix Imperial IPA
Harvest Brewing (Chengdu): Tengyun Wheat Beer and Red Path Smoked Plum Stout
Strong Ale Works (Qingdao): Citra Pale Ale, Smiley Boy's Hull Melon, and Zier IPA
Master Gao (Nanjing): Jasmine Tea Lager, Baby IPA, Heroic Imperial River APA, Mad Ting Barley Wine, and Holly Devil IPA        
Devolution Brewing (Dalian): American Pale Ale, wheat beer, and stout     
In other brew news, Beijing Homebrew Society is organizing brewing lessons from June 10 to 12, overseen by the teachers Dongzi from Beerall, Wang Rui from Chengdu Harvest, and Jiang Qi from Wuhan No. 18. RMB 880 will get you a day of instruction and ingredients such as malt, yeast and hops, a lunch, and a flight of beers at Peiping Machine Brewing. Contact the organizers and register via WeChat ID: BJbrew.
Next up, North Capital has imported a series of Flying Dog beers, including Bloodline Bloodorange Ale, Snake Dog IPA, Fever Dream IPA, The Truth Imperial IPA, K-9 White Ale, and another 14 bottles to see our tastebuds dance through summer.
Finally, North Capital will also be holding a quiz night from 8.30pm onwards on Thursday (Jun 9). Everyone that participates a will be privy to happy hour prices, and the winning team will get a bottle of beer each. 
More stories by this author here.
Email: [email protected]
Twitter: @flyingfigure
Instagram: @flyingfigure
Images courtesy of the organizers

Visit the original source and full text: the Beijinger Blog