Now available year-round and often associated with indulgence and calories, ice cream and ice pops used to be a summer luxury for Chinese kids like me 20 years ago. When I was young, if the weather became so hot in May and there was no air conditioner, I would fight to get an ice cream.
At the time when refrigerators were not a popular households item, our ice creams and ice pops came from the white incubator attached to a bike. The bike man peddled through various neighborhoods. Upon hearing his calling, I would run home and get my money ready as quickly as I could to join the queue (there was always a line).
I enjoyed watching the man lifting the heavy cotton quilt covering the incubator, and wonder if a quilt would actually not make the ice melt faster (imagining myself wearing a quilt in summer). 
Many of the old-time brands that I grew up with have since disappeared and big brands dominate the market. But still, a few survived and still have the taste of summers past. Here are some of the old tastes that we found in Beijing, that despite the history, still beat today's heat perfectly.
Laoshi Xuegao (Old-fashioned Popsicle) 老式雪糕
The most interesting part of this creamy and sweet ice pop is the portrait on its paper wrapper. Can you see the line of kids waving money in front of the bike man? Get it at most convenience stores and newspaper stands for RMB 4.
Laoshi Suannai (Old-fashioned Yogurt Freeze Pop) 老式酸奶
If you love the laobeijing yogurt in a porcelain bottle, then you are going to love this. This has the same level of richness in an icy twist. Get it at most convenience stores and newspaper stands for RMB 4.
Shaungba Xuegao (Double-stick Ice Pop) 双把雪糕
This lighter and icy popsicle is made for sharing. Have fun splitting it like the one-off chopsticks. Find it at many convenience store, kiosks and 7/11 for RMB 3.
Hamigua Xuegao (Hami Melon Ice Cream) 哈密瓜雪糕
You might first assume this feast-size green bottle is hand lotion. Well, you are half right, as it is fruity ice cream inside. Keep the bottle as a sweets holder. It is only RMB 4 and a little rarer than the others.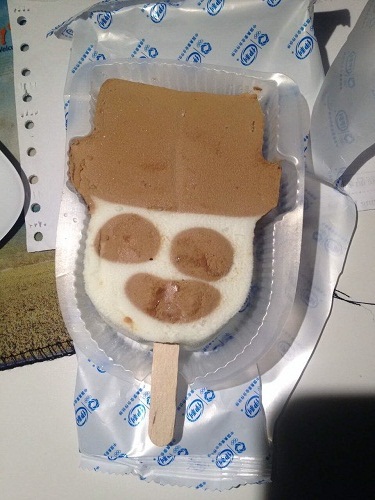 Xueren Xuegao (Snowman Ice Pop) 雪人雪糕
In the early 1990s, this handsome snowman was a popular Chinese child's first chocolate and milk ice cream. It was so much fun to eat it in different orders to bid adieu to the snowman. It is RMB 3 and a little rarer than the others.
Photos: courtesy of Clemence Jiang and Peng Luo

Visit the original source and full text: the Beijinger Blog