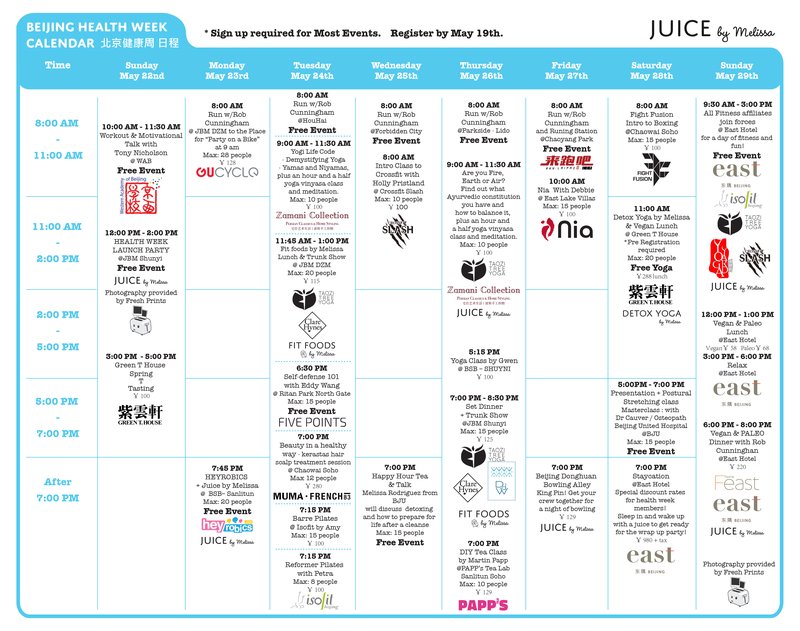 Don't feel bad if you live a healthy lifestyle but will still be attending the Burger Festival on Saturday. The final weekend of Beijing Health Week, organized by Juice By Melissa, will give you plenty of opportunities to redeem yourself on Saturday, May 27, and Sunday, May 28.
Saturday morning starts out with an introduction to boxing by our friends at Fight Fusion at 8am at Capital Training Center in Chaowai Soho. Take a breather after that and join Juice By Melissa Founder Melissa McKenna for detox yoga and a vegan lunch at Green T. House. At 5pm, Beijing United Family Hospital presents a postural stretching masterclass (stand up straight!).
Participants for Sunday's events, all of which are held at East Hotel Beijing, may wish to make the most of the occasion by registering for a staycation at East, RMB 980 plus tax, which also includes a juice.
Sunday morning begins at 9.30am with presentations and fitness opportunities with East, Isofit Beijing, Yoga Yard, Taozi Tree Yoga, Crossfit Slash, and of course, Juice By Melissa. Participants can also enjoy a vegan or paleo lunch, and a vegan and paleo dinner with East Executive Chef and Dining Hall of Fame member Rob Cunningham.
Space is limited for many events and some fees apply. See the schedule below for more details or click here for more information.
More stories by this author here.
Email: [email protected]
Twitter: @greatwriteshark
Weibo:​ @SinoScuba潜水
Image courtesy of Juice By Melissa

Visit the original source and full text: the Beijinger Blog