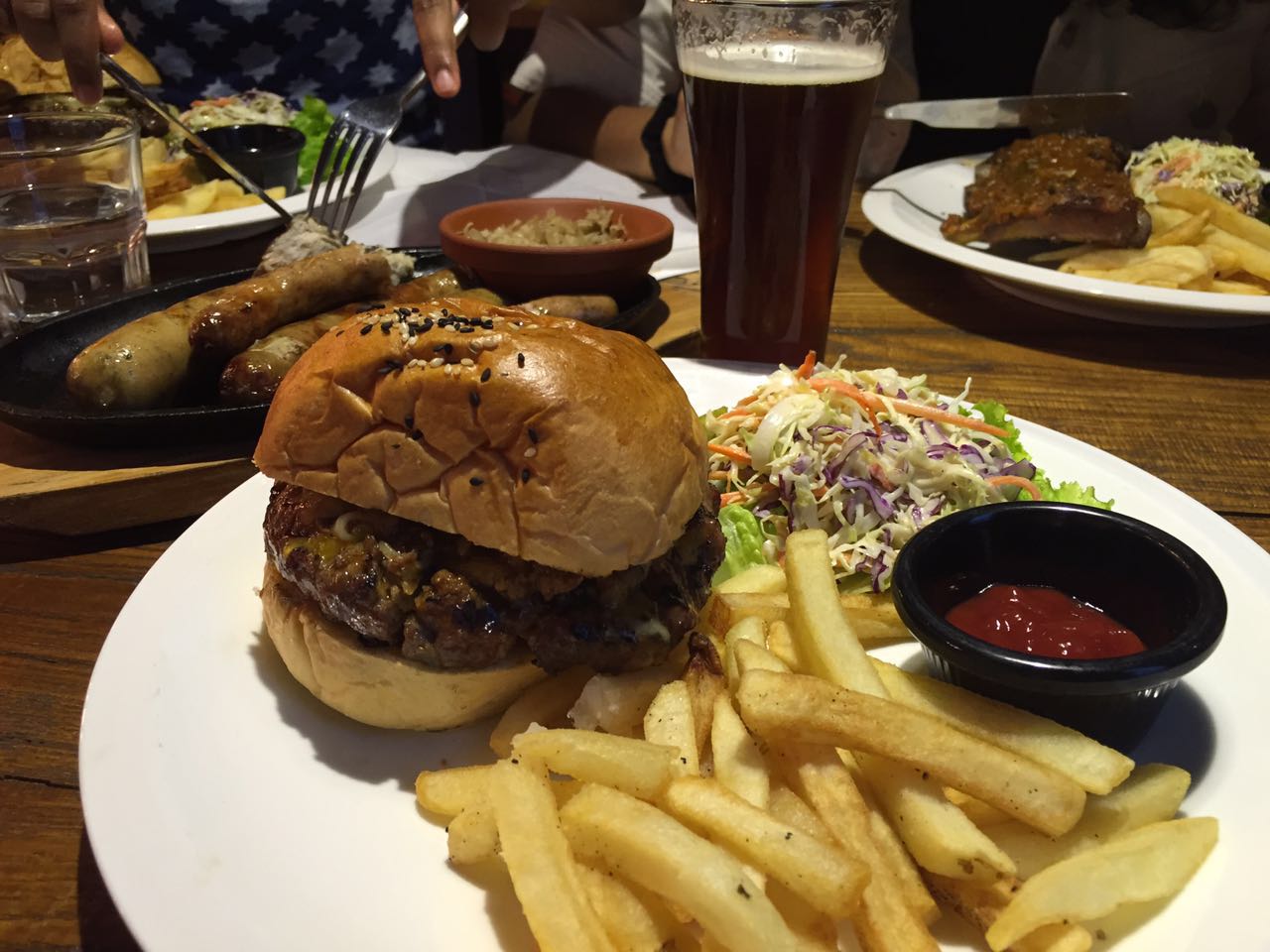 As part of the Beijinger's month-long Burger Cup (which kicked off May 16 with burger specials around town), we take a closer look at some of this year's participants. For today's segment Anjana Kainikkara, Shunyi correspondent at our sister magazine beijingkids, pays a visit to Koli's Camp with her family. This burgeoning Shunyi eatery's staff will not only be slinging burgers at our May 28 Burger Festival, but also vying for the title of Burger Cup champion (voting for which begins on May 30).
With the closing of Charcoal Grill, Shunyi lost a casual dining option. But don't worry: the recently opened Koli's Camp is proving to be a great substitute that not only offers good craft beer, but great food as well. We headed over to the space during the week and found the ambience to be both charming and rustic, with the brewing operations visible behind the counter and fire wood stacked across from the bar. We ordered a couple of burgers, some nachos, and a german sausage platter.
Their "classic 250 burger" (named after its hefty 250g beef patty) is great value for money at RMB 88. Topped with a combination of grated cheddar cheese and lightly sautéed chopped onions, it was extremely flavorful and comes with a side of fries, coleslaw, and pickles. The classic burger's patty was crisp and well done on the outside, but medium rare and juicy in the middle, and was rounded off with a deep smoky charcoal flavor. The restaurant also offers a spicy version of this burger with a beef chili topping, which we absolutely loved and devored like there was no tomorrow. It had an extra kick, but the flavors were divine and the spice perfectly balanced, not overpowering the other bold flavors of the burger. What's more, the bun is topped with black and white buttery sesame seeds.
We made the most of Koli's numerous craft beers and tried a few different kinds. We especially enjoyed the Ram's Head Lager (RMB 25 for a small, or RMB 35 for a large) while the kids ordered milkshakes and a non-alcoholic cocktail, which they, perhaps worryingly, gulped down happily.
Other reasons to visit are that the staff was extremely polite and courteous and the portions are huge – my husband could not finish his burger – indicating that next time we should probably just order three mains to share between four people!
There is a dearth of good casual dining options in Shunyi, so this is definitely a welcome debut. Located adjacent to the BMW showroom, and with good food, great beer and a laidback atmosphere, not to mention outside seating options for clear days, it's bound to catch on and provides the perfect hangout spot for the Shunyi folks.
The Beijinger's 2016 Burger Cup is brought to you in cooperation with the following sponsors: Oasis Hospital, McCain Fries, Santa Fe Movers, Etonkids, Lonely Planet, Xian Cheng, and Asian Tigers.
Photos: Anjana Kainikkara

Visit the original source and full text: the Beijinger Blog