Most burgers have succulent beef patties often topped with cheese, lettuce, tomato, and contained by a sesame seed bun. Well, ladies and gentlemen, what you are about to behold aren't your standard burgers.
RELATED: Everything You Need to Know About this Saturday's Burger Cup Festival
We visited top-notch hotels and brunch menus across the city for extravagant renditions of this comfort food staple, and to our surprise discovered just how decadent – apart from dipping those buns in liquid gold and sprinkling them with diamonds – a burger can get. We don't yet have the metabolism to break down bling. But before we digress into some tangent on human evolution and the stomach's ability to digest hard minerals, here are our favorite elite burgers that totally changed any preconceived notions of what we thought a burger was or could be, and may the gods have mercy on our souls.
Domain EAST – Australian Wagyu Beef Burger (RMB 118)
The Wagyu beef burger at Domain is doing a lot of things right. First, their selection of Wagyu beef is mixed with an appropriate percentage of fat to give the burger a perfect consistency of lean meat and fatty juiciness. This little beast was described to us as being a blend of both Australian and American burger styles, using crispy bacon and a beetroot chutney to add a zesty flavor explosion in that greasy piece of real estate down under (the burger meat). The patty itself is more backyard barbecue in its thickness, opposed to the thin ones you would likely find in a Sydney diner, Australia native Chef Rob Cunningham explained. Maybe it's the RMB 118 price tag that puts some people off from sauntering over to Indigo just to chow down on a noteworthy burger, but if you go on Thursdays it's two for one and definitely worth your hard-earned money.
Bistrot B at Rosewood Beijing – Wagyu, Foie Gras Burger (RMB 220)
This burger from Bistro B sits very pretty on a perfectly-toasted bun, glistening with a thick coat of succulent foie gras on a massive Wagyu beef patty. We could imagine a historical figure like old, fat Marlon Brando or Orson Welles slobbering all over this supremely rich example of a hamburger. In fact, they should probably change the name to Rosebud as we will no doubt be whispering the memory of this culinary achievement on our deathbed. The taste far exceeded any expectations we may have had about this juicy mess, but with a price tag of RMB 220, that's exactly what it needed to do to be worth our attention. This sort of beefy luxury never comes cheap. If there were a Golden Globle, Academy Award, or Grammy for hamburgers, then this would unquestionably take home top honors. Wait, there is! Make sure this amazing monstrosity receives the prestige it deserves when this year's Burger Cup voting begins.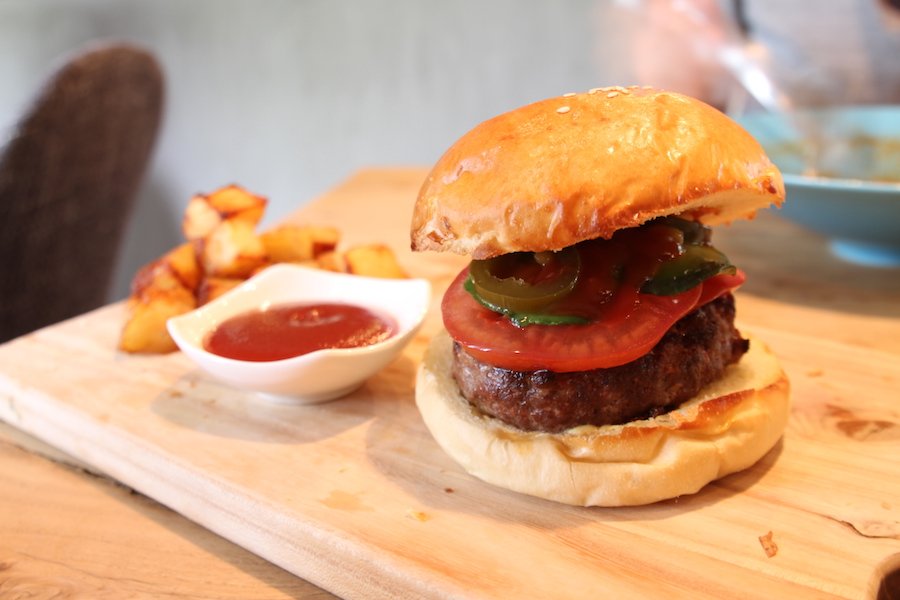 Mosto – Wagyu Burger (RMB 125)
It is known that brunches are an ideal method of recovery after a long night of drinking. Mosto is ground zero for such people looking to regain consciousness with a terrific selection of breakfast and lunch delicacies among which their Wagyu Burger proudly stands. It's more or less your typical burger but made with great ingredients to help your alcohol-poisoned brain regain some form of functionality with its fatty hangover softening characteristics. It stands tall with thick with layers of avocado, roasted onions, tomatoes, and jalapeños. While we enjoyed the overall flavor, the patty was comparably small to others we had tasted for this roundup. Despite this slight shortcoming, it was still a very satisfying option; that is sure to please upper-crust brunch and lunch hounds around the city. Make sure that you don't delay your trip until evening if wanting to experience this little beast because after 5pm, the dinner menu hits the deck and this item is no longer available.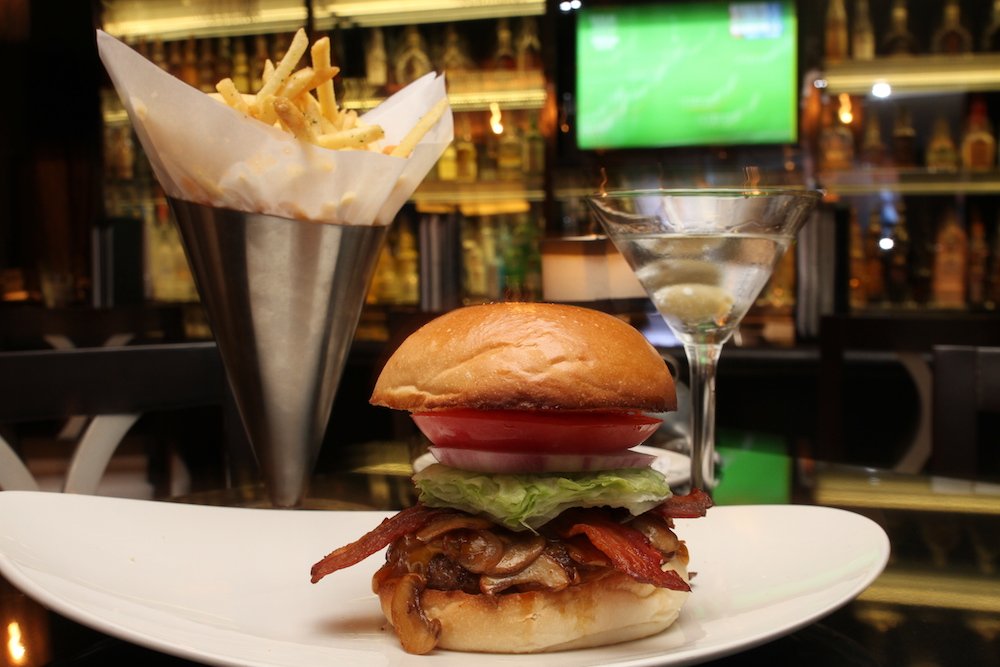 Morton's of Chicago – Morton's Prime Burger (RMB 180)
From the American kings of  beef comes a burger that belongs in a culinary museum, so that future civilizations will know of its glistening perfection. Made with a perfect combination of freshly-ground sirloin, your choice of cheese, sautéed onions or mushrooms, crispy American-style bacon, and a valiant sesame seed bun, these folks weren't fooling around about creating a burger that's equal parts backyard barbecue and Michelin-starred restaurant. While consuming, one thing remained certain, and that was this burger was all about the beef, so much so that you might feel compelled to grunt a little while trying to maneuver this bad boy between your lips. We recommend pairing it with a Mortini and a side of their pungent truffle fries, for a truly dignified burger experience.
Let's Burger Plus – Elvis Burger (RMB 99)
It's still a subject of some debate as to whether a diet of these mutant hamburgers, or equally outrageous food typical of Elvis Presley's dietary habits caused the king of rock n roll's untimely demise. It is, however, a likely culprit with its copious decadent fixings fit for rock royalty. This list of heart-choking ingredients begins with a thick grilled beef patty topped with caramelized bananas, bacon, and peanut butter sauce that drizzles down this sloppy mess of a burger like Kentucky rain. It is essential to give the buns a slight downward press so that this monster becomes a manageable size, but in the process, the bananas and peanut butter sauce turn into a delectable mush, characterized by a slight crunch from the sugar coating, making every bite a delight. Maybe some uppers from Dr. Feelgood would make for a good pairing because after one of these you will definitely be sent into a deep food coma.
More stories by this author here.
Email: [email protected] 
WeChat: kippwhittaker
Weibo: @KippWhittaker 
Instagram: @KIDDWHIZ
Photos: Kipp Whittaker

Visit the original source and full text: the Beijinger Blog