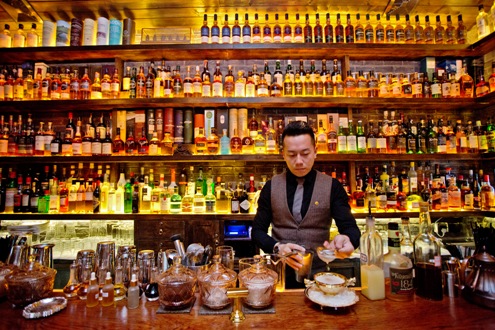 Dancefloors, games, and artisanal drinks, these are a few of Beijing's favorite things. Every year a new round of bars and clubs enter the game, showcasing innovative spaces to whet your going out appetite. Three of the newest kids on the block impressed you enough at our 2014 Annual Reader Bar & Club Awards to walk away with accolades as voted by you.
Earlier in the year we reviewed each of these bars in-depth, and at number one is Hidden House, a superb rendition of the speakeasy vibe long ago lost to prohibition legends. Outstanding achievements were awarded to the impressively large, yet curiously concealed, Ink, and gamer paradise 8-Bit. Click through each bar to see our detailled reviews, or better yet, go to each of them and be at the forefront of knowing what's hot in Beijing.
Full results below:
BEST NEW BAR/CLUB
Hidden House
The complete results for the Beijinger 2014 Reader Bar & Club Awards winners can be found here.

Visit the original source and full text: the Beijinger Blog