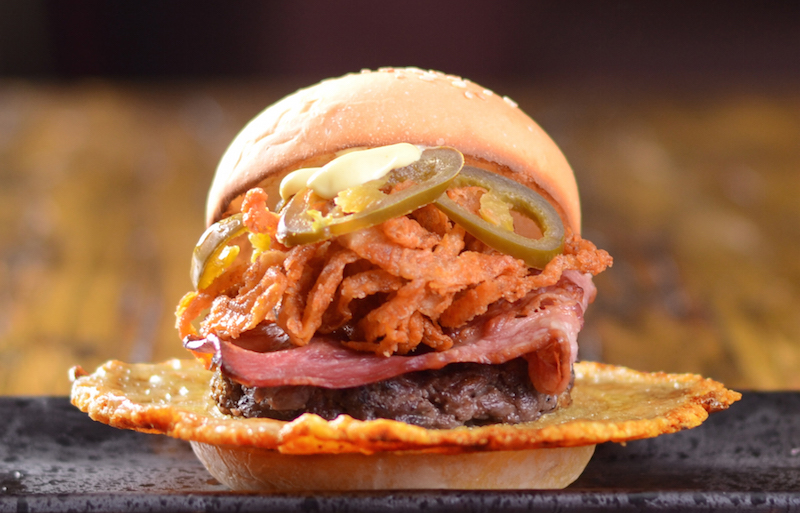 In the lead up to the Beijinger's month-long Burger Cup (which kicked off May 16 with burger specials around town), we take a closer look at some of this year's participants. Today we're grilling Q Mex chef Marcus Medina, one of the many restaurateurs who will not only be slinging his new cheese-skirt burger at our May 28 Burger Festival, but also vying for the title of Burger Cup champion (voting for which begins on May 30).
A crisp, palate enchanting layer of cheese tops Q Mex's new burger. This combination of griddled cheddar and mozzarella is dubbed a cheese-skirt, and it sprawls several centimeters beyond the bun, offering an aesthetic and texture unlike any that Beijing's burger enthusiasts have seen.
Q Mex chef Marcus Medina has wanted to make his own version of this crunchy, flavorful topping ever since he first saw it made at a tiny diner in Sacramento. "It was a simple little place, and all they did was make these unique grilled cheese-skirt burgers, which they became very well known for," he says.
Medina had seen cheese prepared in such a fashion, but for a very different dish and in a very different locale. "In Mexico we have this awesome technique called queso fundido, which refers to melted cheese," says the chef, who is of Mexican descent and attended chef school in Mexico City. "We'll grill it and griddle it, then use it for tacos. So I decided to add the griddled element to what this Sacramento diner had done, to give the cheese-skirt a Mexican twist."
Below he tells us more about what makes this cheese-skirt burger special. 
Brief us on your beef.
I met (famed chef) Danny Meyer before he opened Shake Shack. We were chatting at an event in New York at that time, and he told me, "The secret to a good burger is simple: it's all about the meat." So for our burgers, the most important element is trying to get the right cuts, the right blend of fat to lean beef, so that it's still juicy while not being too messy.
Give us the lowdown on your toppings.
I lived in South America – Rio, thirty years ago – and was absolutely craving a burger. McDonald's didn't do the trick. They used way too much of the sauce, probably to mask the poor quality of their meat. So when we make a burger here, we keep in mind that the meat is number one. Number two is the cheese that complements it, so you don't need a lot else.
But we do have some toppings on this cheese-skirt burger, to make it spicy, because we're a Mexican restaurant. Mainly jalapeños and crispy fried onions, along with a red chili sauce. Together they give the burger a bit of a kick, but none of it is too overpowering, becuase we don't want to distract from the meat and cheese, which are the most important part.
Bun conundrum: what bread is best suited to hold your burgers together?
When I was working in the F&B business in New York City, I worked next to a bakery called Cousin John's and would stop by to chat with people that worked there. The owner, John Barricelli, became Martha Stewart's baker and chef. He cooked for the Clintons and other famous guests whenever they visited Martha's house. He became a TV personality in his own right. But before all that, at Cousin John's, he told: "Me if you want to make a good burger, remember that not all flours are equal." He taught me a recipe for burger buns. I took it to our purveyors and bakery, and they used our recipe. It's nothing fancy, but it has the right fluffiness while still holding itself together.
Whats your beef patty philosophy?
Last year we just sold our regular burgers at the Burger Festival. This year, we're focusing on the cheese-skirt, even though it's more challenging and takes longer to prepare, and we know that means we won't be able to sell as many burgers as quickly. It'll take more time, but it's going to be special. We're not there to make a quick buck. We want to get our name out there and show people what we can do. Q Mex is not about today, we're always thinking about the long game. It's easy to lose your edge otherwise. You always want to strive to be at the top of your game. For us, it's about the direction we're going, and what that direction means.
Photos: Q Mex
The Beijinger's 2016 Burger Cup is brought to you in cooperation with the following sponsors: Oasis Hospital, McCain Fries, Santa Fe Movers, Etonkids, Sherpa's, Lonely Planet, Xian Cheng and Asian Tigers.

Visit the original source and full text: the Beijinger Blog