These images courtesy of Dangerous Minds feature some impressive architectural renderings of a future floating city currently in development. The man-made island is being designed by the AT Design Office and was commissioned by the China Communications Construction Company (CCCC).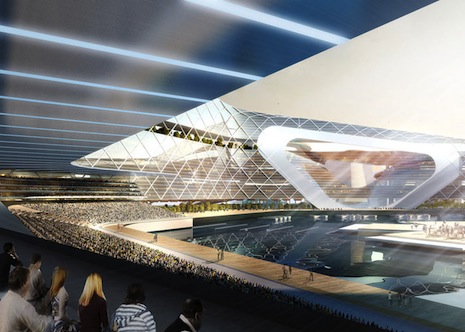 With an area of about four square miles, the engineering will make use of technologies that CCCC is already using to build a 31-mile bridge that will connect Macau and Zhuhai to the mainland.
In this city of the future, you can expect a transportation network of yachts, submarines, and who knows, maybe dolphin powered chariots for the elite. While it will probably never be realized, it's always super exciting to visualize all of the natural disasters that could easily wipe it all away. Check out this summary by My Modern Met Blog:
The Floating City will have an above ground layer and an underwater layer. There are two designated areas for greenery and gardens, plus a network of walkways and tunnels that will allow people to traverse the city. AT Design Office is opting for electric cars to reduce pollution and they have ports for submarines to dock. They also have a series of canals and waterways that will allow boats to operate as a means of transportation. The city will have a farm, a hatchery, and a waste disposal center in order to be entirely self-sufficient. AT Design Office has plans for a hotel and an entertainment hub that will appeal to residents and visitors alike. The city's link to the outside world will be an enormous cruise dock that will facilitate travel and tourism. If this plan becomes a reality, then floating cities may very well be the wave of the future.
It seems like another case of someone's job resting on the motto "dream big or go home."
Photos: dangerousminds.net

Visit the original source and full text: the Beijinger Blog