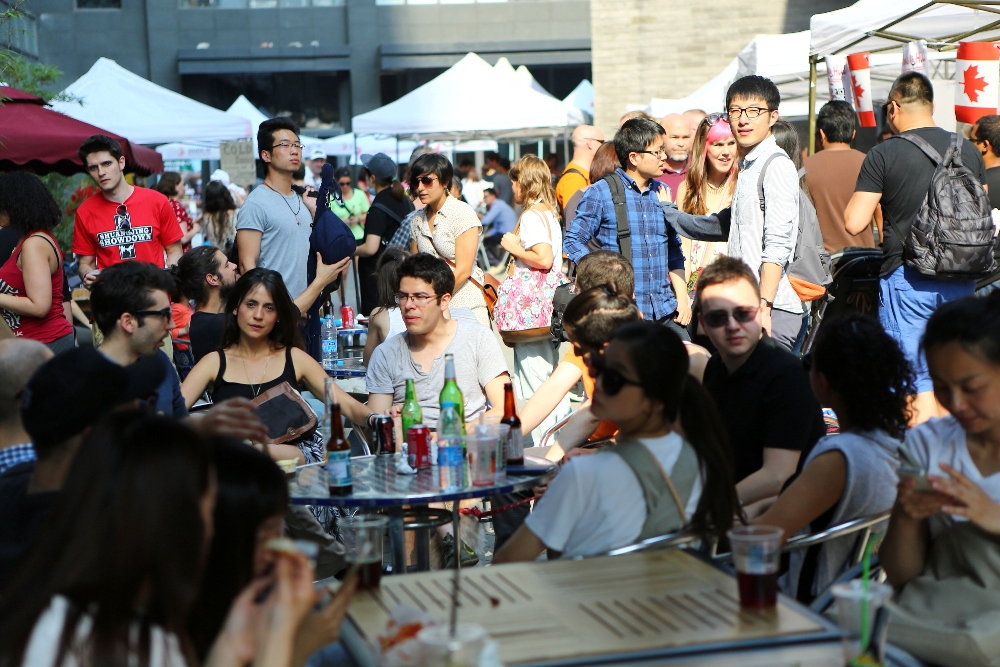 Beijing, like any other megalopolis, is partitioned into various distinct neighborhoods, each with unique physical characteristics and clustered demographic groups. We have hipsters in the hutongs; villa-residing Shunyi folks; students in Wudaokou; and, of course, working professionals and artists in Shuangjing.
Now's the time for Shuangjing residents and those that have never given this neighborhood a chance to see what an epic party can be thrown south of Guomao. So on Saturday afternoon mosey on down to Shuangjing for an event that's going to showcase all the area has to offer. Entering its fourth consecutive year, the Shuangjing Block Party will transform the already vibrant 22 Art Street at the north end of Pingod into a foodie paradise.
You'd be well advised to show up on an empty stomach because the food and drink options are going to be immense. Still not sold? Check out photos from last year's event, also look at the list of vendors confirmed so far:
1. Canada China Business Council
2. Jing Jobs
3. Plan B
4. Tiger Beer
5. Hongruixiang
6. Amarula
7. Meijile
8. Dreamaker
9. 4Corners
10. The Beijinger
11. Zamani Carpets
12. Tim's Texas BBQ
13. Valo Art
14. Duvel
15. Crown Relocation
16. Puhua Healthcare
17. Eatalicious
18. Ganges
19. Beck and Stone Vets
20. Big Bear Cookies
21. Bad Monkey Beer
22. 1421 Wines
23. Cuju
24. BCIS
25. Andy's Craft Sausage
26. Tava Table and Vine
27. Pet Orphans Home
28. Maimai Totes
29. Anna Flowers
30. Parwaaz Spice
31. Distel
32. Vivi Gelato
Don't forget to bring the kids: a bouncy castle, clowns, and face painting will be on-site.
Photos: the Beijinger, Plan B

Visit the original source and full text: the Beijinger Blog