The weather continues to get warmer and warmer, and our beloved The Rug is ready to launch a completely revamped menu following the return of the restaurant's owners. After an elongated trip, management are ready to combine their findings, having garnered inspiration from dishes found in Southeast Asia, Africa, the Netherlands, Spain, Italy, India, and even Taiwan's famous street snacks. We had the honor to taste this range of refreshing and varied dishes before their official release next Wednesday (May 25).
More than half of dishes on the menu have been completely revamped but the classic and signature brunch dishes, such as kimchi and pork stir-fried eggs benedict bagel brunch (RMB 138), smoked salmon and spinach egg bagel brunch (RMB 119), and shakshuka, inspired by north African cuisine, remain. They've also kept their popular organic Greek yogurt, which they introduced to Beijing in 2011.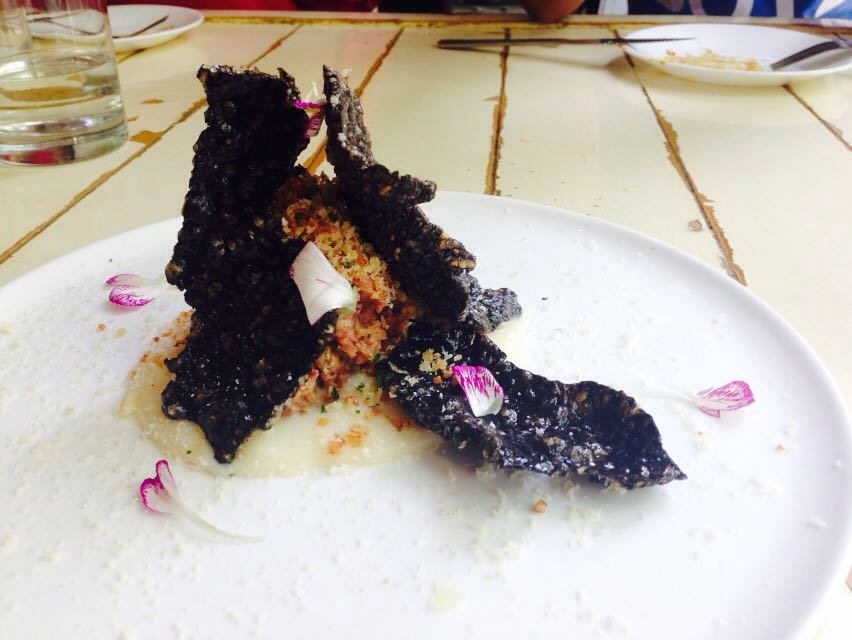 Nine appetizers have been added to the menu, and include dishes such as homemade kingfish ceviche (RMB 68), a particularly refreshing dish, featuring lime, avocado, and special rice crackers. The intriguing Typhoon Shelter Beef Tartare (RMB 68) is constructed from fresh raw beef, cured egg yolk, and special rice crackers dyed black with squid's ink. With a beautiful mix of flavors and textures, you can eat this dish as you would nachos, scooping up the fried garlic insides with the rice crackers. Spicy food lovers may want to opt for the spiced cauliflower greens (RMB 48), which are full flavor and spice.
Another new addition is a chicken and mango egg burrito, the shallot roll and wrapping something akin to a congyoubing (葱油饼, scallion cake), but hiding inside is a delicious combination of grilled chicken, avocado, and tangy mango sauce.
The Virgin Bloody Hulk Cold Soup (RMB 48) is a homemade chicken soup, avocado, corn fritter and jalapeños. For 5 kuai extra you can add a dash of vodka to the mix, which we'd certainly recommend as the alcohol helps bring together the complex flavors of the dish.
We also tried their homemade smoke salmon and bacon Dutch baby pancake (RMB 92), topped with stir-fried onions, and comes with a serving of honey. This proved to be yet another dish that was incomparable to anything we'd tried before and made for a very unique dining experience.
For their current seasonal dinners, The Rug is also offering peri-peri grilled chicken waffle hash (RMB 128), 21-day fermented house steak (RMB 248 for 227g) and handmade gnocchi slow braised pork ribs (RMB 98).
Speaking of desserts, to their classic apple cranberry crumble (RMB 48), No. 7 whiskey walnut cake, chocolate fondant (RMB 48), tiramisu (RMB 59), soufflés (RMB 68), and dessert pizza, they add a lemon berry yogurt nut cake, and a hot banana chocolate cupcake served with vanilla ice-cream (RMB 52). The latter was so good that it left everyone fighting for every last spoonful, the melted chocolate mixing with the fresh banana, and mingling with the creamy vanilla ice-cream, leaving just one voice in your head repeating "one more bite, one more bite."
Last but not least, how can we talk about the food without pairing the drinks? We highly recommend these new cucumber shots (two for RMB 28, add RMB 14 for each additional shot for a maximum of six), made of gin and a house special spices blend made up of brown sugar, fresh lime juice, black pepper, and sea salt. I have to say, I didn't think that my addiction to The Local's Naughty Pear could be broken but these shots certainly did the trick.
The wine list is also surprisingly considerate; 14 of the 22 wines available can be served by the glass, at a very fair prices, ranging from RMB 30 to 48. There are also four fancy and award-winning beers on the beer list, including Single-Wide IPA and Boulevard Pale Ale, both from Boulevard Brewing. The Pale Ale remains one of my personal favorites, with fruity aromas that allow it to pair well with most dishes. The other two options are Firestone's California Pale Ale and the Union Jack IPA.
Overall, The Rug's ongoing attention to detail continues to impress and they've certainly gone out of their weigh to create some fantastic new dishes that will attract all palates. We can't wait to head back and try more.
More stories by this author here.
Email: [email protected]
Twitter: @flyingfigure
Instagram: @flyingfigure
Photos: Tracy Wang

Visit the original source and full text: the Beijinger Blog