Before it becomes too hot to hang out outside and really enjoy our fair city, we took a look at Beijing's best rooftops, terraces, and even hutong stools. While this is not an exclusive list (check out our website for a more comprehensive list) of what is out there, these are some places we believe everyone should have been to, at least once. For addresses and opening times, see our Directory.
Eating
Brasserie FLO 
With a 17-year history in Beijing, Brasserie FLO has walked away with many trophies at our annual Beijinger Reader Restaurant Awards, and that is no coincidence: its menu draws on the classical French kitchen and quality always lives up to expectations. They also have a peaceful terrace outside for the next few pleasant months.
Capital M
Capital M has long been one of the most incredible al fresco dining locations in the city, with an iconic view of the southern end of Tiananmen Square, looking out over historic Qianmen Street, and with interior design, food, and service to match.
Dali Courtyard
This incredible Yunnan restaurant has encompassed the quintessential hutong dining experience for many, and also sports a courtyard dining area.The fact that Dali Courtyard does set meals means you don't have to think about what to order, and can just sit back, relax, and enjoy.
Great Leap #45 Brewpub
If you're looking for al fresco and American-style pizza, the latest Great Leap is the only way to go. This relatively new restaurant has proved its success in the past year, with the rooftop overflowing on both weekday evenings and during the weekends. Get there early to score your table.
King's Joy
This beautiful and refined courtyard brings creative vegetarian fare to a mere stone's throw from the Lama Temple. The food is of equally high standards, but is definitely quite pricey, so make sure you're prepared for that.
Mosto
With a peaceful balcony like this one, you wouldn't think that you were only a minute walk from the busy streets of Sanlitun. Combine that with delicious food influenced by European, Mediterranean, and South American cuisine, and we're happy.
Toast at the Orchid
Burrowed in the Gulou web of traditional Beijing hutongs, The Orchid's rooftop is tranquil and offers an unlimited view of the area. Head there for brunch on the weekend and you won't be disappointed. 
Sureno
Sureno's tranquil sunken terrace at the heart of the bustling Taikoo Li North makes for a wonderful location, regardless of whether you're looking to have a business lunch, afternoon tea, or a romantic dinner date on a steamy summer day.
Susu
Reminiscent of that serene hutong courtyard home we all wish we had, these surroundings only make the exceptional Vietnamese flavor combinations you'll find on on Susu's menu that much better.
Tiago
Confident Italian located in Indigo Mall. During Beijing's hot summer months, their sunny patio opens up even more possibilities to enjoy their delicious pizza or amazing tiramisu. In the hottest months, the patio is best utilized during the late afternoon or early evening.
Drinking
Arrow Factory Brewing
The new Arrow Factory Brewing at Liangma Qiao certainly has a rooftop worthy of after-work drinks, but this location is also a hit on weekends with plenty of Beijing's craft beer fiends. A recent menu revamp has also made the brunch an even more attractive option.
Blue Stream Bar
For that hard-to-find rooftop and live music combination, head to Blue Stream Bar. The blues and folk music happens downstairs, and they have a snug roof terrace with a great view of both the Drum and the Bell Towers.
Cantina Agave
Cantina Agave has long been Beijing's most popular 'margaritas-on-the-roof' location, and thankfully, we can expect another summer of sunshine and tequila. The menu also has decent tacos and burritos, if you're looking for a bite to eat too.
Great Leap Brewing Original #6
The original Great Leap Brewing location has plenty of space for both day and night time drinking, and is a convenient pit stop if you're showing a friend around the hutongs. We dare you to want to leave here on a beautiful day.
Heaven Supermarket
These popular outside tables fill up quickly during the summer months with people flocking to select a beer and more from the fridges at Heaven Supermarket. Although we feel we're now too old to really enjoy this place at night, its roadside terrace is definitely not off-limits while the sun is out.
Jing-A
There's not that many tables outside at this popular Beijing-based craft beer brewery, so get there fast before everyone else gets out of work and beats you there. The peaceful surroundings of 1949 make a visit worth it.
Mas
With a couple of tables outside for hutong-side cocktail sipping, we highly recommend Mas' tropical-inspired concoctions, especially as the mercury rises. Don't miss out on two-for-one Daiquiri Tuesday for even better value.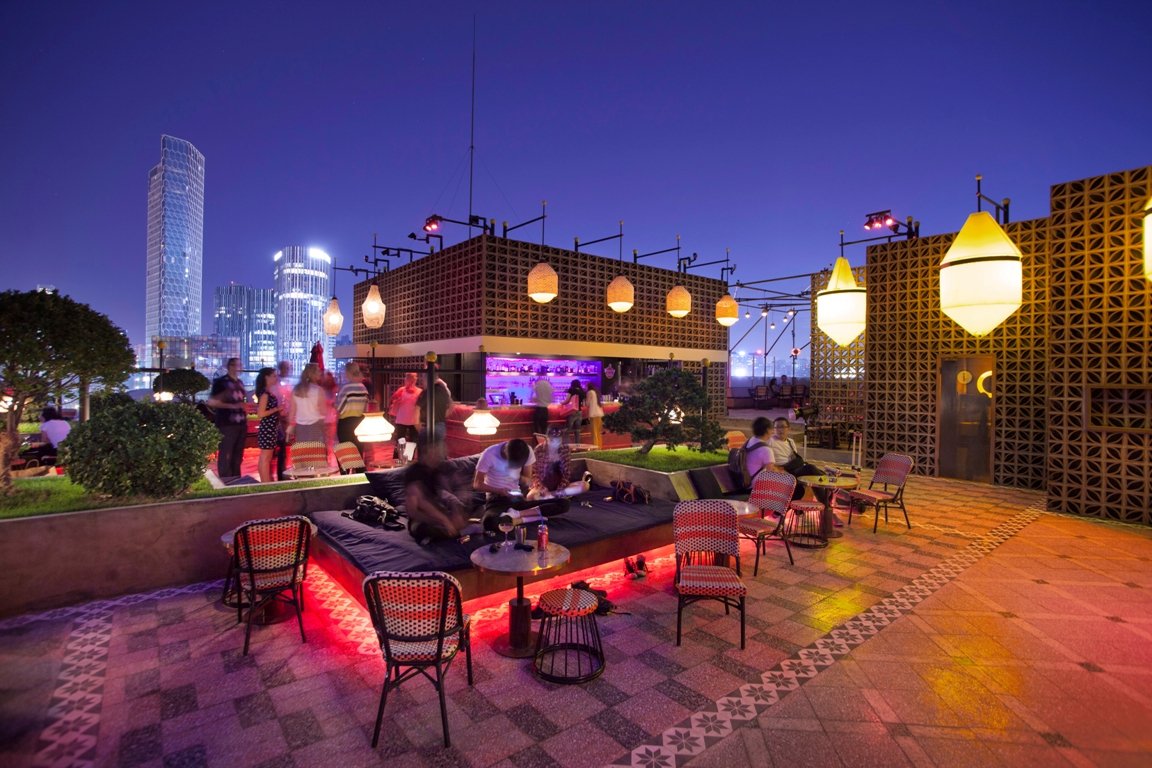 Migas 
Making most other al fresco drinking options appear sedate, Migas brings Beijing's international clubbing scene to the outdoors, with plenty of DJ and live music events to take you from late spring to late autumn, to the backdrop of Beijing's Sanlitun skyline.
Shang at The Emperor Qianmen
This is where we all wish we could drink every day: Shang Bar on the roof of the Emperor Hotel at Qianmen, next to the pool, overlooking Beijing's most historic buildings, sipping on some classy cocktails. For pool access, fork out RMB 258 for three hours – we reckon it's totally worth it. 
Yin on 12 (pictured on top)
The fact that Yin on 12 is located in Chongwenmen won't even be on your mind after you see how stylish the terrace, the people, and the drinks are at one of our favorite hotel rooftop bars. Get here for sunset on a clear day to enjoy Beijing's true beauty.
More stories by this author here.
Email: [email protected]
Instagram: s.xuagram
Photos courtesy of Yin, Brasserie Flo, Migas

Visit the original source and full text: the Beijinger Blog