Opened in January 2016, River Homebrewing & Steak is not a traditional brewpub or restaurant. Instead, it's a combination of a lot of things, including imported beer and microbrews, and fusion food from different countries.
The bar is 240 square meters and two floors. It offers a business lunch set from Monday to Friday, and an a la carte menu in the evening and on weekends. Owner Liang Qi was a professional chef for 16 years, including 10 years of Japanese food, then French, Italian, Southeast Asian, and Chinese cuisine, before he finally turned his attention to craft beer.
There are nine beers on tap, including four imports such as Brugge Zot (RMB 38 for 330 ml), Rogue, St. Louis Cherry, and five from domestic brewers: Tiaodonghu IPA and Film G Milk Stout (RMB 32 for 450 ml) from Wuhan No. 18 Brewing; and Belgian Wheat, Deamon Worrier IPA and lager from Chengdu Harvest Brewing. To try them all, you could ask for a flight (RMB 68).
"Now the Punk IPA from Brewdog will be on tap this week," said Liang. Unfortunately, the draft beer he brewed was out of stock when we visited. They just imported about 50 bottled beers, such as Ballast Point, Yeti Imperial Stout, and Titan IPA from Great Divide Brewing, along with Dogfish, Flying Dog, Stone, and Brewdog.
We checked the menu (it's bilingual, so thoughtful), they have proper appetizers and salads, so we ordered a special salad including tuna, tofu, and shrimp dressed with preserved egg sauce (RMB 68), which sounded weird but tasted good. They have grilled vegetables, Japanese ramen (RMB 38), soups and main courses such as braised beef (RMB 88), stewed mussels with white wine (RMB 68), Australian grain-fed steak in three sizes (RMB 388, 488, and 588, respectively), and snacks.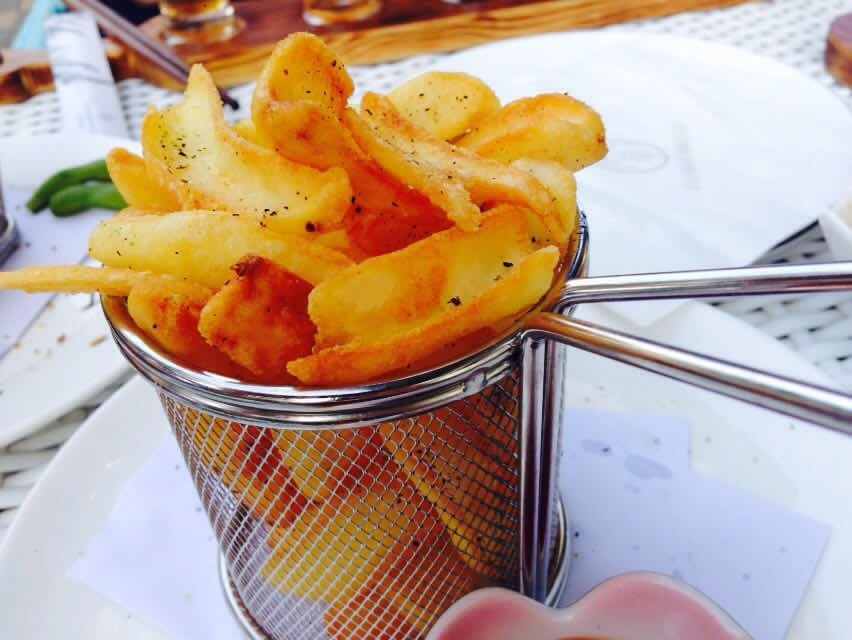 The asparagus and okra in sauce (RMB 22) was Japanese style, fresh, full flavor of sauce, and most important, goes well with beers.
We also ordered some homemade sausages. They were spicy, juicy and tasty, and I would say a strong potential competitor with Andy's Craft Sausages. It's good to know there's a nice place by the river where I can always come and grab a drink.
More stories by this author here.
Email: [email protected]
Twitter: @flyingfigure
Instagram: @flyingfigure
Photos: River Homebrewing & Steak, Tracy Wang

Visit the original source and full text: the Beijinger Blog