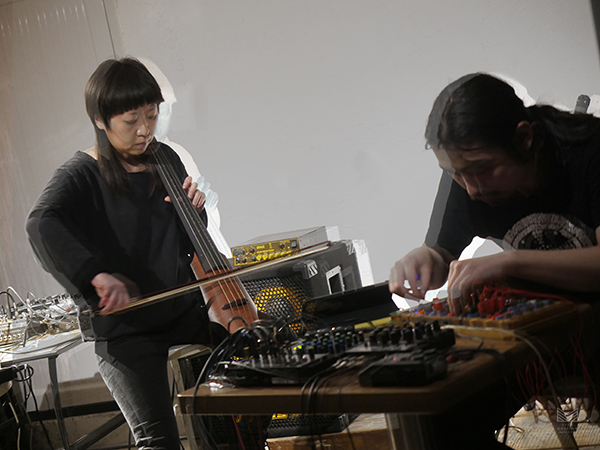 We here at the Beijinger are happy to present Live Beijing Music's weekend gig guide, written by head honcho Mr. Will Griffith. Will has been running around Beijing for over four years, documenting the city's shows and the requisite onlooking drunkards with various cameras/sound recorder setups, losing plenty of equipment along the away in his attempt to capture Beijing's aural spirit. You'll occasionally catch him pogoing like a madman when he's not got a camera in hand. Take it away, Will ...
Anyone get swept away in that storm last night? Well thank goodness cause it seems we may have bought ourselves a clean slate for this weekend and there's no better way to take in the fresh air than to stuff your body into a dingy livehouse and put as many toxics into your body as mightily possible. At least that's what my mother always told me. Anywho – here's your weekend update.
 
Friday, May 13
Ratatat (US), Gonggonggong, Earsnail at Yugong Yishan
New York's rock-meets-electronica duo Ratatat (multi-instrumentalist/programmer Evan Mast and guitarist Mike Stroud) hits up Beijing courtesy of VICE – I remember hearing raves about their last Beijing appearance so expect big things from these two. Support from Gonggonggong, and Earsnail, the latest live electronic supergroup composed of White+/Gar drummer Wang Xu and Da Bang guitarist Yan Shuai. RMB 150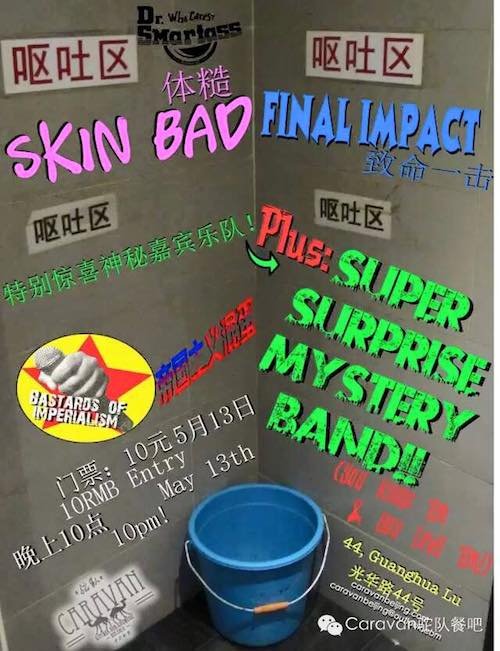 Bastards of Imperialism, Final Impact, Skin Bad, Mystery Band at Caravan
Punk platform Dr. Smartass head honcho and Bastards of Imperialism frontman Darryl Pestilence celebrates his birthday with a punk rager at the least likely of places – sumptuous Moroccan food joint Caravan with a fresh punk lineup as well as a super duper secret guest band. Who doesn't love birthday surprises! RMB 10
Birdstriking, Glow Curve, Bedstars at Home Plate BBQ
Home Plate BBQ is pulling out the big guns for their Goose Island Migration Block Party which besides some wonderful beer will be providing noise rock faves Birdstriking alongside Bedstars (obviously there for the free beer), and Glow Curve. Free (add gooseisland on WeChat to RSVP)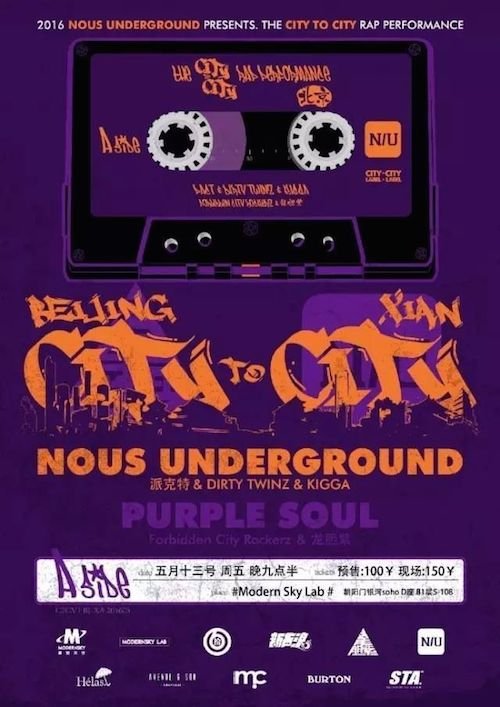 Purple Soul at Modernsky Lab
Acclaimed hip hop outfit Purple Soul, whose been known to stir up trouble with the authorities in the past, bring their A game to Modernsky Lab along with their friends. The group made up of made up of IN3's JahWay, Beijing's MC Jiezi and beatmaker FAC-D12, AKA FengXiao capture the old school feel, more in the realm of A Tribe Called Quest, than Biggie. Dig it. RMB 150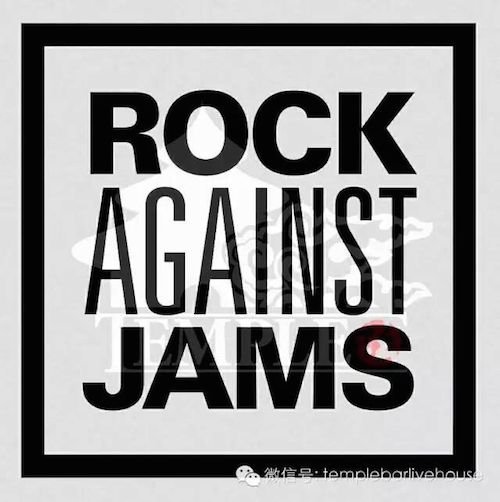 Rock Against Jams! at Temple
The second installment of Rock Against Jams! gets underway at Temple. The concept: folks are encouraged to create a new band, spend 90 minutes in a practice room, and have their first show at Temple all in one evening. Audiences will play judge and determine the best new band! No jamming allowed! Digging the concept. Free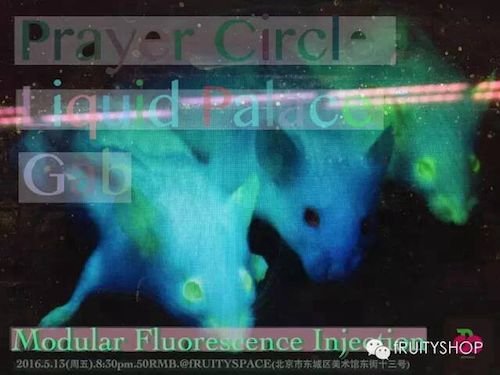 Liquid Palace, Prayer Circle, Gab at fRUITYSPACE
Modular synths, noise, and offbeat electronic grooves with some new projects over at experimental haven, fRUITYSPACE, including Prayer Circle, Gab, and Liquid Palace. RMB 50
MetU, Diaster Chat, The Beauty at Hot Cat Club
Indie rock, screamo pop and female led rock and roll – it's an eclectic evening at the Hot Cat Club. Free
Death Penalty, Abnormal Infected, Renegade, Ephermerality at School
With Mao Livehouse now extinct, metal finds its new home as School Bar as they host a night of heavy metalling and moshing with some familiar names like Renegade, Abnormal Infected (a very common metal band name I've come to learn), and more. RMB 50
Mr. Miss at 69 Café
Bubbly indie pop duo bring the charm and melodies to hostel and singer-songwriter hub 69 Cafe. RMB 60
 
Saturday, May 14
CNdY at Modernsky Lab
Not sure what's in the water over at Modernsky these days but they're just asking for trouble. And I couldn't be more jazzed. One of the scene's leading electronic outfit CNdY, presents their latest EP You with a bash that'll promises to get shitty and loopy with the ahem promise of free alcoholic-caffeinated (remember Four Locos anyone?) beverages for all partygoers. Who's ready to get smashed? Free
Dreamki, Image Above All, Pacalolo at Mako Livehouse
Self-proclaimed the biggest international party in Beijing, Europe Day returns with a party at the new Gongti-located Mako Livehouse, complete with a some dance ready live bands, including visiting indie rockers Dreamki alongside more. There will alos be a live streaming of Eurovision Song Contest in the Stockholm for all you fancy pants Europeans out there. Sounds like a blast. RMB 50
Pinball City, The Forbidden Zone, Exit 4 at Temple
Some more visiting bands getting in the good May weather up here. Shanghai garage rockers Pinball City perform alongside blues rock outfit Exit 4 out of Ningbo. Rounding out the bill is 'heck if I know' psychedelic noise group The Forbidden Zone. Free
Penicillin at School
Britrock heartthords Penicillin, hot after the release of their latest single, give a special (Converse paid) performance at School Bar. Get down with it. Free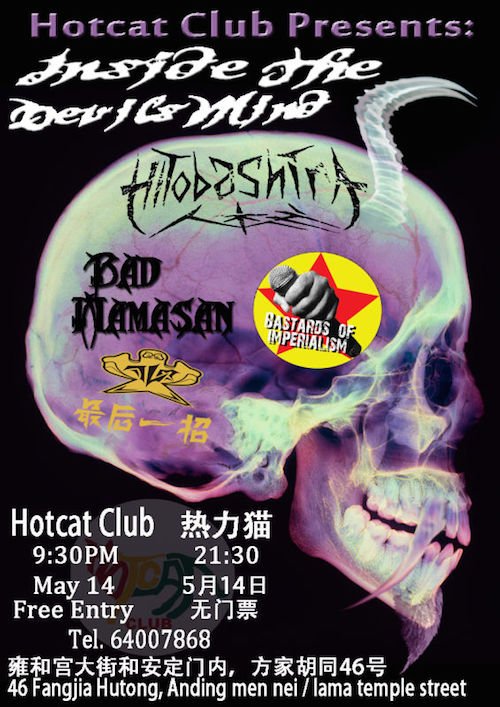 Hitobashira, Last Resort, Bastards of Imperialism, Bad Mamasan at Hot Cat Club
Things get heavy on Fangjia Hutong as Shanghai hardcore outfit visits and they've got quite the support including heavy metal vets Bad Mamasan and Bastards of Imperialism. Free
Gabrielle (Coroline) at Yugong Yishan
Indie folk artist makes her transformation into an artist to look out for with her debut release as well as an all star showcase at YGYS with friends Su Yu, Xiao Pu and Evo. RMB 100
Nocturnes, Wen Liang, thruoutin at fRUITYSPACE
Indietronica, layers beats, and ambient sounds at fRUITYSPACE as Nocturnes, Wen Liang, and thruoutin perform. RMB 40
Black Water, Moor Hick at Caravan
Blackwater are the real Irish deal. Authentic celtic rock and roll led by charismatic grizzle of Desmond McGarry that goes down as smooth as Jameson. Catch them at Caravan alongside owner Badr's new band, Moor Hick. RMB 50
Perpetual Motion Machine, The Diders, Heat Mark, Zhege at DDC
An eclectic evening of rock and roll as unhinged proto punk kids The Diders join new wave via Chinese traditional outfit Perpetual Motion Machine, as well as dance punk group Heat Mark and Zhege. RMB 60
Dream Spirit, Chinatown, N & Y, Source Code, Equal Temperament at Blessing Livehouse
It's a metal kids dream evening as five metal-infused bands descend upon the latest livehouse in crop up in Shuangjing, Blessing Livehouse. RMB 100
Morbid Goat, Drunkard, Interesting Book, Barb, Lost in Space at 13 Club
Drum Baby Festival kicks off at 13 Club with an assortment of hard hitting bands with of course, kick ass drummers – including grunge favorites Drunkard and metalcore outfit Lost in Sapce. RMB 80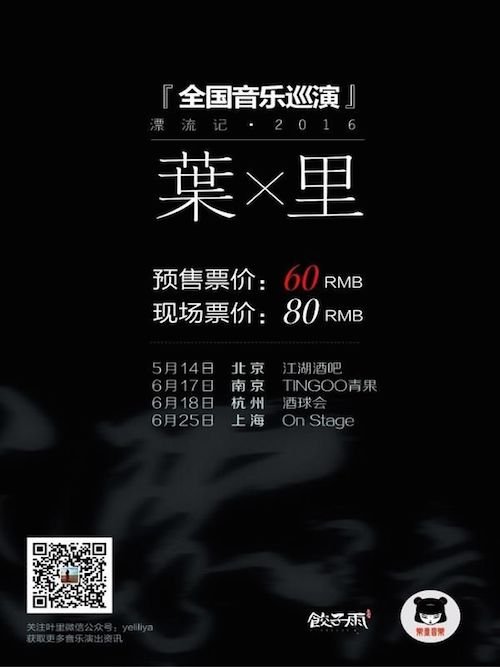 Yeli at Jianghu Bar
China wave artist Yeli, who incorporates everything from world music to trip hop in her sound presents her latest release at the cozy hutong bar. RMB 80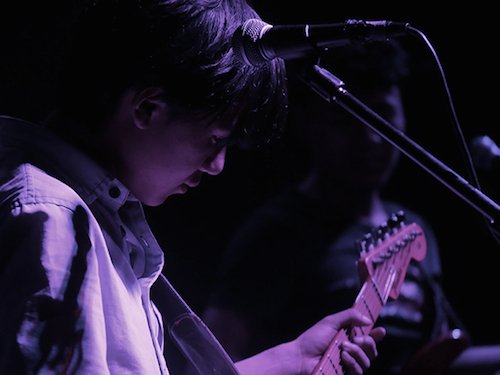 Out to Sea, Time Partner at Old What? Bar
Barbecue, post rock emo tunes, and then some more – just another night at the hole in the wall Old What? Bar. RMB 30
 
Sunday, May 15
An Art Show at DDC
A horde of artist, story tellers, and poets descend upon DDC for an afternoon and evening of 'art'. Featuring music from Electrc Badminton, Shannon Lethbridge, Nathan Borofka, Image Above All, The Plum Treees, and much more. RMB 60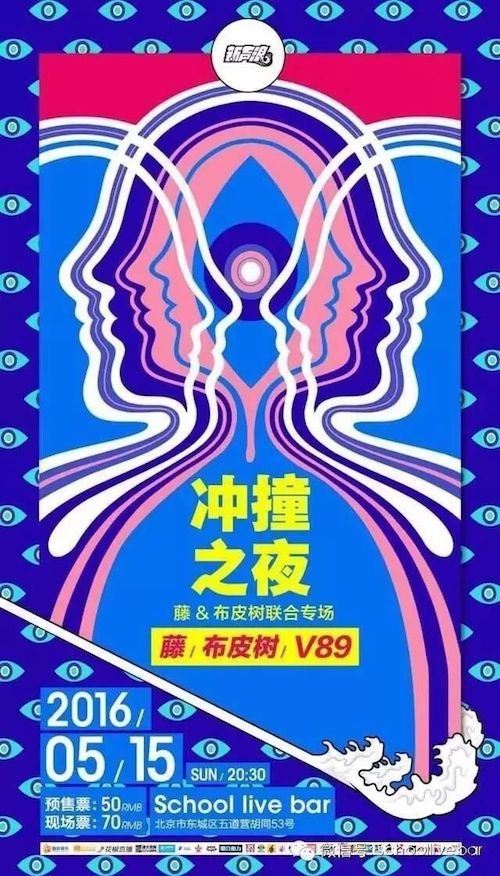 The Vine, V89, Bupishu! at School
Get blasted with these young ruffians out of Harbin as they bring you the latest and trendiest in rock and folk. RMB 70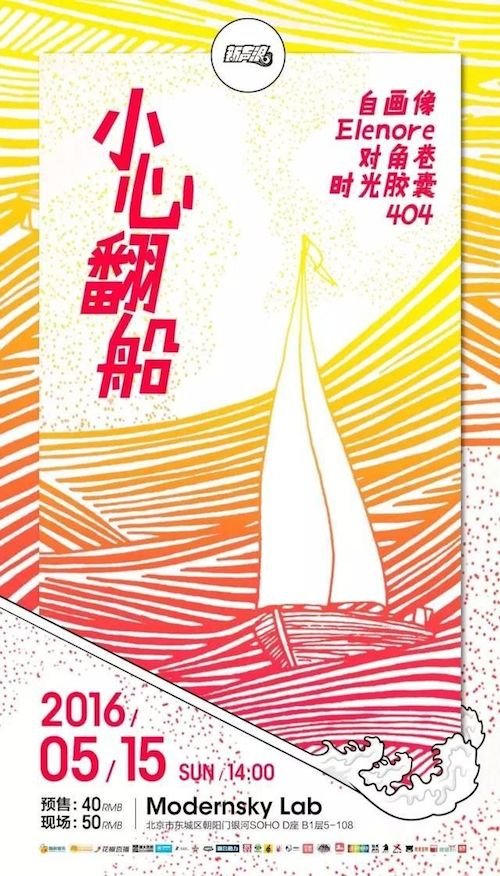 Self Portrait, Elenore, Diagon Alley, Time Capsule, 404 at Modernsky Lab
Indie pop and britpop galore at ModernSky Lab this evening as these indie vets take the stage including Elenore and Time Capsule. RMB 70
Jordan Darling, Nathan Borofka, Ember Swift at Temple
Temple takes it down a notch, as they get over the weekend hangover with an evening of folk including sets from American singer-songwriters Jordan Darling and Jordan Darling as well as well known folk rock artist Ember Swift. Free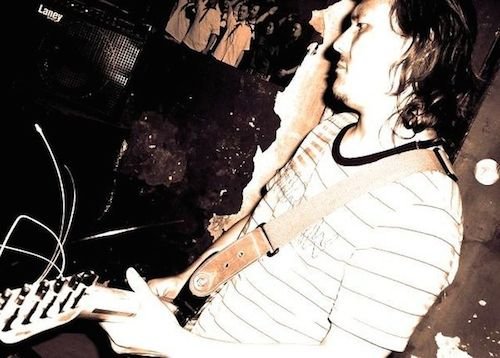 Jurat T.T at 69 Café
Psychedelic folk duo Jurat T.T (feat. Sam) hits the NGLX joint. RMB 50
Solar Link, Miga, Cui Longyang, Lu Liang & Faith, The Super Radar, Drunkard at 798 Live House
Enjoy an afternoon and early evening of free tunes at Beijing's number one art district 798 – pop rock, folk ballads, and more. Free
Phew! Still hungry for more? For events, videos, and photos from Beijing's thriving music scene, head over to Live Beijing Music.
Images: Live Beijing Music, courtesy of the organizers

Visit the original source and full text: the Beijinger Blog