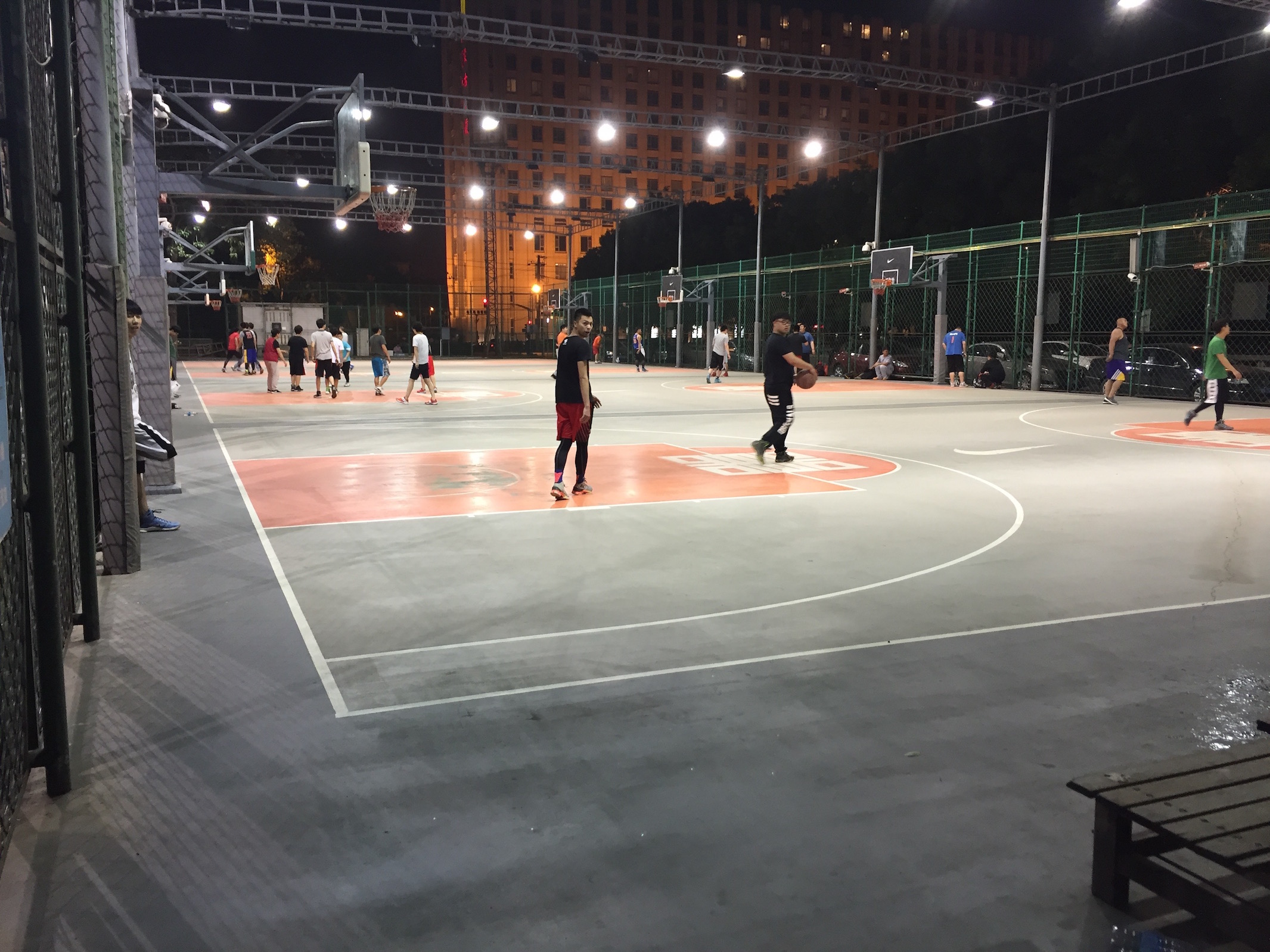 In the past few days Beijing's summer has gotten into full swing, which means the season of outdoor pick-up basketball, one of Beijing's favorite summer pastimes, has officially begun. For students and teachers, it's easy to participate in the joy that a laidback day on the court provides, simply heading to one of the countless school basketball courts across the city. However, for those of us that live a distance away from the college district and have limited access to on-campus basketball facilities, it may not be so convenient, which is why we've rounded up a few of Beijing's other courts so that the rest of us can get our fix. 
It should be said that there are plenty of indoor and outdoor courts Beijing open to students and non-students alike. Below, we try to list the places that feature ready-to-go pick-up games, which means there is no need for you to book the court, nor summon your friends if you want a game on the fly – just drop by any time between late afternoon and 10pm at night and you're more than likely to find some willing opponents and a game.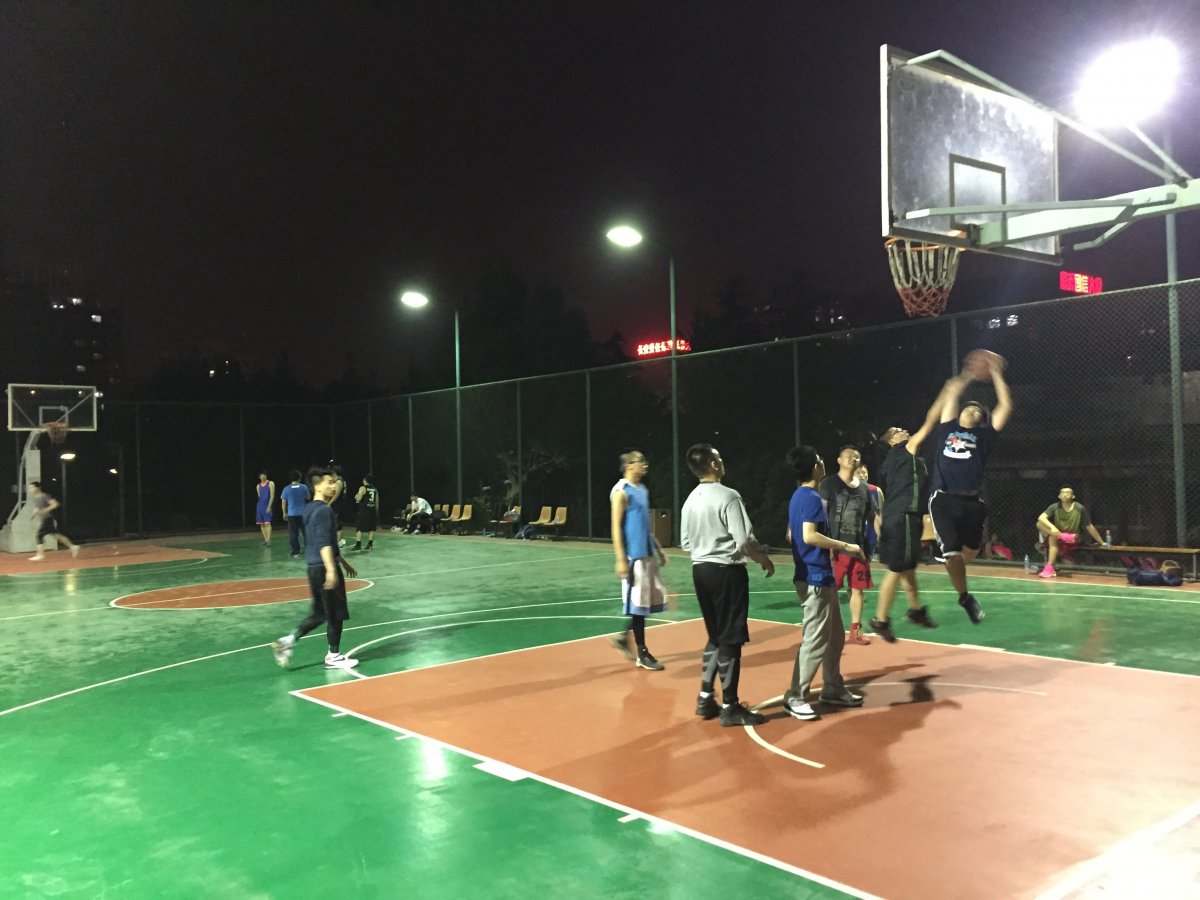 Jinqiao International Apartments Basketball Court
If what you are looking for is a leisurely shooting game with your friends, this is the place for you. Located at the back of Jinqiao International Apartments, this court is a hidden paradise for beginners and mid-level basketball lovers in Beijing. Consisting of a full basketball court, a tennis court, which holds two additional basketball hoops, the place features non-stop pick-up games from late in the afternoon to around 9pm in the evening. 
Residents and college students living nearby make up the court's regular clientele, giving the court an extraordinarily friendly vibe and newcomers are always welcomed. The additional hoops in the tennis court are usually unoccupied, which makes them perfect for those who just want to have a shooting competition with friends or family, soaking up Beijing's long summer nights. 
Last but not least, this is the only place that I know of that occasionally holds co-ed pick-up basketball in Beijing. There are a few female players who come by regularly.
RMB 15/person, no time limit. Daily 9.30am-10pm. Jinqiao International Apartments, 55 Guangqumen Nei Dajie, Dongcheng District 金桥国际公寓,东城区广渠门内大街55号
Dongdan Sports Center
Dubbed Beijing's Rucker Park, Dongdan Sports Center is home to some of the best streetball plays in town. Braced for bouts against the local best? This is where you should head. Generally speaking, there is a hierarchy among the courts: the nearer to the front gate, the higher the court's status. The court nearest to the gate is usually fully occupied and you will only be allowed to play there if you have cred with the players. The courts down to the east side and on the north side, towards the soccer field, usually have open spots to fill.
The biggest advantage of Dongdan is that it holds some truly competitive games. The courts are frequented by streetball icons such as Wu You and even professional basketball players, especially when there is a special event in town. However, the downside is that the place can sometimes be a little unfriendly to newcomers. If you have yet to make a name for yourself, you may find that you're trapped at a beginner's court, playing with a bunch of da ye who have tired of their routine tai-chi sessions at Dongdan Park across the street or a group of high school students who are apparently more interested in showing off to their peers than getting the ball into the hoop.
My advice is, if you think you are good, don't be shy to approach the higher level courts. Go and ask them if they need an action player, and let them know that you are ready to join anytime. Even if the teams are full when you ask, someone is likely to leave, and you'll be next in line. 
RMB 15/person, no time limit. Daily 8am-10pm. Dongdan Sports Center, 108 Chongwenmen Nei Dajie, Dongcheng District 东单体育中心,东城区崇文门内大街108号
Gongti Basketball Park
This one is for the drunken shooters. Located right across China Red Street, the place is easy to spot, and within walking distance of Sanlitun's bars. However, be sure not to fall over – your level of drunkenness will undoubtedly cause the floor's slipperiness to increase exponentially. A further warning: last time I went, there was a tree dangerously close to one of the hoops, making lay-ups a hazardous task and not for the weak-hearted.
The place can get quite crowded on the weekend, so be prepared to wait in line if you are going during peak hours. The upside is that serious players are always available. Games can get intense at times, which makes it a good choice for those who are ready to burn some calories. 
RMB 10/hour. Gongti Basketball Park, Jia 2-1 Gongtidonglu 工体篮球公园,工体东路甲21号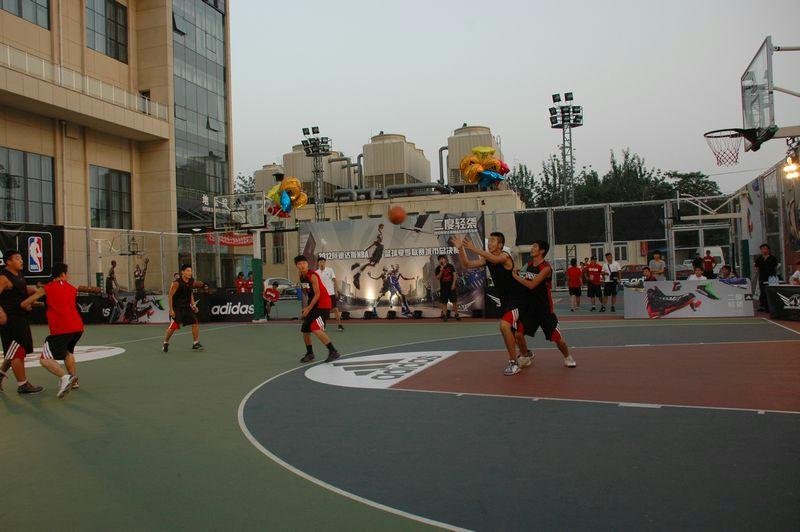 Ditan Sports Center 
Located by Ditan Park, Ditan Sports Center is very convenient for Yonghegong and Gulou dwellers. I haven't played there for a while but a few years ago it was very popular and certainly attracts hustle and bustle on the weekends. Compared to other courts, Ditan's atmosphere always felt a little more local thanks to the clientele on any given day. The only thing you need to watch out for is the sweaty, old-man type – those that don't mind getting their sweat all over you with low-post moves. And God forbid if they decide to go shirtless ...
RMB 20/person, no time limit. Daily 7am-10pm. Ditan Sports Center, 168 Andingmen Wai Dajie, Dongcheng District 地坛体育中心, 安定门外大街168号
Chaoyang Park Basketball Center
A great option for folks living by Chaoyang Park and in the Sanyuanqiao area. The floor is poorly maintained in places, and as the picture above demonstrates, the center may be frequented by one specific type of player that I try to avoid: the shirtless.
RMB 20/person, no time limit. Daily 8.30am-10pm. Chaoyang Park Basketball Center, 1 Chaoyang Gongyuan Nanlu (Chaoyang park east gate), Chaoyang District 朝阳公园篮球中心,朝阳公园南路1号(朝阳公园东门)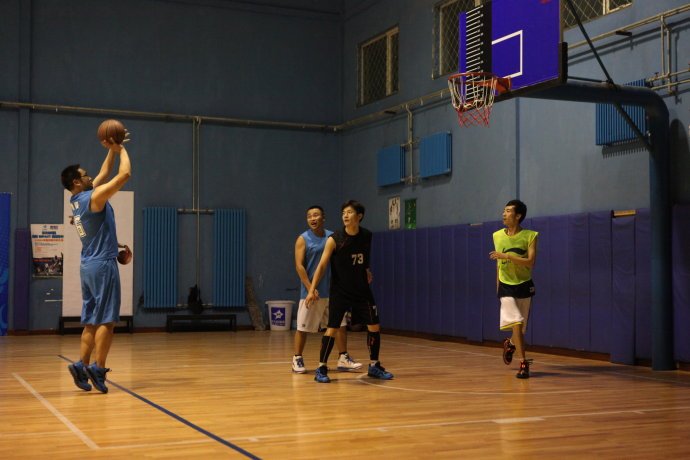 Tiantan Stadium Indoor Basketball Center
Unlike the other places listed above, this is an indoor basketball facility and features one full basketball court and a couple of additional hoops on the side. The full basketball court in the center is usually taken by local oldies while the hoops on the side are for the young bucks, mostly students living nearby. Some of the old farts may be, well, old, but they play a mean game, and you'll want to watch yourself from getting too physical against them because their elbows and knees can be as hard as metal.  
The upside of this place is that there is a billiards club and a soccer field nearby, and pick-up basketball and pool makes for a perfect combo for a weekend afternoon. It also means that you can also retire to something a little less intense if it all gets too much. Wimp.
Tiantan Sports Center Basketball Court, 13 Tiantan Dong Lu, Dongcheng District 天坛体育中心篮球场,天坛东路13号
A Handy Guide to Local Rules 
Picking Teams
In the US, teams are usually picked by having the players lined up and shooting, either by captains on the same team or captains on alternative teams. However, nobody picks up teams by shooting in Beijing. The most common way to pick teams is a strange ritual, even a little cultish in my opinion, called "Spinning the Valve" (zhuan qiu yan). When it's time to pick teams the players form a circle, and then someone steps into the circle with the basketball in his hand, and spins the basketball and waits for it to stop. When it stops, the person who happens to be standing in the direction to the basketball valve is picked. 
Most of the time the chosen players alternate teams, but sometimes the first players picked form a team. 
What Makes a Game
When there are more than two teams rotating for games, five by one is the most common rule. That is to say, five points make a game, whereby one basket counts as one point – there is no score difference between a shot made inside or outside of the arc. 
When there are only two teams, 10 by ones and 10 by ones and twos (three pointers count as two) are most common. Sometimes the win-by-two rule is applied. 
Fouls and Rules
Similar to pick-up games in US, most pick-up games in Beijing apply the "make-it-take-it" rule, which means that the team that makes the shot takes the ball. However, a big difference in Beijing is that there is no "check the ball" rule to start possession. Players usually call their own fouls. Whenever there is a dispute, it is common for the teams to "shoot for it."
Some Useful Chinese Phrases that Will Make You Sound Like a Local Court Hound
Ge men'r, yi kuai wan hui ba?  哥们儿, 一块玩会儿吧?Hey can I join you guys?
Ge men'r, jie yi bo ba?  哥们儿, 接一拨儿吧?We have a team here. Can we join you? (When you already have a team and want to form a game with three teams rotating.) 
Gui le! 规了!Foul!
Zou bu le! 走步了!Traveling!
Wo fang ta. 我防他。I got him.
Wo de. 我的。My bad.
Hao qiu! 好球!Nice shot!
Ge men'r, da bu dong le. 哥们儿,打不动了。I'm so tired. I'm going home.
More stories by this author here.
Email: [email protected]
WeChat: xinwurenli
Weibo: @lucky__strike
Photos: baidu.com, Patrick Li

Visit the original source and full text: the Beijinger Blog