While Cinco de Mayo doesn't celebrate Mexican independence and is actually not even a major holiday in Mexico, it doesn't mean we can't treat it like a Mexican version of St. Patrick's Day, which is essentially what it has become in recent history. In fact, we would choose Mexican food over Irish food any day of the week. So here are the best places to fiesta this Cinco de Mayo and make sure your cabeza feels like a broken piñata from way too many margaritas.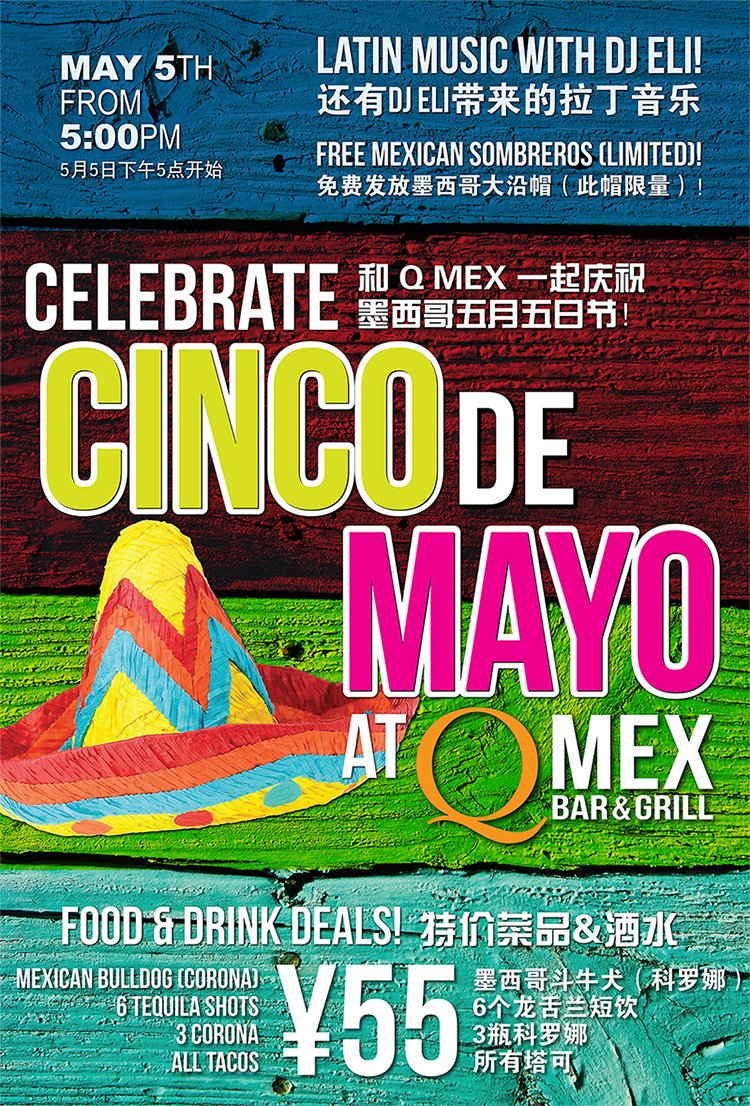 May 5: Cinco de Mayo at Q Mex
From 5pm onwards get down with multiple food and drink deals like Mexican Bulldogs, six tequila shots, three Coronas, or tacos, each for RMB 55. Also, if this wasn't enough, they are throwing in free sombreros to all who visit on this joyous occasion and the musical stylings of DJ Eli for your listening pleasure. Free. 5pm-late. Q Mex
May 5: Double Fisting Thursdays at Palms
At Palms LA Kitchen and Bar, it's essentially a weird hybrid of Cinco de Mayo and South Korea's Liberation Day every day of the week with their deliciously unique Mexican/Korean flavor hybrid of tacos, burritos, and lengthy list of delicious cocktails. This Thursday will be no different as they roll out their delicious buy-one-get-one-free deal once again to make sure you are seeing double this Thursday evening. Free. 5.30-8pm. Palms LA Kitchen and Bar
May 5: Cinco de Mayo at The Local
Get loco at The Local this Thursday as they celebrate by dishing out complimentary ceviche with every classic rocks margarita served (while supplies last). They'll also have fish tacos, chips, fresh-made guacamole, and of course nachos so that you can celebrate this decadent day with as much authenticity as possible. Free. 5pm-12am. The Local
May 6: Celebrate Cinco de Mayo at Cantina Agave
Celebrate Cinco de Mayo with the party animals over at Cantina Agave this Friday. While it isn't actually the 5th of May, they did you the courtesy of moving it back a day so you could feel free to go overboard without having to return to your office the following morning with a massive hangover. Things here start at 7pm, and they will have BOGO margaritas, sangria, and beer all night long, along with free Mexican snacks and DJ Jäger Zhadan bringing that legit fiesta vibe. Free. 7pm-1am. Cantina Agave
More stories by this author here.
Email: [email protected] 
WeChat: kippwhittaker
Weibo: @KippWhittaker 
Instagram: @KIDDWHIZ
Photos courtesy of organizers, socalpulse.com

Visit the original source and full text: the Beijinger Blog