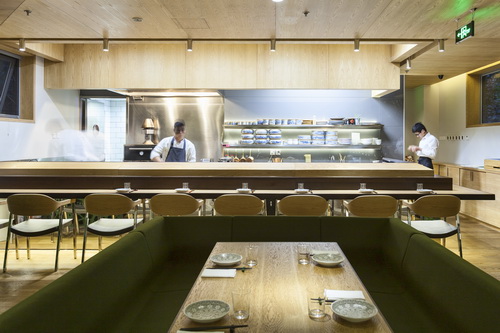 The meal begins with little revelations. A generous cup of pale foam dusted with a deep green powder provokes the first question of the evening. How could something so gossamer and insubstantial impart so complex a flavor? Dashi broth, naturally, that bearer of umami, Japan's prized taste. Flecks of black speckling the eggplant teriyaki on one night and the smoked tuna rib on another, are mysterious and familiar – how could the charred remains of a sweet pepper be so delicate, yet so assertive?
The man behind this intrigue is Max Levy. His kitchen is intellectual and deliberate; there is reason behind every choice at Okra. Nothing just is, and this is neither tiresome nor pretentious. A bouquet of wild chive flowers from Huairou sit on the counter behind the bar and later you discover their slender, fragrant figures garnishing a dish.
An out-of-control piece of mackerel has reached these heights of insanity because of the confluence of three major jet streams off the coast of Japan, or so Levy tells you and you believe. Why else would it melt like that? You must be willing to eat the ocean, but once you accept this task, this is the place to go. The menu offers several options of sushi and sashimi sets (RMB 125-375) and dishes a la carte. There is, too, an excellent-value set menu (RMB 375, items rotate regularly) which gives a comprehensive tour of Okra's offerings.
Levy traverses the flavor and texture matrix. The sushi and sashimi are exquisite – bright and clean, matched by rice with an exceptional purity. The rich intensity of the cooked dishes throws brightness of the fish into relief. The nutty, deep flavor of the chawanmushi (egg custard) is counterbalanced by its textural lightness.
He is playful. Uzakyu riffs on sanbeiji – the popular Taiwanese chicken dish dressed with a cup each of sesame oil, rice wine and soy sauce – with a novel trio of dashi, vinegar and soy sauce that bathes grilled freshwater eel and cucumber. Xinjiang raisins speckling the beef tongue taste unbelievably of roses. A beguiling smoked clam hides out amid slippery rounds of Okra's namesake in a challenging red tofu soup.
You will want to drop all illusions of civility and gnaw at the carcass of the charcoal-roasted fatty tuna in the yaki toro (RMB 150, a la carte). It must be obvious in your hungry eyes because later, Levy drops by the table to suggest it. What you don't confess to him is that, like a monster, you want to lick the plate, too.
Okra
Tue-Sat 6-10:30pm (dinner), 6pm-midnight (cocktails). 1949 The Hidden City, Courtyard 4, Gongti Beilu, Chaoyang District (6593 5087) 朝阳区工体北路4号院
the Beijinger recently named Okra as one of the best fine dining restaurants of 2013! As well, Okra is hosting a happy hour that features a buy-one-get-one-free cocktail special, so be sure to drop by early!