A round-up of this week's community matters including Beijing's change of heart regarding eating underground, how to give Serbia a helping hand with the terrible flooding as of late and where did those Gui Jie lanterns go?
Beijing Says Yes to Eating up Underground
CRIEnglish.com reported that Beijing's Legal Affairs Office removed a draft regulation that would fine anybody (RMB 50-500) caught eating on public people moving devices, including subways, elevators, and escalators.
The drafted regulation was published in February with tense opposition from the public, who complained that Beijing's subways are sometimes the only place that people can take a load off during their hectic work day and gobble down a quick meal. The overwhelming response from netizens showcasing these concerns resulted in the removal of the current draft.
Other cities that implemented a similar sort of food ban on public transportation include Shenzhen and Hong Kong.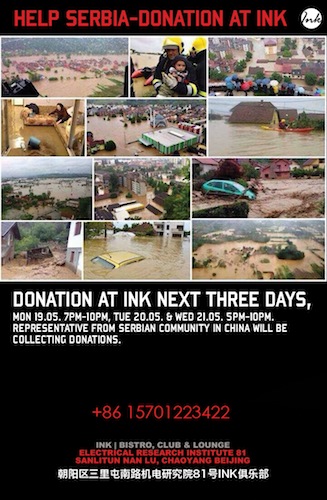 Serbia Needs Your Help, Ink is Accepting Donations
Representatives from the Serbian community here in Beijing will be collecting cash donations at Ink today from 5-10pm. Today is the last day they will be collecting, so make sure to drop by and donate for this important cause.
Three months' worth of rain fell in a span three days creating the worst flooding ever recorded in the region. Currently a third of the country is under water and tens of thousands have been left homeless, carrying only a handful of possessions.
Every bit helps, so stop by Ink during the hours posted on the flyer above and donate what you can to help the victims of this terrible tragedy. For more information please call +86 15701223422.
Lanterns Removed From Gui Jie By Authorities
Here's some grim proof that even the most mundane elements of everyday life are subject to the swift hand of awkwardly imposed safety regulations. Time Out has reported that over the weekend, local law enforcers (chengguan) forcibly removed all lanterns lining Gui Jie, the famous restaurant street and all around famed center for spicy crawfish and hot pot establishments up the wahoo.
I mean this street is already pretty annoying with all of the traffic jams and people trying to drunk park on the side walk, at least you can leave an element of beauty to keep your eyes focused away from cooking oil stains and regurgitated shellfish on the sidewalk.
Luckily, the balloon hawkers and sidewalk merchants haven't been tossed in the rubbish bin as well, and all other culinary aspects of the street are still open for future questionable late night dining experiences.
 
Here are some events for you to get communal with this week:
Photos: bp.blogspot.com, Ink, smmail.cn

Visit the original source and full text: the Beijinger Blog