The Beijinger 2014 Reader Bar & Club Awards party was a crowning of the best bars and clubs the city has to offer, but it also served as a coronation for a selection of the personalities that make your nights out in Beijing so damn enjoyable. One such award identified who you consider to be the Personality of the Year in the nightlife landscape.
You voted Dave Bob Gaspar, the hirsute proprietor of Shuangjing stronghold The Brick, to be named Personality of the Year. But what of the nearly men? Even in a close run race there are runners up, and we wanted the thoughts from the 2014 runners-up. Below Carl Setzer, of Great Leap Brewing, gives us his thoughts on being named Outstanding Personality of the Year.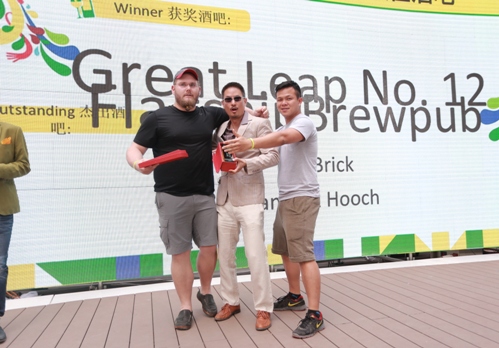 Why do you suppose people voted for you as a best personality in the recent Reader Bar & Club Awards?
I think when people nominate me, it is mostly as a lark. I don't actually work behind the bar at either of our locations anymore. When I won last year, it felt like a practical joke. People that know me know that I go out of my way to be friendly and helpful, people that don't know me, assume I'm an asshole. It's an easy mistake. Some people don't appreciate sarcasm.

Where would you say winning this award ranks on your list of achievements?
To be ranked amongst the likes of Karl Long and Stephanie Rocard? Legendary.

What do you say to people who voted for the other guy in the best personality category?
Dave Bob might be one of the best things that's happened to Beijing since Plastered 8 T-Shirts or the resurgence of Kro Bauer. He's an original that one.

Which personality trait of yours do you think wins most people over?
The part of my personality that makes and sells beer.

Anything else you'd like to say to your public?
End war?
Check back tomorrow to see who else came oh-so-close to being named Personality of the Year.

Find a full list of the Beijinger 2014 Reader Bar & Club Awards winners here.

Visit the original source and full text: the Beijinger Blog