Having made quite the splash onto the Beijing dining landscape this year, Opera Bombana celebrated their first birthday this past week on May 15. Cheers to them for that – surviving one year in this city is no small feat for a restaurant. There's always a little something new from them, whether an aperitivo hour or Chef Bombana bopping up from Hong Kong white truffles in tow. The latest thing the kitchen is turning out is a new Sunday brunch.
The basics: brunch runs Sundays from 11.30am-3pm. Throw down RMB 328+10% for food and a welcome cocktail, and tack on an extra RMB 128+10% for free-flow prosecco. It's a model that seems increasingly popular in town (see Agua), that is, free-flow dishes straight out of the kitchen rather than the tedious hotel buffet.
Appetizers and desserts are brought table-side by waitstaff and offered in unlimited supply. Opera's brunch differs from Agua's (exact comparison can't be made) in that it is not wholly free-flow. Select one main, which is made-to-order, from a choice of four dishes which rotate weekly.
The free-flow appetizers include an antipasto platter (parma ham, mortadella, citrus-marinated Sicilian swordfish, roasted bell peppers and vegetable in a balsamic dressing), a Napolitan frittata (egg with angel hair pasta, potato, buffalo mozzarella and bacon) and chorizo mozzarella croquettes.
The weekend I went, main course options hit all the major groups – a pasta (pictured top), grilled king prawns (also pictured), roast chicken and Australian beef tenderloin with a port wine sauce.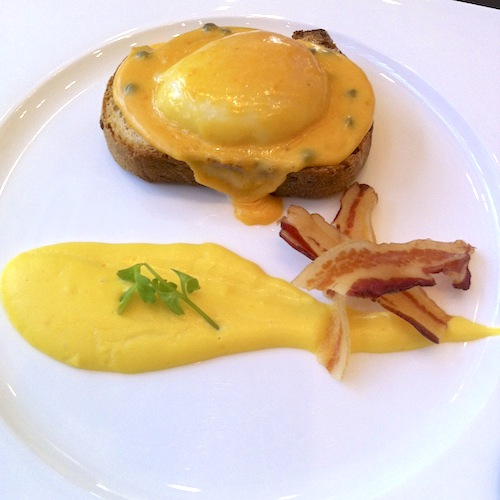 If the idea of free-flow doesn't captivate you, the menu also offers a page of "Opera Bombana Signature Weekend Dishes." Priced from RMB 128-588+10%, these run the gamut from a lovely take on eggs hollandaise (served on their house-made caper bread) to a four-cheese pizza to a classic lasagna bolognese to a black cod poached in orange juice served with fava been puree and Cinta Senese ham. For those interested in a protein-heavy morning, various cuts of 300-day, grain-fed Australian wagyu beef range from RMB 438+10% (tenderloin, rib eye, sirloin) to RMB 888+10% (T-bone steak).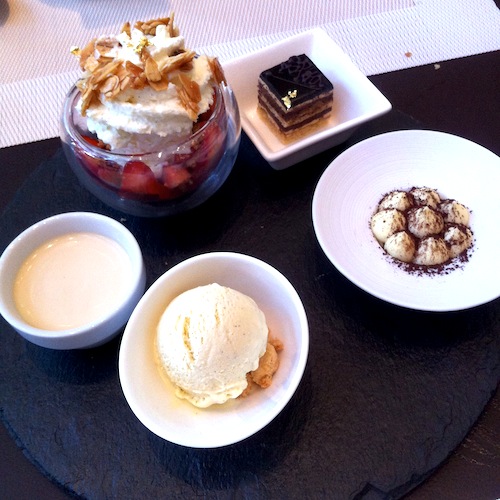 As I'm wont to do, I found dessert to be the most thrilling part of the meal. For a start, it's free-flow and beyond that, these are some exceptional sweets. The tasting includes small portions of their opera cake, vanilla ice cream atop a crumble, tiramisu, caramel panna cotta and strawberry melba. I realized during this meal that I'd been living an impoverished life up until then as I'd never had a strawberry Melba. Strawberry Melba is magical. The French legend Auguste Escoffier invented the original peach Melba in late 19th-century, and based off my impressions of Opera's strawberry version, I can only imagine that it's delicious.
All good things must come to an end, and if you've been smart about it, you've drunk prosecco all the way through until 3pm when the petits fours arrive.
Photos: Cat Nelson
More stories by this author here.
Email: [email protected]
Twitter: @haimei_baole
Instagram: @haimei_baole
Weibo: @cat_nelson

Visit the original source and full text: the Beijinger Blog