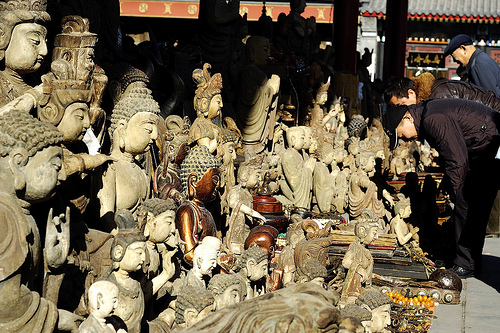 At a loss as to what to do this weekend? Why not head s
outh of the East Third Ring Road to the bustling
Panjiayuan Antique Market
?
 While it is open all days of the week, this market is busiest, in terms of both vendors and visitors, on the weekends.
Whatever you're looking for, this market has it: from antiques, arts and crafts, and jade bracelets to golden Buddha's statues. If you look hard enough, you can find some real treasures, too. Outside the market, there are more small unofficial vendors and furniture shops.
From exit A of Panjiayuan Qiao subway station turn right onto Panjiayuan Lu. On your left is the north entrance to Panjiayuan Antique Market. Get lost among the stalls and shops, and admire calligraphy, paintings and jade jewelry. Remember to bargain and never settle on the opening price. 
Find Chinese-style furnishings and home décor, or just pick up trinkets and souvenirs, like kites and wind-up toys. If you are interested in Tibetan art, check out Linfeng Tibetan Artistic Firm for authentic Tibetan furniture, beautiful carpets and antique handicrafts. From the north entrance, head right, look for Row B, and they will be at the beginning of the street.
Next, leave the market from the southwest exit; you'll find yourself at Huawei Lu. Walk along the road for a few minutes and turn left onto Huawei Nanlu. On your left is the Chang'an Grand Hotel's Regal Palace Chinese Restaurant. Spoil yourself with a luxurious Cantonese-style lunch of seafood and dim sum.
After lunch, burn some calories with a stroll through Beijing Antique City, just next door. Like Panjiayuan Market, this four-story building is another great source for Chinese antiques. If you didn't find what you were looking for at the antique market, you may find it here, among the large collection of art, carpets, jade sculptures, furniture, porcelain and pottery.
Give your legs (and wallet) a rest at Capital Library, just across East Third Ring Road. Grab a book and relax on one of the many sofas scattered around the library. The seventh floor is a floor dedicated to an assortment of English books.
Hungry again? Head back towards the entrance of the library on Songyu Nanlu and walk east. Then turn right onto Nanxinyuan Xilu until you hit Freshness on your left. This small Japanese supermarket carries fresh seafood and imported Japanese food products. If you're looking for a sit-down meal, Matsuko is just down the road. They offer a wide range of typical Japanese food: noodles, sushi, sashimi and tempura. If you get a chance to return, try their lunch buffet.
To head back home, walk down Nanxinyuan Lu, turn right onto Hongyan Lu. When you reach East Third Ring Road, you will see Shilihe subway station on your left.
Panjiayuan Antique Market 潘家园市场
Mon-Fri 8.30am-6pm, Sat-Sun 4.30am-6pm. West of Panjiayuan Qiao, Chaoyang District (6775 2405) 朝阳区潘家园桥西边
Linfeng Tibetan Artistic Firm 灵峰藏艺古典家具店
Daily 8.30am-8.30 pm. Stall 1, Row B, Panjiayuan Market, Chaoyang District (139 1173 9981)
www.lftibetanart.cn
朝阳区潘家园市场乙排1号
Regal Palace Chinese Restaurant 秦乐宫中餐厅
Daily 10am-10pm. 1/F, Chang'an Grand Hotel, 27 Huaweili, Chaoyang District (8778 9888 ext 262) 朝阳区华威里27号长安戴斯大饭店1层
Beijing Antique City 北京古玩城
Daily 10am-7pm. 21 Dongsanhuan Nanlu, Chaoyang District (5960 9999)朝阳区东三环南路21号
Capital Library 首都图书馆
Daily 9am-7.30pm. 88 Dongsanhuan Nanlu, Chaoyang District (6735 8114)朝阳区东三环南路88号
Freshness 生鲜馆
Daily 9am-10pm. Inside Longtou Gongyu, 8 Nanxinyuan Xilu, Chaoyang District (8732 8650) 朝阳区南新园西路8号龙头公寓内
Matsuko 松子
Daily 11.30am-2pm, 5-10.30pm. 1/F, 8 Nanxinyuan Xilu, South of Longtou Gongyu, Chaoyang District (8731 9890) 朝阳区南新园西路8号龙头公寓南栋一层
This article first appeared in beijingkids.

Visit the original source and full text: the Beijinger Blog