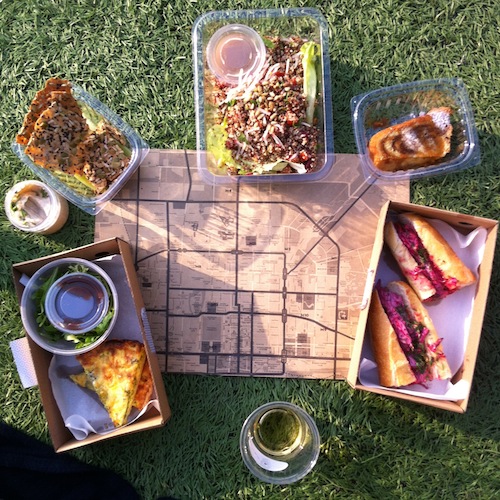 Beijing parks are great for a number of things: paddle boating, long strolls, early morning voyeurism of the elderly exercising. There's more than only those, but unfortunately lounging about on the lawn is one that arises few and far between. So when I learned that Modo Urban Deli was launching a new picnic concept, I was both intrigued and a bit skeptical at the outset. By the end though, they'd thoroughly convinced me. This is why.
First: The weather. They've launched this at that perfect precipice just before the summer heat full sets in. Weekend afternoons are still bearable and lying about in the sun with a few pals, snacking and sipping on booze, is ideal.
Second: Convenience. All the Modo picnic packages (there are three) can be ordered only 15 minutes in advance of pick-up (by phone – 6415 7207 – or in person). Everything is packed in plastic to-go containers and small cardboard boxes with cutlery and napkins included. The cups to go along with our bottle of wine were missing, so make sure to double check you have everything before leaving. (As this was on the first weekend, my guess is that the staff was still getting used to assembling the whole package.)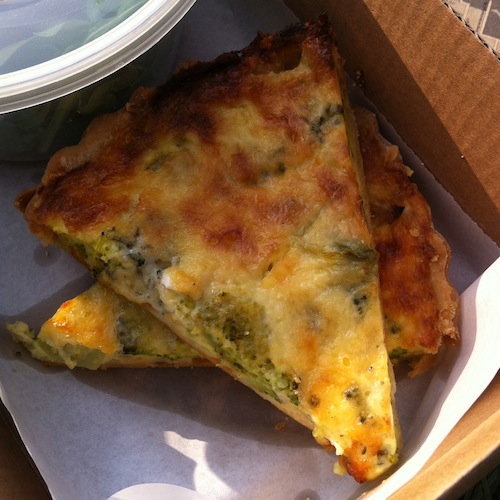 Third: Dope food for a bargain. The three levels of picnic basket run from RMB 200-400. They are each sized for two people, but my picnic partner and I found it enough to share with two sweaty dudes who'd just come hungry off the football pitch. The packages are quite the deal if you price out everything. The food comes out to slightly cheaper than the sum of all items plus bottles of white, red or sparkling house wine can be added for RMB 90, which is a steal. Here's the run-down of your options:
Urban Picnic Delights for Two (RMB 200)
Olive Tapenade & Crisp Bread
Caesar Salad w/ Chicken or Garden Salad w/ Tuna
Deli Sandwich or Scandinavian Sandwich
Bakes of the Day
The Modo Picnic Map of Beijing
Modo Urban Tote bag
with red, white or sparkling RMB 290

Urban Picnic Spread (RMB 300)
White Bean Hummus & Flat Bread
Chef's Quiche of the Day
Quinoa Salad or Thai Noodle Salad
Sandwich of your choice
Bakes of the day
San Pellegrino water (still or sparkling)
The Modo Picnic Map of Beijing
Modo Urban Tote bag
with red, white or sparkling RMB 390

Urban Picnic Feast for Two (RMB 400)
Modo Urban Deli's Cheese Board
Creamy Spinach & Artichoke Dip
Mediterranean Salad or Smoked Salmon/Glazed Shrimp Salad
Lasagna
Sandwich of your choice
Bakes of the day
San Pellegrino Water (still or sparkling)
The Modo Picnic Map of Beijing
Modo Urban Tote bag
with with red, white or sparkling & wine cooler RMB 490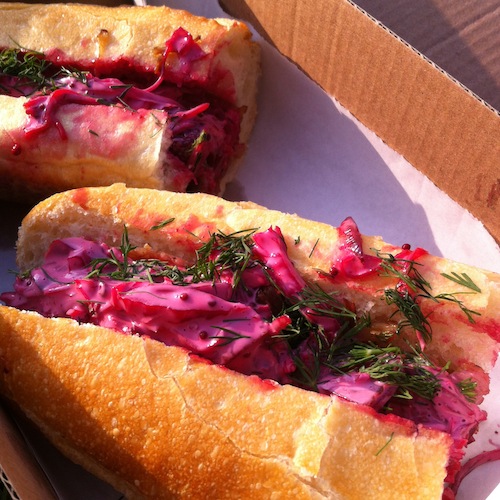 Four: Balanced structure vs choice. Modo has done an excellent job at finding a good middle ground between a structured menu and the option to personalize items. Each of the picnic packages gives a template for a combination of items you might get – a salad, a sandwich, a bake – but then within those categories allows for a choice between a couple options.
Five: The extras, picnic spot ideas and a tote. So I thought that there weren't any spots to picnic in Beijing besides a handful of places, but Modo is proving me wrong. They've knocked together a list of 15 picnic spot locations – with the caveat that "not many places in Beijing allow a full-on, grass-based , blanket-unfolded, music-blasting picnic, so be part creative, part discrete." I like the touch of rebel in that. Lastly, you get one of their classy totes (choice from two) included in the package. I'd been wanting one for a while, so this seemed like the ideal opportunity. (Note: If you're a repeat customer, bring your tote back for a RMB 20 discount)
I may have been a picnic-skeptic at the outset, but I ended up doing a test run one afternoon while watching some brutes run around and play the soccerball, and I will say this: we were the envy of the sidelines.
Photos: Cat Nelson
More stories by this author here.
Email: [email protected]
Twitter: @haimei_baole
Instagram: @haimei_baole
Weibo: @cat_nelson

Visit the original source and full text: the Beijinger Blog