Tiantan Park, also known as the Temple of Heaven, can be a splendid retreat as long as you come prepared. The immensity of the grounds demands a battle plan. Allot for about four hours, dividing your time equally among absorbing Chinese history, snacking on delightful baked goods, and shopping for new souvenirs.
Start your day at the South Gate of Tiantan Park. From this point, you'll be entering the site just as China's emperors did in times past. Once in, the chaos of Beijing evanesces and serenity sets in. You'll be greeted by the Circular Mound Altar of Heaven, a three-tiered platform upon which emperors would meditate before proceeding to pray to the gods for good harvest. The view from the top is impressive, making it a great photo spot.
Walking down the other side of the altar, continue through the imperial-red gates towards the north. The next stop is the Imperial Vault of Heaven, where the ceremonial tablets were stored. A faint whispering can be heard on along the ground's circular wall. Nicknamed "The Echo Wall," its shape allows for sound to travel much farther than is normal. Stand at each end facing opposite directions and talk politics (okay, you can pick your own subject).
Exit this site the way you came in, and continue north. In the shimmering distance at the end of the Vermilion Steps Bridge stands the Hall of Prayer for Good Harvest. Follow in the footsteps of ancient ceremonial processions along this stone bridge. Or take the side road – simply take the ramp down on the right side of the bridge and proceed to walk alongside. You'll find yourself under a canopy of trees, filled with the sound of chirping birds.

When you spot the next ramp, jump back up and head through the next set of gates to find the Hall of Prayer of Good Harvest. This magnificent example of Ming dynasty architecture sits atop a three-tiered mantle, reaching for the heavens. It is opulently decorated with colorful patterns and wood carvings. On this spot, for 1,500 years of Chinese history, emperors would pray for good harvest. The original hall was built in 1420, but in 1889 the skies unleashed a lightning bolt that burnt it to a crisp in an act that was declared divine punishment. It was promptly rebuilt and no divine interventions have struck the hall since.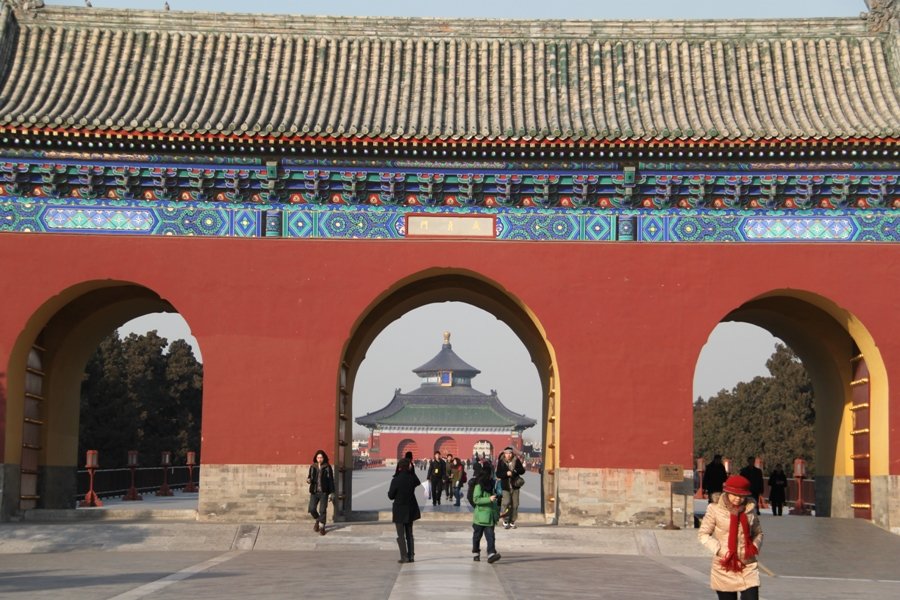 Leave the hall via the east exit. You are now entering the aptly named Long Corridor. This corridor connects the Animal Killing Pavilion, the Divine Kitchen and the Divine Warehouse. Underneath its sky-blue beams you'll find a medley of locals playing cards and handcrafting curios. It might be fun to pick up a Chinese feather shuttlecock to kick around with other park goers, of which you'll find aplenty on the grounds just south of the corridor. Afterwards, exit the park via the East Gate.

Just across the street, beside the subway station, is Weiduomei Bakery with Café Monet located on the floor above. This is the perfect place to recharge; the smell of fresh bread will perk you up. Grab some cheese melts and head upstairs where a cozy, clean and smoke-free environment awaits.


After you're done snacking, walk north towards the Hongqiao Pearl Market. In the alley just beside the market you'll find Toy City, which houses four floors of – you guessed it – toys. There's everything from arts and crafts supplies to sporting equipment. Once done, head back next door to Hongqiao Pearl Market, famous for its three floors of jewelry stalls, to do some shopping of your own.


At the front of Hongqiao Pearl Market is a hodgepodge of eateries, including a Xiabu Xiabu for individual hot pot and a KFC. Just behind the market and right beside Toy City is a slightly fancy café and restaurant called Refreshing Hours Coffee that has some Western favorites on the menu such as pizza and steak. The prices are reasonable and the atmosphere is conducive to a comfy unwind after a long day's adventure. Once finished, the subway is only a few steps away.

Temple of Heaven  
天坛
Apr-Oct: RMB 15 (main gate), RMB 35 (all access); Nov-Mar: RMB 10 (main gate), RMB 30 (all access). Daily 6am-9pm (last ticket 8pm); halls 8am-5.30pm (Mar-Jun), 8am-6pm (Jul-Oct), 8am-5pm (Nov-Feb). Yongdingmen Dajie, Chongwen District (6702 8866/6062) www.tiantanpark.com
天坛公园, 崇文区永定门大街
Weiduomei Bakery
Daily 7am-9pm. 12 Tiyuguan Lu, Chongwen District (8229 0047)
崇文区体育馆路12号
Café Monet
Daily 7am-9pm. 12 Tiyuguan Lu, Chongwen District 
崇文区体育馆路12号
Hongqiao Market 
Daily 8.30am-7pm. 46 Tiantan Donglu, Chongwen District (6713 3354)
崇文区东天坛路46号
Toy City (Hongqiao Tianle Toy Market)
Daily 8.30am-7pm. 136 Fahuasi Street,  Chongwen District (6711 7499)
崇文区法华寺街136号
Refreshing Hours Coffee
Daily 9.30am-7pm. 1/F, Tianya Hongyi Plaza, 136 Fahuasi Jie, Chongwen District (8710 5017)
崇文区法华寺街136号天雅红椅大厦首层1层
This article first appeared in beijingkids.
Photos: Michael Connors

Visit the original source and full text: the Beijinger Blog