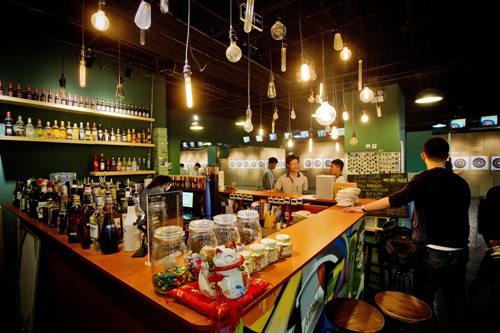 Would you like a convenient, non-physical way to weaponize your inner wimp? How would you survive a hunt-or-be-hunted scenario where you are pitted against a predator in a duel to the death? Well, the recently opened Jian Archery Club is a decent option to develop those survivalist instincts in the pleasant atmosphere of patrons imagining their bosses at the other end of a graphite arrow.
Upon entering you notice a range of targets and esoteric killing machines, besides which there isn't a whole lot that differentiates it from your standard bar room. Art created by the proprietor adorns the walls, including one piece with an obvious likeness to Piet Mondrian, and a couple other interesting pieces with a more dated aesthetic. There is your standard cocktail selection at decent prices (RMB 30), domestic and imported beers (RMB 25), and coffee (RMB 30).
As for the bow play: they offer a quick tutorial to get you started. Just as well, pijiu and projectiles seldom mix well in the hands of a novice. The sight wasn't properly calibrated on my bow, I swear, so I resorted to looking down the length of the shaft, which would have worked fine if it wasn't for the ear-splitting top 40 music blasting through the speakers. That was a surefire concentration buster that I'm sure Robin Hood never had to deal with.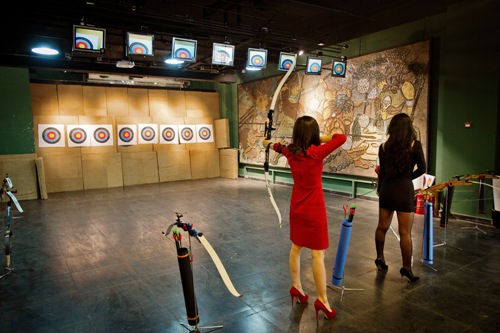 RMB 120 gets you an hour – not exactly cheap, but they do allow you to pause to refuel whenever you want. There's also a discounted membership deal (RMB 500 per year) which allows you to play William Tell for half price, leaving you with no excuse to not add another string to you bow.
Jian Archery Club
Daily 11am-midnight. B1-308, Bldg 3, Sanlitun Soho, 8 Gongti Beilu, Chaoyang District (5290 2981)
朝阳区工体北路8号三里屯Soho商场3 B1-308
400m west of Tuanjiehu Station (Line 10)
Also try: Dongfang Julong Archery Club, Beijing City Archery Club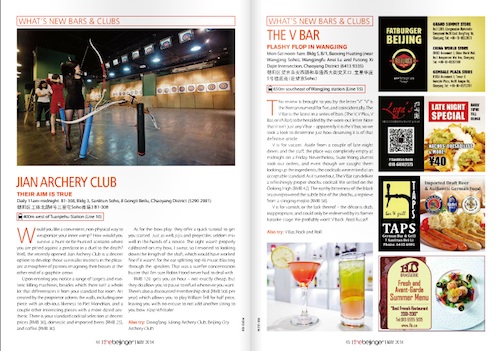 Photos: Ken

Visit the original source and full text: the Beijinger Blog