"We've travelled a long way to hear your talk."
This sentence was heard from the far end of SUSU as I walked in. A couple were sitting down at their table, captivated by Etienne Verdier, the representative for Jean-Marc Brocard, an attentive gentleman who would be leading our group in an afternoon of Chablis wine tasting, paired with Vietnamese cuisine supplied by SUSU's in-house chefs.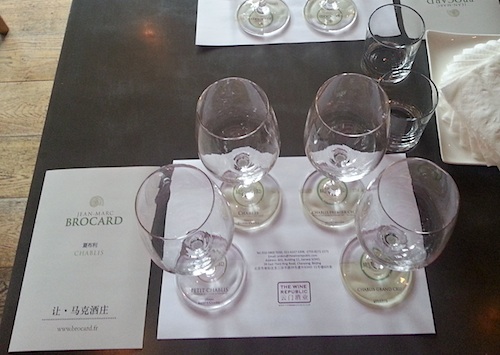 At each seat there were four empty wine glasses atop a paper placemat that had been printed with instructions as to where each type of wine was to be poured, the year it was made, and the percentage of alcohol. This was a vertical wine-tasting session, where we compared wines from the same vineyard across different years of production.
"We will go from the baby, to the grandfather," Etienne said. Alas, the first wine to be poured was third in line, the Chablis Premier Cru 2011, which almost went unnoticed had Etienne not quickly intervened before we consumed our glasses.
The meant-to-be first drink, a Petit Chablis 2012, emitted a distinct crisp fruit note, comparable to biting into a green apple. "It's a good evening choice," Etienne remarked, explaining that these particular grapes come from the top of the vineyard's hill. He passed printouts showing the topography of where these Chablis wines were produced, as well as a variety of stones holding fossilized seashells and other deposits.
"The most important information I can give you today is that Chablis is both the grape, and the stones, working together." The kimmeridgian infused landscape combined with the Chardonnnay grape is what gives the Chablis its pure, almost stony-like characteristic. There is also the matter of biodynamic agriculture, which is attributed with producing clearer, more vibrant tastes.
The second wine, a Chablis 2011, was my favorite. A smooth, more mineralized development, it lacked any of the acidic nature I had often associated with Chardonnay grape. It was paired with a fresh salmon, noodle, and lettuce wrap, with sweet chili sauce. Table discussions lead to some people being surprised with how well considered the food was that was paired with each wine, but then we remembered SUSU is not Chinese cuisine.
The difficulty in garnering a wine culture in China, seems to be that traditional dishes are more suited to the palate of harder baijiu hits, which shows wine still has some climbing to do into the growing middle class Chinese market. There is also the matter of color; Etienne conceded that red wine is probably more popular simply because it is beholden as a glass of patriotism, and therefore potentially more enjoyable.
However, it may be that the popularity of white wine increases in China once people realize that it is a lot easier to ganbei than other liquids (who doesn't love the idea of an easier national salute to alcoholism camaraderie?) The quality of Chablis on offer is testament that, with a little push, China could become the next cultivator of wine connoisseurs, if it's open to the idea.
 
This session was proudly sponsored by The Wine Republic, who have more information about Jean-Marc Brocard, and how you can purchase Chablis, at their website here.
Photos by Erin Strong

Visit the original source and full text: the Beijinger Blog