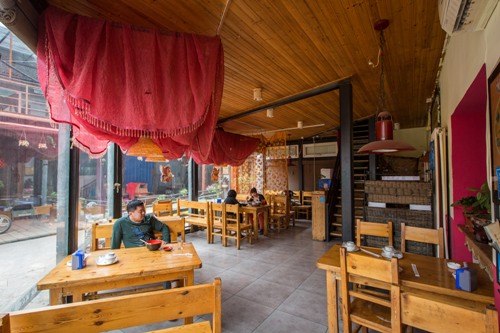 If you thought chuan'r in Beijing can only mean chunks of fatty lamb blasted with hot air from the grill man's tired hair appliance, then think again. At Fengzhua Chuanqi, that sheep has sailed, and it has been replaced by chicken.
It's a lively restaurant at the entrance to Fangjia 46 that draws hungry patrons from nearby Hot Cat Club and El Nido with its six varieties of crispy wings (RMB 6). Black pepper, cumin, two levels of "hot and spicy," and an addicting sweet slather of sauce drives the menu, and a wide variety of vegetables, tofu and fruits (yes, we said fruits) play supporting roles. If only there were a bit of ranch dressing or extra barbecue sauce for dipping and a game on the television. But hey, we didn't say this was a sports bar.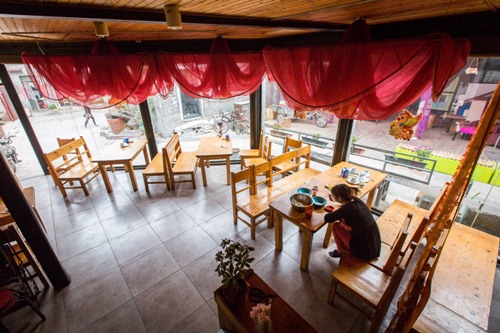 For the fact that Fengzhua Chuanqi is all about the semi-barbaric act of gnawing appendages clean, it's a surprise no bones sneak to the floor. The space is kept spotless. Its picnic table seating and glass walls overlook a patio shared with a longtime hotspot for Yunnan cuisine. Sure, it's nothing compared to roasting a leg of lamb in an alleyway, but with a few Tsingtaos or trips to the neighboring liquor store for vodka and iced tea, you won't even notice the difference.
Must-haves include the tofu skin rolled like a cigar and generously spiced with red pepper flakes, kao mantou, plump round mushrooms, gedatang (dumpling soup), and grilled apples and bananas, all for RMB 2-3 a skewer. Avoid the "roasted bread" unless you like buttered Bimbo (and if you do, then order the boiled hawthorn for a Chinese-style jam and toast).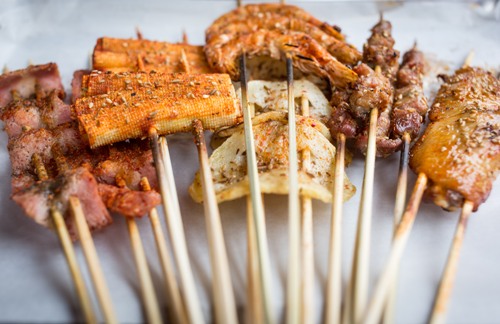 Most importantly though, we've discovered that a trip to Fengzhua Chuanqi is your chance to get peer pressured into eating chicken feet and hearts. Those finger-licking good wings left us too full (cough, cough) to try other bird bits, but don't let that stop you.
Fengzhua Chuanqi
Daily noon-midnight. 46 Fangjia Hutong, Dongcheng District (6400 8388)
凤爪传奇: 东城区方家胡同46号
800m southeast of Andingmen station (Line 2)
Photos: Mitchell Masilun

Visit the original source and full text: the Beijinger Blog