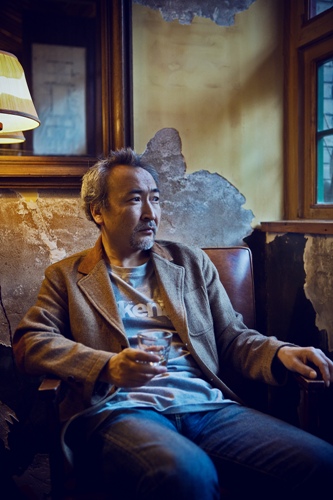 Mixologists who can pair a whiskey sour with a waistcoat never fail to impress, but these four bar personalities are raising the bar when it comes to fashion.
Aluss
Amilal (above)
Aluss' hutong bar is known for its deals on hard-to-find whisky pours and a decorative touch of ornaments from his native Inner Mongolia. Amilal also doubles as a private studio where Aluss features his own photography. You'll often find him there donned in retro clothing plucked from Beijing's vintage shops.
Personal style: retro and rustic
Drink of choice: Caol Ila Whisky. "I like the smoky taste of a single malt."
Kevin Song
d lounge
"Everyday I dress differently. During the week, I dress in a more classic style, but during the weekend, I have more fun with it.
Style mantra: Every bartender uniform at d lounge is different because every person is different. So if one bartender likes to wear a certain color, I let them do it. I want the staff to be known by name, and you remember a person by what they're wearing."
Drink of choice: Miss Lou, a cocktail dedicated to his girlfriend. It's Tanqueray Gin, lemongrass, lime peel and rosemary syrup, fresh lemon, lychee water, and muddled lychee and cucumber garnished with a twist of lemon peel.
Guilty pleasure garment: Suspenders. I own four different pairs.
What he's wearing: Custom-made suit from Yashow and a locally-designed watch from I.T.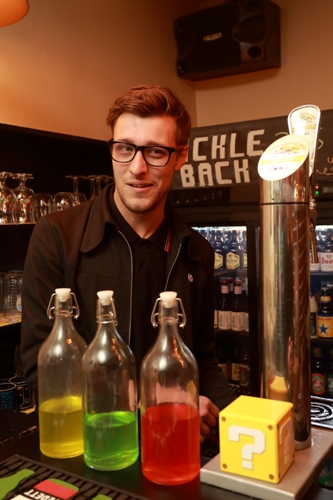 Dale Irons
8-Bit
DJ, writer, and bartender, Dale Irons is a man of many talents. One of those is knowing how to create an atmosphere for Beijing's first bar dedicated to video games, which is why he keeps three large beakers of Skittles Vodka behind the bar – Ms Pacman (lemon), Yoshi (lime), and Super Mario (strawberry). "It's fun, lighthearted, and a bit childish."
Personal style: A little nerdy and a little sporty, perfect for a go at Mario Tennis on the N64
Drink of choice: Pickleback (a shot of whiskey chased by a shot of pickle juice). "It's scientifically proven to have electrolytes in it, and it's tasty."
Favorite place to shop: Taobao
What he's wearing: A Ben Sherman polo shirt and jacket fitted with a Mod pin. His glasses were custom-made in Andingmen.
Rain
Cellar Door
"I wore a suit when I worked as a receptionist at an international hospital. But they wanted me to wear black shoes without high heels so that I wouldn't make any noise. One day, I wore a pair of white shoes I really liked that matched my shirt, and they got really pissed off at me. I prefer working at a cafe or bar where I can have more freedom."
Drink of choice: Beer
Personal style: "Safe and simple"
Favorite place to shop: Zara
Guilty pleasure garment: "Socks and tights. I own 100 pairs."
 
Photos: Ken

Visit the original source and full text: the Beijinger Blog