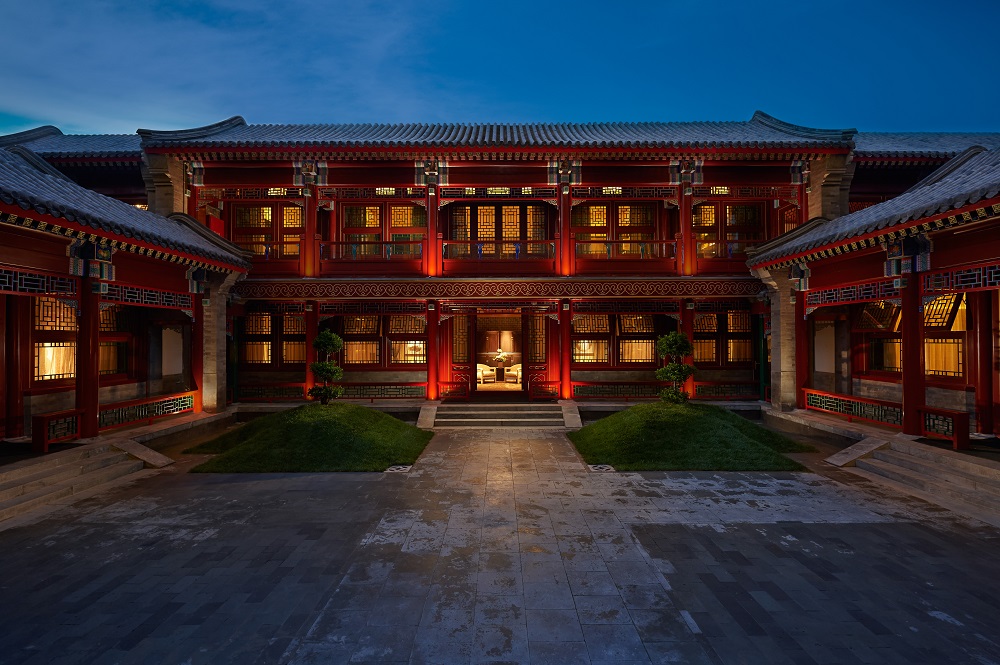 The Waldorf Astoria Beijing
Chef Guo Fei lifts the sizzling meat from the pan to a plate, but he knows his work is far from done. In fact, one of the most important steps comes next: the dish's aesthetics. He considers the intricacies of those visuals in the same way he chose the ingredients, and refrains from making those decisions in isolation, instead getting feedback from his kitchen team. It's an entirely new way of cooking that the Waldorf Astoria Beijing sous chef embraced in 2015, after the hotel offered him a life changing opportunity to study at a gastronomy festival in France this past summer, which included a two day stint in the two Michelin-starred Paloma restaurant. 
"It was amazing! Just imagine being able to work with more than 300 chefs at the festival, and then to have a few days working in the Paloma kitchen. It was a dream come true," Guo says as he reflects back on 2015, while also looking forward to sharing stories about that trip with old friends and neighbors during the downtime of the Spring Festival holiday. This Chinese New Year will not only conjure memories of his astounding 2015 experiences, but also deep nostalgia for all the Spring Festivals he had as a boy in Beijing's winding hutongs. Below Guo, along with fellow colleagues in the concierge, F&B and marketing departments, share their fondest recollections of 2015 and other Spring Festivals long passed, along with their hopes and dreams for the forthcoming Year of the Monkey. 
 


"At Paloma I learned how their Michelin chefs work, and quickly saw that the concept was totally different than what I'm used to. They pay attention to so many details. Four or five chefs might work on one dish – one will do decoration, another might do prep, and the head chef of course handles the main ingredients. You can see that the teamwork is most important, and that if you don't do this the dish can't be successful. I learned a lot.
They made me think about the concepts of the dishes, and how can you match Western elements with Chinese elements. So when I came back I create some new dishes based on that. The best example is the veal cheek. I cooked it half Chinese style and half Western style. We made Chinese paste for it from scratch with spices like cinnamon powder, but cooked it in a Western method. Representatives from Gucci were here for an event recently, and when they tried this dish they loved it. So 2015 was a lucky year for me, we achieved a much higher level. 
Last year was a good year, but I'm glad that it's over and that we can celebrate Spring Festival soon. I enjoy Chinese New Year because it means I can have a family reunion. We stay together, make dumplings together, maybe put a coin in one of the dumplings and whoever eats it has good luck. I will make the dumplings and remember which one has the coin, then discretely sneak it onto my Dad's plate, to make him feel lucky.
 


I hope, in 2016, that I have more time with my son. I'm gone almost all day as a chef. Sometimes he will complain: "You don't have enough time to play with me!" He's eight years old, and I don't think he wants to be a chef like me. He's actually doing very well at Taekwondo. He has reached the red belt level and taken part in competitions all over China. He even won a championship in Qingdao. He's crazy about it, and about UFC. He loves watching that, and when I found out I couldn't believe it.
When I was my son's age, I treated the New Year so differently. Now, as a chef, it's a very stressful time of year with a lot of work to do. But back then, more than 30 years ago, the holiday season was exciting and brought me so much happiness. Beijing was totally different then. There were few hotels and not so many people. My family wasn't rich enough to put good food on the table very often. So we'd constantly look forward to the New Year, when my parents could buy new suits, new toys, and the whole family would come together and eat dumplings and set off firecrackers. It was very special. Not like now, working in a developed neighborhood in a luxury hotel with everything fancy. In some ways every day feels like Spring Festival now. 
As a boy I grew up in the hutongs, near what's now Ritan Park. Now I work at a hotel with a luxury hutong courtyard (laughs). I never would have imagined any of this could happen when I was young. In fact, I dreamed of being a policeman then, just like my father. But my neighbor changed my mind. He was a cook at a tourist restaurant on The Great Wall. We had a very good relation-ship – my family would go there to eat a lot, because it was the hutongs and everyone in the neighborhood was close. And I would watch him make dinner at home and ask: 'How do you make the egg like that?' Or: 'How do you cook the beef like that?' Eventually it inspired me to become a chef." 
***
Waldorf Astoria Beijing Chief Concierge Wang Lei, like Guo, is a lifelong Beijinger who grew up in the capital's hutongs. And just like the sous chef, Spring Festival is a nostalgic occasion for the concierge, and an opportunity to take stock of the transformations in both his personal life and his surroundings. He tells us about those memories, and his hopes for the Year of the Monkey, below. 
"This past year was great because I had the opportunity to finish Les Clefs d'Or China (Golden Key) classes. It's a special concierge training program that teaches you service skills and the teamwork. You learn how to focus on service, and how to do many things for the guests like arranging their itinerary. They even give you golden key shaped lapel pins, which I am very proud to wear. 
I began working at the Waldorf Astoria Beijing when it opened, and before that I worked at the Shangri-La, and then at the Westin in the Financial District. I like working here because it's a top brand, and also because it's close to my home. I'm still single and live with my family, so they are happy that I can have a job that is conveniently located close by.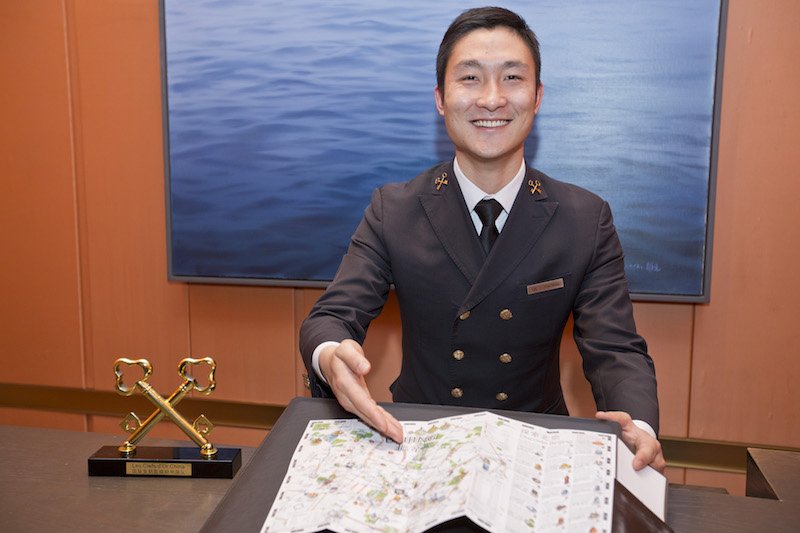 I have lived with my family in this neighborhood for almost all of my life. When I was a boy, this was just a quiet hutong area. Some of my most vivid memories from those times are Spring Festival holidays, because that meant I'd visit my Grandfather's home and make dumplings. After we ate, we'd all play ma jiang together, and eat some local sweet snacks called Dao Xiang Cun that came in rose and green tea flavors, which were a rare treat. 
I still eat those local Beijing sweets every Spring Festival, and I'm looking forward to having them during this Chinese New Year. Eating them is a very nostalgic thing, because they haven't changed much over the years, so the flavor brings me right back to my boyhood. It's one of the few things that has remained consistent over the years. 
Everything else has changed in my life though, it seems. Especially the neighborhood where I grew up, near the Waldorf Astoria Beijing. It's very developed and bustling now. So I look forward to Chinese New Year because most people in Beijing go back to their hometowns, and it finally becomes quiet again. I can leisurely stroll around the neighborhood with my family, nibble on some Dao Xiang Cun snacks, and just have a relaxing time together, just like in the old days."  

***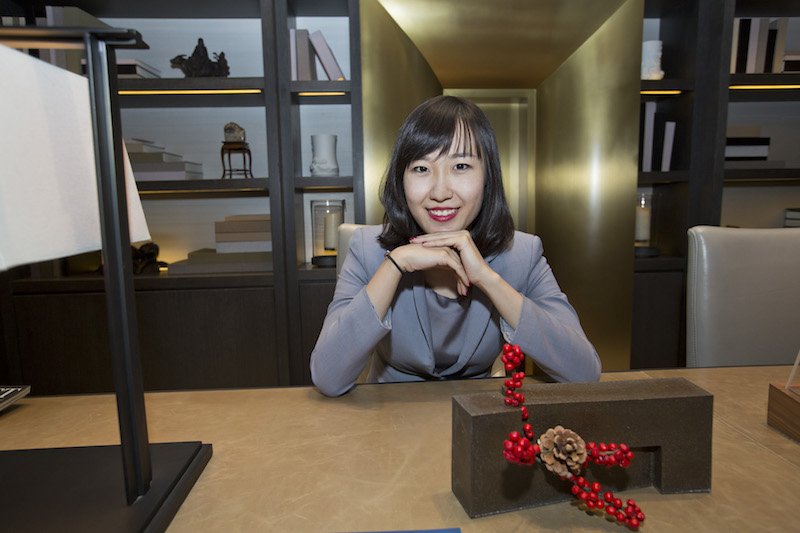 Such sentimentality is not limited to the native Beijingers on staff at the Waldorf Astoria Beijing. Ashley Li, who hails from Shanxi and works as the hotel's public relations manager, says many of her favorite memories center around Spring Festival because the long holiday allowed for "family reunions, and time to visit cousins, neighbors and classmates that I otherwise don't get to see." 
However, Li has had plenty of reunions and major gatherings throughout 2015, a period rife with major professional and personal turning points. As the Year of the Sheep draws to a close, she looks back fondly on those numerous milestones. 
"This past year I changed my job and came here to work at the Waldorf Astoria Beijing. The big difference between the two is the concept and the brand identity. The job duties are similar, but my job in the previous hotel was more PR oriented. Here I'm doing more marketing and communications, so the range is wider. I'm a Sagittarius, so that means I like trying something new (laughs).
Even more important than my job change this year was the new step that I took in my personal life: I got married! We had two wedding ceremonies. One was in my husband's hometown, Baotou in Inner Mongolia. The theme was a winter wonderland, because it was December and Inner Mongolia is so cold. The decorations looked like crystals, all icy whites and blues, very pure colors. It was so beautiful.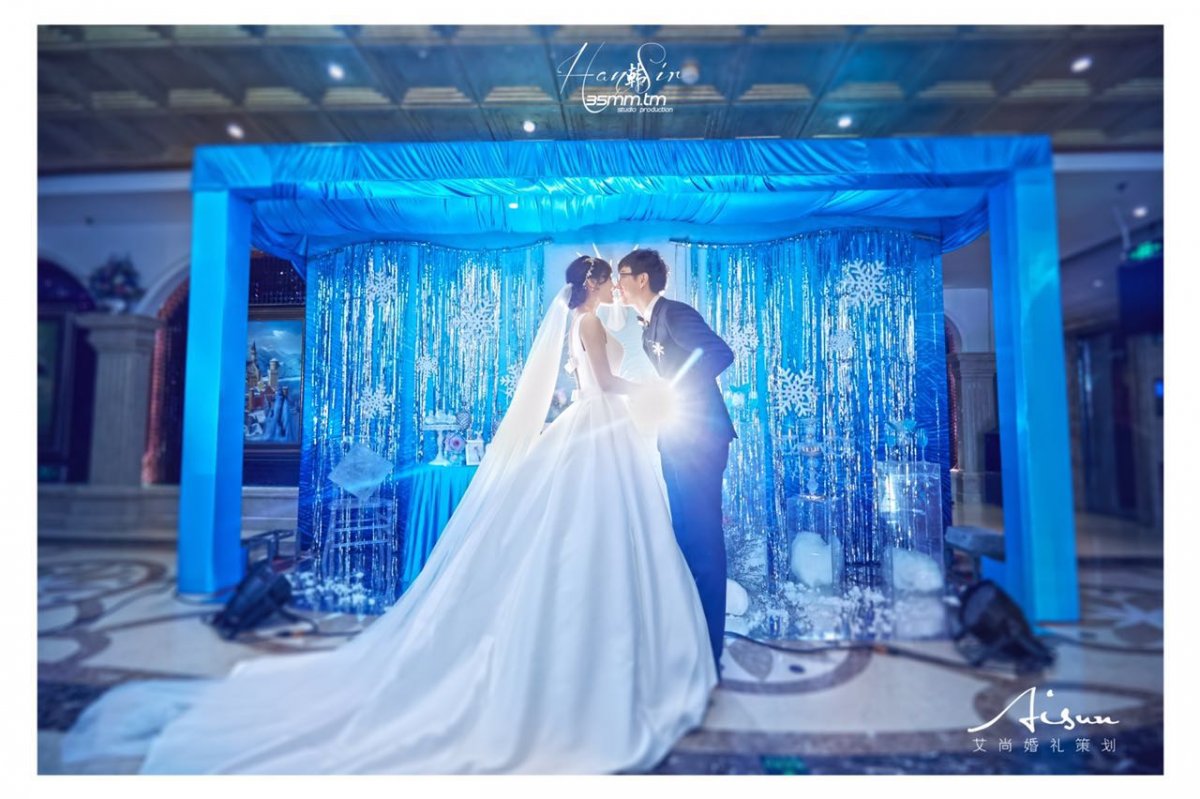 We also had a wedding ceremony in my hometown, in Shanxi. It was more of a traditional Chinese wedding, with the time honored theme of "going back home," or for the groom, "going to her home" to see my family. We did a lot of fun customs, including one where I fed him a range of dumplings – sour, sweet, bitter, spicy, all with strange colors and tastes. He's very clever though, my relatives would ask him: "How does it taste? And no matter what, he'd always say "Sweet." So he's a good husband already (laughs). 
 
No celebration could top my wedding, of course, but I did take part in several fun Waldorf Astoria parties this year. We introduced an ultra-fabulous "Qipao Themed" Ladies Night in September, which we have organized along with Lane Crawford and super sports car brand McLaren. For this event, the first lady to book the evening will get to take one of McLaren's super sports cars for a spin, and the best-dressed ladies for the evening will also get to enjoy the McLaren experience and receive a Lane Crawford Gift Card."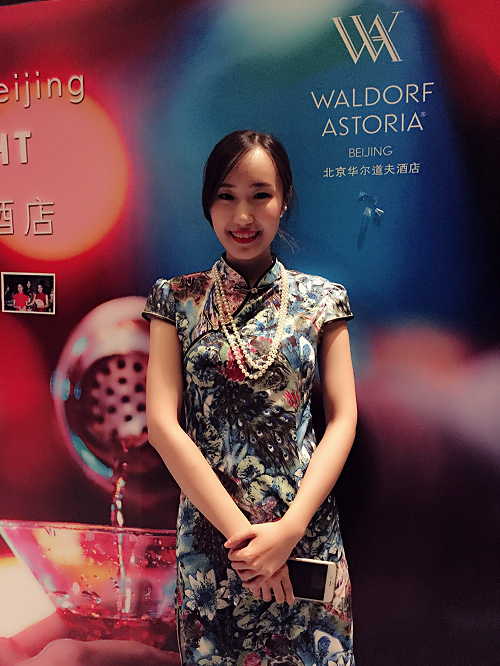 That party was also fun because Lane Crawford set up a Personal Styling Workshop. Their employees taught us about using accessories smartly. I learned that sometimes the simplest accessory is the best, and that colors in jewelry can bring out your best features, just like how the perfect tie on a man can bring out the color of his eyes. Although it's not rocket science, there is still lots to learn.
We also held a year-end party in our exclusive Hutong Villa & Hutong Den on the 12th of November, 2015. The courtyard's underground Waldorf Hutong Den is very private and fancy and there's a beautiful indoor swimming pool and a "movie theatre," so we utilized every facility in the venue and featured a DJ, live performances, a fashion show and interactive dance – all with a non-stop flow of drinks and our signature canapes. It was a great fun!"
 
***

And while much of the Waldorf Astoria Beijing's staff enjoyed watching flicks in the Waldorf Hutong Den's home theater at the year end party, the hotel's F&B employees also relish having a promising film star in their midst on a day to day basis. Bar supervisor Guo "Hanson" Han Xing showcases a Tom Cruise-esque charisma – a la the 1988 rom-com Cocktail – while mixing drinks in the hotel's lobby lounge, Peacock Alley. He also moonlights as a budding auteur, successfully applying to the Beijing Academy of Chinese Traditional Opera this past fall, allowing him to enroll in the esteemed school's film program. Below he tells us more about how his Hollywood worthy rags-to-riches story in the Year of the Sheep, and how he looks forward to realizing his dreams of stardom in the Year of the Monkey.
"Spring Festival was always a happy time for me when I was young, because it meant I had a lot of free time to go see movies. I lived in a small village in Henan, and whenever I had a chance I would go into town and head straight for the movie theater. It would open a window for me into a new, bigger world, compared to my quiet village life. It was a magic time for me. So when I finished high school I decided to go to Beijing, because there would be more opportunities for my dream to come true. 
Zhao "Vicky" Wei is my muse. I love her very much. She is very outgoing, and she is very hardworking – not only as an actress, but also a director and businesswoman. She loves red wine and bought a chateau in France. So she's very successful, she never stops and keeps learning. I want to be the same way. 
I almost feel a bit of a bond with Zhao Wei. She is an actress and works hard to become successful in the wine business. I'm a bartender, and I dream of becoming successful in the film business (laughs). That dream began to come true this year. I took the exam at the Academy and passed, which means I can go next semester and study in their film program. Maybe someday I'll be a famous director, at least I hope. 
I studied hotel management as a backup plan, and then thought I'd pursue filmmaking in my spare time. My first real hotel job was here at the Waldorf Astoria Beijing. I came and applied for work here last year. The F&B manager was a really nice guy. Even though I didn't know anything about alco-hol, he gave me a chance and I caught it. I told him: 'You teach me how to tend bar and make cocktails, and I'll learn. If I can't do it within a week, you can fire me.' I think he liked my enthusiasm.
 
Directing a film is like making a cocktail. For a movie, you use different actresses and actors, and find what works. Making cocktails requires you to use different ingredients. When you finish either of them, they are your creation and they make the people happy, which is very satisfying. When you try a good cocktail or see a good movie, you know what its maker is trying to convey. For instance when you try one of my cocktails, you can realize that I love classic, time-honored traditions by the taste of straightforward ingredients I use.
Right now my goal is to make a five-minute short film with some classmates at the Academy. I'm very grateful for all the opportunities I have been given in the Year of the Sheep. So I can't wait to celebrate that, and my exciting new prospects, with my family during Spring Festival."
 
You too can celebrate Spring Festival with friends and loved ones at the Waldorf Astoria Beijing. The hotel's Zijin Mansion set Chinese New Year menus range from RMB 1,588-plus for four people to RMB 6,888-plus for eight people. The decadent dishes on hand include braised sea cucumber in Abalone gravy, diced spicy Wagyu beef and stewed whole eggplant, braised turtle in sizzling flagstone bowl and much more. 

 
This post is sponsored by the Waldorf Astoria Beijing. For reservations and more information please call 8520 8989.
Photos courtesy of the Walforf Astoria Beijing, Uni You

Visit the original source and full text: the Beijinger Blog