"Health food" has been having a bit of a moment over the past couple of years, spurred on by the likes of Ella Woodward and the Hemsley sisters who have injected a bit of sex appeal into the idea of eating more vegetables and blending your own smoothies. Healthy food without the self-flagellating, hair shirt-wearing aesthetic. 
This is a philosophy that Obentos has embraced wholeheartedly at their new location in Liangmaqiao's Grand Summit complex. In addition to the bento boxes and sizeable salads that they have become known for at their original Central Park location, they have branched out with a new menu of sharing plates, available weekdays after 6pm and all day at weekends. The dishes are loosely Japanese inspired - think ingredients like yuzu, miso, konbu, and red bean - and have a decidedly health-giving bent. You won't find many carbs on the menu here. But you won't find you miss them, as the dishes are packed full of vegetables and proteins such as salmon, pork belly, and beef tenderloin. There is even a handy labling system to tell you which dishes are gluten-free, high in protein, etc. 
A run-through of some of the dishes we tried on a recent visit:
Roasted pumpkin, quinoa, and yuzu miso (RMB 42): A definite favorite, the crispy quinoa contrasted well with the soft pumpkin.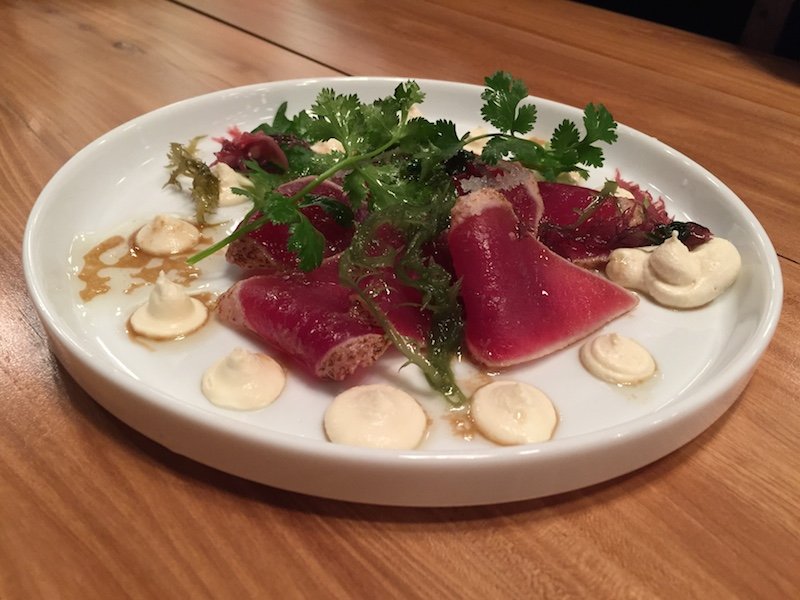 Seared tuna, black vinegar, and whipped tofu (RMB 82): The tuna on this dish is good quality, but it's the whipped tofu that really stands out, with a texture and savoriness unlike any tofu we've tried.
Grilled eel, eggplant, and pickled ginger (RMB 102): Perhaps not for everyone, since eel can be a bit of a "love it or hate it" kind of deal. The pickled ginger played off well against the richer eel and eggplant.
Beef tenderloin, wasabi spinach, mushrooms, and yuzu miso (RMB 98): The beef is cooked sous-vide to maintain a uniform texture. Wasabi fans will love the spinach.
Avocado salad and vinegar (RMB 34): A surprising favorite, the vinegar-y dressing and addition of shiso really make this salad (the avocado is hiding underneath).
Yogurt panna cotta, red bean, and black sesame ice cream (RMB 48): The out-and-out winner. Now, I am not usually a fan of red bean (and by not usually a fan, I mean I hate it) but the combination here of the extremely fine bean purée with the slightly sharp yogurt flavor of the panna cotta is out of this world. Only lightly sweet, this is a dessert that won't make you feel the need to rush down to the gym, although the portion is admittedly quite large, even for sharing.
All the dishes are designed to be shared, but portions don't seem mean. The menu suggests one small plate, two main plates, one side, and one dessert for a party of two to share, but only you know your own appetite.
Fans of Obentos' existing menu can still order all the old favorites (I'm looking at you, teriyaki chicken bento) during the evenings, or supplement their sharing plates with some carbs in the form of noodles or sushi rolls. 
Breakfast - think hearty oatmeal and breakfast bentos - is served from 8-11am Monday through Friday, and 9am-11am at weekends. 
Reinforcing the impression that this is a healthy restaurant with a light-hearted side, the Liangmaqiao Obentos has a daily happy hour from 4-7pm with Asahi at just RMB 20, beers from Japanese craft brewery Baird at RMB 35, house wines by the glass at RMB 28, and Japanese-inspired cocktails at RMB 38.
More stories by this author here.
Email: [email protected]
Instagram: @gongbaobeijing
Twitter: @gongbaobeijing
Weibo: @宫保北京
Photos: Robynne Tindall

Visit the original source and full text: the Beijinger Blog