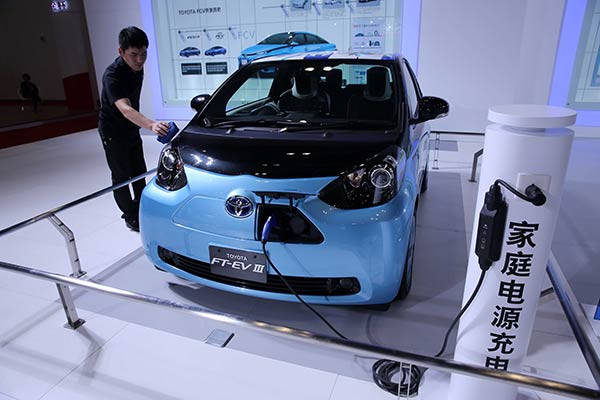 The Guanghua School of Management
Beijing's notorious traffic is not only a transportation quagmire; it's also a primary source of the capital's ongoing air pollution woes. To help ease the environmental pressure caused by auto emissions, city officials have instituted a series of incentives to encourage the city's car buyers to forgo traditional gas guzzlers and go fully electric.  
Chief among those benefits is a generous RMB 60,000 (USD 9,255) government subsidy for buying battery powered vehicles. "These subsides make electric cars very affordable," says Zhang Ying, a Professor of Marketing and Behavioral Science at Peking University, Guanghua School of Management. "China is known around the world for manufacturing inexpensive goods, so in a few years you can expect the country to produce electric cars that resemble the Tesla – but at a third of the price."
Of course there are bound to be those who are still willing to pay a premium for imported Teslas due to their perceived quality and reliability, but Zhang says the American brand's reputation has been tarnished by the news that as many as two thirds of Tesla's costly Model S cars from 2012 to 2013 will need to have the "drive-trains in their motors replaced within the first 60,000 miles." 
However he thinks these quality control issues won't necessarily translate into a boost for domestic manufacturers – local consumers may in fact become even more wary of domestic brands like Beiqi, a state-owned Chinese automaker that offers more inexpensive models like the EV200, which costs RMB 226,900, as opposed to the approximately RMB 650,000 you'd shell out for a Tesla in Beijing. 
"Two thirds of [older model] Teslas having battery issues is not a number I want to live with, especially because they're such super-expensive cars," says Professor Zhang, who adds that the electric car industry can't afford such controversies at this stage, seeing as how precious few customers are sold on battery powered vehicles as they are. "It's a new thing, and with everything new people are skeptical."
But problems aside, how does it feel to actually drive an electric car? More importantly, would it be enough to convince you that it's a worthy investment? To find out I recently took a spin in a colleague's brand new EV200. What I found was an entirely serviceable car, albeit without some of the characteristics of a conventional gas-powered model. 
For one, there's the distinct lack of noise — instead of a familiarly revving engine, this battery powered car drives in almost complete silence, with a barely audible electric whir replacing the more familiar droning hum of a gas-powered engine. 
It's also more subdued on a tactile level, lacking a typical shifting lever and instead sporting a knob that the driver twists to shift its automatic gears – even the usual "P" for parking has been replaced with a simple "N" (for "Neutral"). 
A few of the dashboard features are particularly interesting, including an indicator that displays how much power is left in the car's battery (similar to the ones found on electric bikes and scooters) as well as an indicator for how many kilometers you can drive before the battery runs out. 
The EV200 also comes with a snazzy display screen featuring a GPS and reverse-indicator cameras, as well as HDMI and USB inputs – not bad for such an inexpensive car.
While these features are solid in their utility and simplicity, the downside comes when the battery inevitably runs low. Wang Chen, my colleague's wife, told me that this particular model comes with two battery options: one that lasts for 160km and one that can go for up to 260 km. "Thankfully, we chose the latter," she explains. "Although the smaller option was cheaper, it would have meant that we would have to recharge the car every other day at the rate we've been driving it." She adds that the 260 km option allows her to drive her daughter to and from school, as well as to her office and other parts of town for about five days on average before running low ("We usually go in to charge the battery when it gets down to almost 10 percent," she says). 
Wang is definitely grateful for the extra mileage afforded by her car's more powerful battery. "We usually charge at Huamao and it takes over an hour and half each time to fill up the battery so it's definitely a time investment and something you have to plan your day around." Add to the fact that Beijing still only has a limited number of stations (under 40 within the Fourth Ring Road) and it's easy to see why, like the US, the time-consuming process of charging is the biggest disincentive for owning an electric car in Beijing. 
"Shortly before we bought our car we took an electric cab and chatted with the driver and he told us that he absolutely regretted his decision to drive an electric car," says Wang. "He said that it's particularly bad for e-cab drivers like him in the summer when they often have to wait in long queues and endure smothering heat at the outdoor stations."
City officials have been making moves to address this growing demand by opening up mega-charging centers like this one in Chaoyang, capable of powering a whopping 30 city buses in a mere 15 minutes. There are also plans to build an even larger hub, outfitted with 100 smart charging outlets, near the Beijing South Railway station, and the municipal government has pledged to canvas Beijing with 10,000 rapid-charging stations by 2017, so that drivers within the Fifth Ring Road will never be more than 5km from a station. 
Such developments make Professor Zhang optimistic about eventually purchasing an electric car for himself, but he says that he is holding off for now: "I'm one of the people who is on the fence at the moment … I can see all the benefits and incentives, but I want something I can rely on and that's not too inconvenient, so I say give it a couple of years and let the technology mature a bit."
To spur such stragglers, the Beijing government has offered even more incentives, including discounts for charging (it usually costs about RMB 40 each time you charge up), and allowing e-cars on the roads at all times regardless of the license plate number restrictions on a given day. 
"I have heard that there may be also be lowered road toll fees for e-cars, but I'm not sure how efficiently this could be implemented [because it might be hard to discern which cars are electric at a glance]," says Professor Zhang. 
But perhaps the greatest incentive for now are the much-more favorable odds of owning an e-car over a gas-guzzler: Of the 6.2 million Beijing residents who applied to purchase gas-powered cars in the municipal license plate lottery for the first quarter of 2015, only 36,757 of them were awarded with plates. Meanwhile over 10,000 plates for e-cars were made available in that same period, but only 5,500 Beijing residents had bothered to sign up (by June, around 6,500 applicants were vying for 5,700 plates). 
The number of potential e-car buyers has shot up dramatically since then, but the lanes are still practically wide open for those who are willing to take the leap. Professor Zhang believes that over time, the number of people vying for e-car plates is bound to grow. "Like other sectors in China that have enjoyed such government backing, the market for electric cars will take off because the incentives are pushing it in the right direction," he explains. "The technology will improve and people will feel more [confident] buying them, and we will reach a tipping point when the current concerns about quality will disappear ... and that's when we will see a big boom."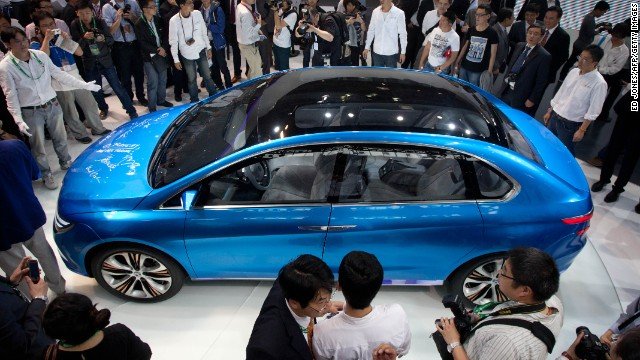 Nevertheless Zhang says government incentives and measures, like making the chargers at stations exclusively compatible with domestic brands, will only go so far. "When you see Beiqis in Beijing and Shanghai, that's the government's doing. It helps the GDP and is a visible way for them to deal with pollution … essentially killing two birds with one stone. But at some point they'll have to be more hands off and let the market decide. Subsides work, but the market works better."
Professor Zhang is even more skeptical that electric cars will significantly reduce the capital's air pollution. "Frankly they won't make that big of a difference," he says, and points out the further environmental problems caused by producing the electric car batteries, which require high amounts of nickel, copper, aluminium and other toxic minerals leading to more acidic waste in the soil. 
Worse still is how a growing population of e-cars could spur even greater demand for electricity and result in the burning of more coal at power plants – all of which would essentially defeat the entire purpose of the e-car initiative.
"We're really going to have to make sure we aren't just shifting the pollution [from the air to the soil]," says Professor Zhang, who adds that it remains difficult to pinpoint the exact causes of pollution, much less reach a consensus. "Everyone has an opinion, but it depends on where they work. If they're in industry, they blame cars, but if they're in the automotive sector then they'll say cars only contribute a small percentage to the overall pollution. No one can really point out 'this is the main reason why we're having the smog.' So I wouldn't hold my breath that electric cars are going to give us more beautiful days. But any difference is a good difference, as long as it's in the right direction."

If any of you would like any clarifications, please leave your question in the comments!  
This has been the third in a series of deep dives conducted by the Peking University Guanghua School of Management  MBA program. The first, exploring the problems with recycling in Beijing, can be read here, and the second about the psychology of shopping can be read here. At Peking University, we emphasize that business in China is more than just management skills. Explore. Discover. China. Learn more at mba.pku.edu.cn/english or read our brochure. Follow us on Twitter, Facebook, LinkedIN and Instagram.
Photos by Uni You and from CNN.com and ChinaDaily.com

Visit the original source and full text: the Beijinger Blog