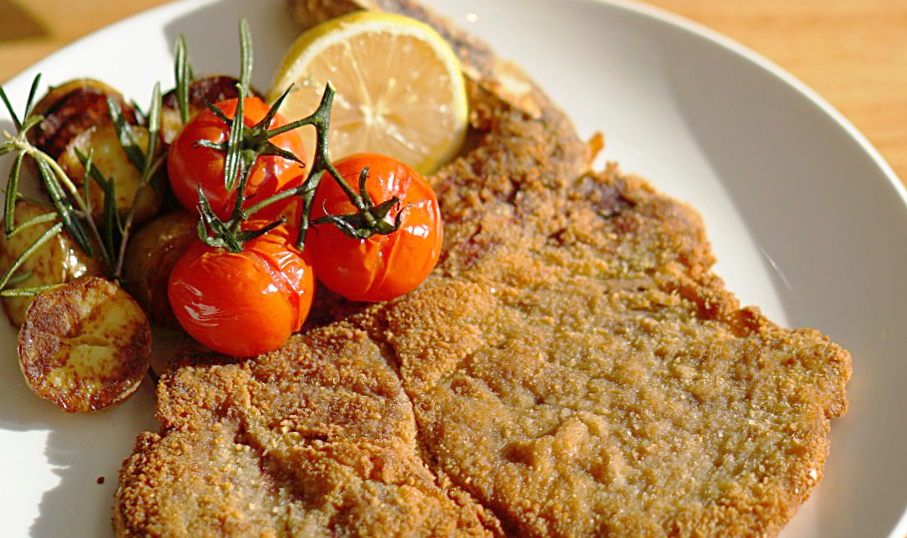 Italian cuisine is one of the world's most prolific cuisines, but that also makes it one of the most ripe for bastardization. The International Day of Italian Cuisines, held every year on Janaury 17, is born out of this very phenomenon, or what they call "the systematic forgery of Italian cuisine and products." Every year IDIC selects a recipe to be cooked and promoted by thousands of restaurants around the world. This year's dish is costoletta alla Milanese, a Milan-style breaded and pan-fried veal chop.
The dish was introduced to us by chef Francesco Sanna, Executive Chef of Via Roma in the Kempinski at Liangmaqiao. Via Roma's costoletta alla Milanese is available from January 17-23, priced at RMB 288 (plus 15 surcharge). The portion is more than big enough to share between two people, leaving you more stomach space to explore the rest of Via Roma's menu.
Each year's chosen dish must be cooked according to a specific recipe. This year's recipe, should you want to give it a go yourself as we did at a recent cooking class at Via Roma, is below. Trust us, it's definitely not as hard as it looks (although you're a better cook than we are if you can make it taste better than chef Francesco).
Costoletta alla Milanese: The Recipe
Serves 4
INGREDIENTS
4 veal chops, ideally bone-in rib eye
2 eggs
1 cup (125g) breadcrumbs
3/4 cup (170g) clarified butter
METHOD
1. Pat the veal chops dry with kitchen paper
2. Crack the eggs into a bowl and beat
3. Place the breadcrumbs in another bowl
4. Dip the chops in the beaten egg, letting any excess egg dripp off before placing in the breadcrumbs. Coat the meat entirely. Pat down the breadcrumbs well
5. Rest in the fridge for at least 30 minutes
6. Place the clarified butter in a skillet over medium heat. Fry the chops until golden brown. Turn the chops once and continue frying until cooked through, abouy 6-8 minutes.
7. Remove from the pan and place on a wire rack to rest the meat.
8. Season with salt and serve warm with a wedge of lemon if desired
More stories by this author here.
Email: [email protected]
Instagram: @gongbaobeijing
Twitter: @gongbaobeijing
Weibo: @宫保北京
Photos courtesy of Kempinski 

Visit the original source and full text: the Beijinger Blog