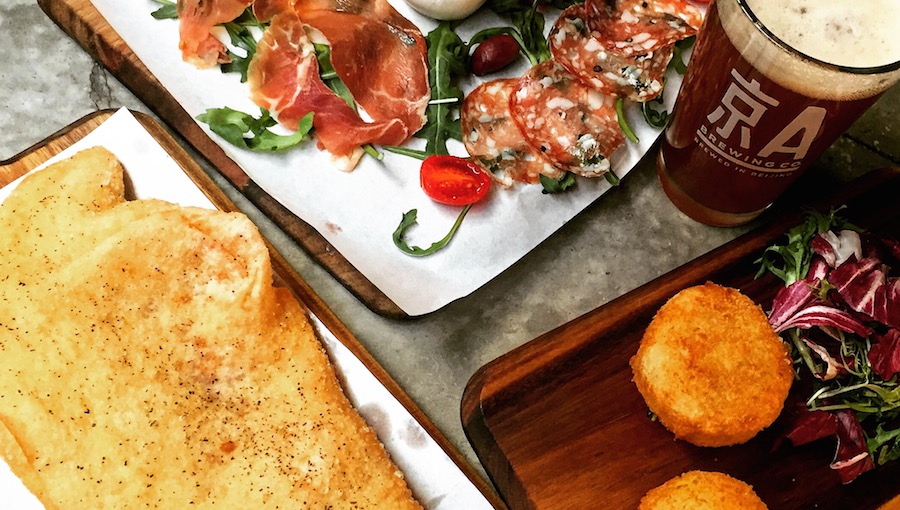 Jing-A Brewing are hitting the ground running in 2016, with their first pop-up "kitchen takeover" of the year happening this Thursday, January 14. This time their kitchen will play host to Bottega, who will be showing that there's more to their portfolio than just wood-fired pizza, with a menu of deep-fried calzone (RMB 50), arancini (RMB 30), and Italian charcuterie (RMB 98). So basically, delicious fried things. All the better to pair with Jing-A's beers we say. Unlike their previous kitchen takeovers, this time the menu is a la carte so there is no need to make reservations or buy tickets. Nevertheless, we suggest getting there early to snag a table, as the union of these two popular venues is bound to have people braving the cold. 
They'll also be debuting their new "Beer Social" deal that night - take a picture of your beer and share it on WeChat or Instagram and they'll give you a free refill. Not a bad reward for 30 seconds of work (no-one said they will be judging your photography skills either).
By the way, that deep-fried calzone is half-price every Monday at Bottega, alongside half-price pints of Kentucky Ale. 
Alternatively, one of our favorite creative Chinese restaurants, Diaoye Niunan, has come out with a series of new dishes, mysteriously dubbed "black technology", which includes a 3D chocolate mousse and a beef consomme distilled tableside. No, we have no idea either. Nevertheless, we've got our eye on the "Hanging Gardens", a layered triple chocolate mousse, topped with a forest made of blackcurrants and green tea crumbles (a bit like a terrarium), suspended in mid-air by a maglev-type contraption.  We're frequent visitors for their signature curry beef brisket anyway, but these new dishes might just have us going back for more. 
More stories by this author here.
Email: [email protected]
Instagram: @gongbaobeijing
Twitter: @gongbaobeijing
Weibo: @宫保北京
Photos courtesy of Jing-A, Diaoye Niunan

Visit the original source and full text: the Beijinger Blog