The Force did more than just "awaken" over the weekend in Beijing, it juggernauted its way to a box office record for a Saturday-Sunday opening in China. The film raked in $53 million (that's upwards of RMB 347 million) in movie theaters across China, including USD 8.1 million (roughly RMB 53 million) on 270 IMAX cinemas. Currently, the film is on pace to overtake Avatar as the highest-grossing film of all-time. However, it still has a ways to go before surpassing last year's Monster Hunt as the highest-grossing film in China.
The January 9 release of the film was the culmination of weeks of hype and warm-up events, including Stormtroopers at the Great Wall. Disney understandably spent a hefty sum promoting their latest franchise in China. Many Chinese products have even latched onto the Star Wars brand. Perhaps you've seen this comical 伊利 print ad in the Beijing subway system. The connotation is clear: Drink 伊利 milk and you too can grow up to be a tall and strong Stormtrooper.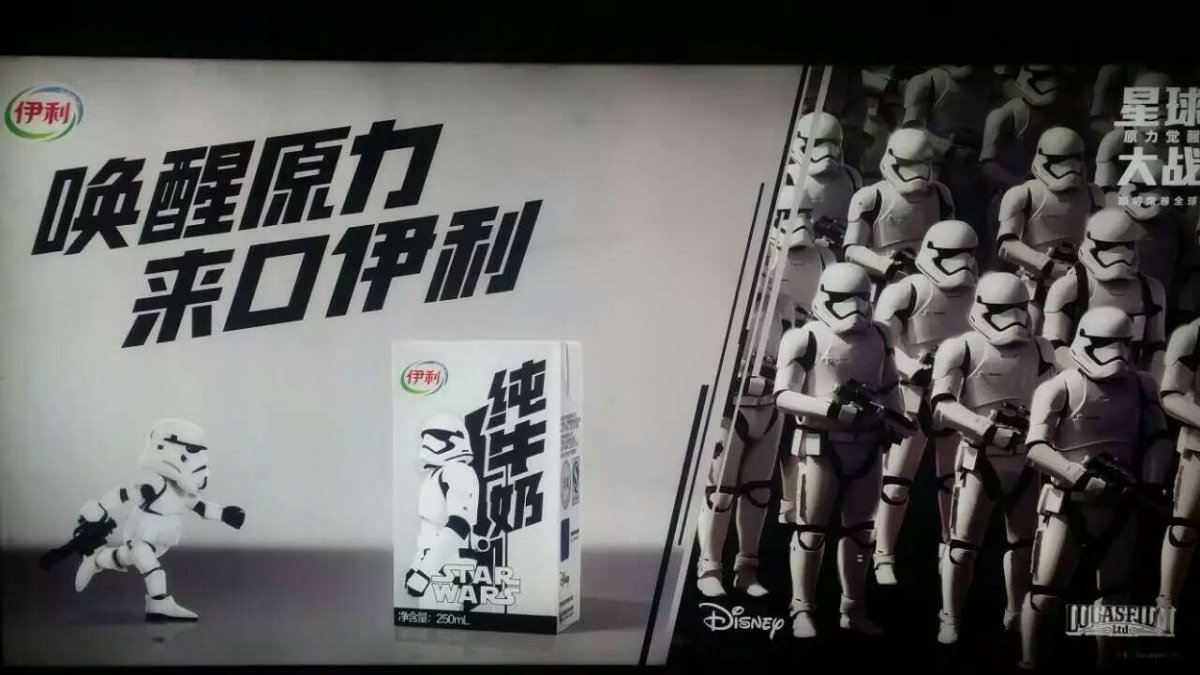 The mania surrounding all that's Star Wars in Beijing arguably hasn't even reached its apex yet. On January 23, Xian at EAST Hotel Beijing is hosting an Imperial Class Star Cruiser Party, which promises to be perhaps the most genuine local Star Wars experience thus far. The 501st Legion China chapter will be present. These guys are some seriously hardcore Star Wars fans, so much so that they don exact replica Galactic Empire garb. The event is free, and will feature food, drinks, music (imagine "The Imperial March" remixed), and games with the 501st Legion.
Images: China.org.cn, Scott DeVoy Su

Visit the original source and full text: the Beijinger Blog