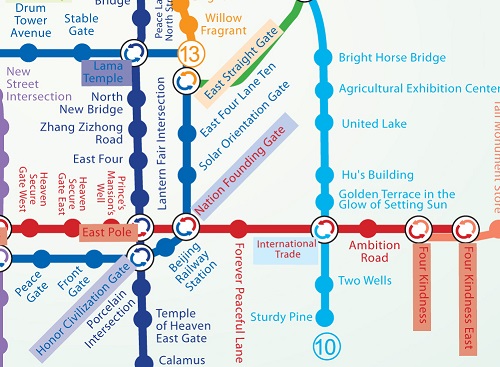 While the Wall Street Journal's take on loose translations of Beijing Subway station names got a lot of coverage when it was published a couple of weeks back, it also copped a fair bit of ire on their comments board (and stimulated the WSJ to respond via a second explanatory post on the translations here).
It seems that with a bunch of ways to interpret any given Chinese word, the unnamed WSJ writer may have archly plumped for the translation that could be considered the wackiest. We're not suggesting that there was any intention to mislead, but comparing the WSJ version with our own 2011 attempt to make some sense of the names of Beijing subway sites, makes for some interesting reading.
Being over three years old, our map translation is short a couple of lines on the WSJ version, such is the swift nature of Beijing Subway development, but some stand out differences include "Dirt Bridge" or "Earth Bridge" for Tuqiao at the end of Batong Line, "Puddle of Accumulated Water" or "Pounding Pool" as the translation of Jishuitan on Line 2, and perhaps most notably "Cholera Camp" rather than "Huo's [family name] Camp" for Huoying on Line 13.
Perhaps it's best to just put it down to some sloppy use of Google Translate. Still, it's refreshing to see that particular shoe on the other metaphorical foot for once.
Photos: blogs.wsj.com/chinarealtime, the Beijinger

Visit the original source and full text: the Beijinger Blog