There's something legitimate about the fact one has to switch off each individual bulb that hangs over the bar at Barista Coffee to keep the place from overheating. For 21-year-old owner Alex, opening a cafe is all about details like these. He takes great pains to keep the atmosphere consistent with a local Western coffee shop, from his jazzy music all the way down to the handwriting on the chalkboard menu – which is why he's practicing cursive.
Then, of course, there's the steam-made coffee. He prepares it with precision, fondly drizzling a steady stream of hot water as if the carafe of his single origin grounds were his garden. The polished result is well worth the RMB 45 a cup because this isn't a coffee you grab while you're headed off to work. This is all about the experience.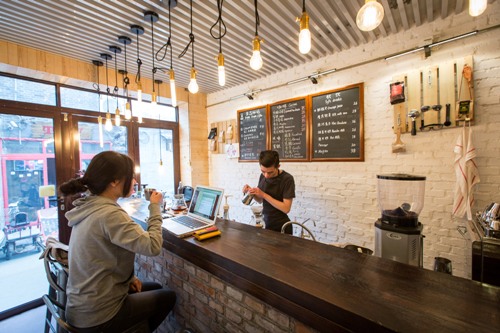 "The first cup of coffee traditionally has to be drunk by the maker," Alex says. This is not only because he takes pride in his coffee, but because this lone barista with slicked back hair cares about the customers – if the coffee isn't satisfactory, he'll make you another one. If you trust him, and you order one of the non-Italian, natural varieties, then you're in for a complex brew that's different every time. Alex orders roasts from countries like the US, Costa Rica and Ethiopia, and his selections frequently change according to his taste and the season. Once he's gone through the three or so bags of each flavor, they're gone forever.
Alex is on his feet all day, sharing with his regulars this intimate coffee culture that's only just starting to take off in Beijing. Every few days, a neighbor stops in to whip up desserts to jive with the java, so expect snacks like mango cheesecake (RMB 35), tiramisu (RMB 25) and warm croissants (RMB 12). Perhaps surprisingly, Alex is also talented at mixing a single cocktail: the mojito, which is on offer in case caffeine isn't enough.
Barista Coffee
Daily noon-10pm. 47 Wudaoying Hutong, Dongcheng District (6416 2575)
东城区五道营胡同47号
500m west of Yonghegong station (Lines 2 and 5)
Also try: Soloist Coffee, Picture My Cup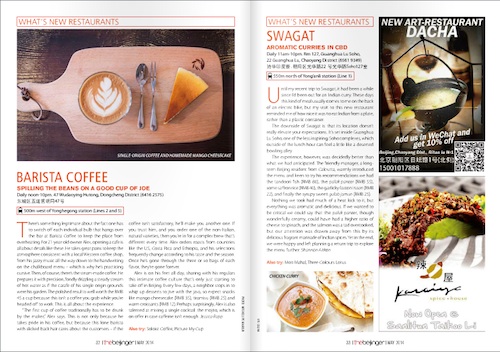 Photos: Mitchell Masilun

Visit the original source and full text: the Beijinger Blog