This series, first published in
beijingkids
, highlights 15 travel destinations within a three-hour flight from Beijing, including South Korea, Mongolia, Japan, and a host of Chinese cities. Admire the gorgeous photos, read about ancient wonders, and whet your appetite for exploration this summer. This week:
Xi'an, Xiamen and Chengdu
. Bon Voyage!
Xi'an
Flight duration: 2 hours
Best months to visit: April to July and September to early November
If you haven't been to Xi'an, then you haven't been to China. One of the Four Great Ancient Capitals, the city was home to 11 dynasties as well as courtesans, poets, monks, soldiers, and merchants. It was the starting point of the fabled Silk Road and boasts a history of over 3,100 years.
Named an "Eighth Wonder of the World," the famous Terracotta Army (兵马俑) consists of nearly 7,000 life-sized clay warriors, horses, and chariots buried with Qin Shi Huang, the first emperor of a unified China. Housed in a 20,000sqm dome, the army was created to protect the emperor in the after life. It is said that no two statues are the same, but it might take you a while to work out whether that's true or not. The RMB 150 admission includes access to both the Terracotta Army and the emperor's tomb. 
On a nice day, you can hire a bike and tour the city walls, some of the oldest and best-preserved in China. Bikes can be rented out from various stations at the foot of the fortifications and are charged by the hour. From a height of 12m, you'll be able to enjoy views of the city.
Xi'an cuisine is influenced by Muslim culture, with lots of lamb and beef dishes heavy in cumin, chili powder, and Sichuan peppercorns. Grab some chuanr at one of the stalls lining Huimin Jie (回民街) or dig into a bowl of famous hand-torn biangbiang noodles. The Chinese character for biang is notorious for being one of the most complex in modern usage; at 58 strokes, it can't even be entered into a computer. Another must-try local dish is paomo (泡馍), or pieces of pita bread in lamb or beef broth. According to tradition, the bread must first be torn up by the customer, then given to the cook to put in the stew. 
Getting There 
Air China and China Eastern operate direct flights between Beijing Capital International Airport and Xi'an Xianyang International Airport. You can also take the high-speed train from Beijing South Station, which takes around 6 hours.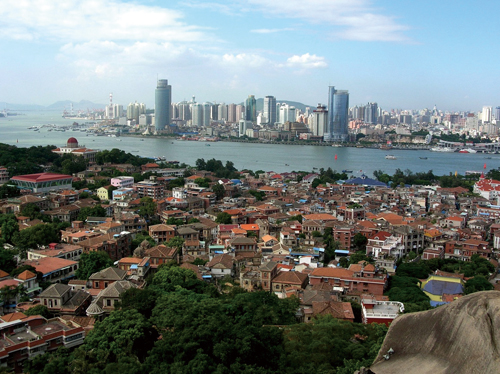 Xiamen
Flight duration: 3 hours 
Best months to visit: April to May and September to early November
Voted China's "most romantic city" in a 2011 survey by the China National Tourism Administration, Xiamen was formerly known as Amoy by European settlers in the 18th century. Due to its strategic location in the Taiwan Strait, the city has been occupied by both British and Japanese forces at different points of its history.
Xiamen is a port city with many narrow streets and a mix of architectural styles. One area worth visiting is Gulangyu Island (鼓浪屿), which was designated a foreign settlement in 1903 and still boasts European-style architecture from this period. The islet is pedestrian-only, allowing visitors to take their time wandering through the tight network of street food vendors, restaurants, cafes, and handicraft stalls.
Nanputuo Temple (南普陀寺) is a large Buddhist temple located just outside Xiamen University – worth a stroll in itself – that has been destroyed and rebuilt several times. Among the local Fujianese, this temple is considered an important pilgrimage site for Buddhists arriving from Southeast Asia. The temple offers a great view of the city, with Buddha statuettes in little grottoes lining the way to the top. Vegetarian dishes are available here, following Buddhist dietary restrictions. 
Just around the corner is Hulishan Cannon Fort (胡里山炮台), a German artillery built in 1894. The site consists of a castle, ammunitions depot, barracks, trenches, and a weaponry museum; kids will enjoy scrambling over the 50-ton cannons overlooking Xiamen Port. The Taiwan-occupied island of Jinmen (金门) can be seen in the distance with binoculars. 
Xiamen food falls within the Fujianese culinary tradition, which emphasizes fresh seafood, woodland ingredients like young bamboo shoots, broths and soups, and light preparation methods such as braising. One must-try snack is oyster omelet (蚵仔煎), which can be found in the night markets along Ding'an Lu (定安路). This fluffy creation consists of egg batter containing oysters and starch and topped with a spicy chili sauce. 
Getting there 
China Southern, Xiamen and Hainan Airlines offer direct flights between Beijing Capital International Airport and Xiamen Gaoqi International Airport. You can also catch the "fast" train from Beijing South Station, but that takes over 32 hours.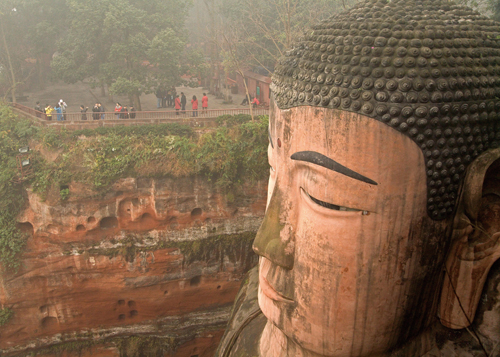 Chengdu
Flight duration: 2.5 hours
Best months to visit: March to June and September to November 
No visit to China would be complete without a moment with the country's most treasured animal: the giant panda. Every day, visitors from China and abroad flock to the Research Base of Giant Panda Breeding (成都大熊猫繁育研究基地) in southwestern Chengdu to get a closer look at the black-and-white celebrities. But that's not the city's only draw; you'll also be charmed by its laid-back vibe, old streets, teahouse culture, spicy cuisine, and boisterous nightlife.
Spring is the perfect season to see pandas both indoors and outdoors, whether at play or gnawing on bamboo stalks. You can even pay to hold a baby panda for the ultimate photo op, but it will cost you – RMB 1,000 for two minutes. But considering there are fewer than 2,000 giant pandas left in the world, who knows? It might be worth the money. During the summer, the pandas get rather lethargic from the heat and can often be spotted sleeping on top of a huge block of ice.  
If you envy the fact that pandas spend their days doing almost nothing, you will most likely enjoy Chengdu's lifestyle. Despite its rising economy, lingering in a teahouse is still an important part of the city's culture. You can spot all kinds of teahouses when you take a stroll; even the Starbucks on the pedestrian street of Kuanzhai Xiangzi (宽窄巷子) is built teahouse-style. If you want an authentic experience, head to Heming Teahouse (鹤鸣茶社) to watch elderly regulars playing mahjong and card games.
Food is the last thing visitors should worry about in Chengdu. The city is renowned for its dizzying array of snacks (小吃, xiaochi). A stroll through pedestrian streets like Kuanzhai Xiangzi or Jinli (锦里) will yield delicious servings of spicy dandan noodles (担担面) and sweet potato noodles (酸辣粉), pork-filled Zhong's dumplings (钟水饺), guokui pancakes (锅盔), and ye'er ba (叶儿耙), a type of glutinous rice cake steamed in leaves. For hotpot, head to the well-known chain Huangcheng Laoma (皇城老妈), where you can also watch a "face-changing" (变脸) show in which Sichuan opera performers rapidly switch between masks.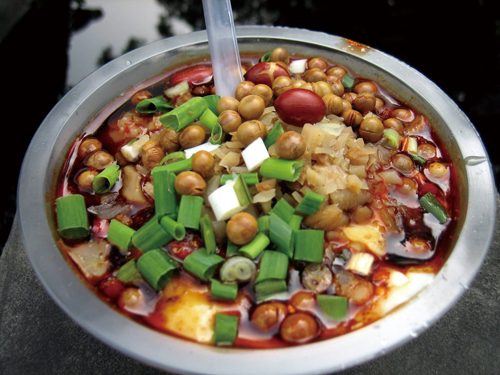 Getting there
Many airlines – including Air China, Sichuan Airlines, and Hainan Airlines– operate direct flights every day between Beijing Capital International Airport and Chengdu Shuangliu International Airport. You can also take the train from Beijing West Station, which takes 16-24 hours depends on the train's speed.
Photos: courtesy of Palindrome6996, Eviltomthai, Wit, Richard Fischer (Flickr), Fotopedia; Jakob Montrasio (Flickr); Chi King (Flickr), Dvyang, Prince Roy, CrystalCloudless, Hipnos, Jason.Huang (Flickr)

Visit the original source and full text: the Beijinger Blog