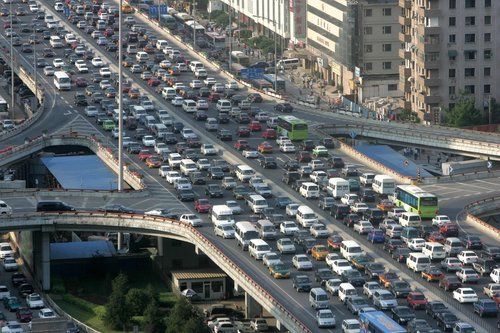 Just in case six ring roads weren't enough for Beijing, a new outer expressway ring road is already under construction, passing through Hebei and stretching almost 1,000 kilometers.
With all but about 100 kilometers in neighboring Hebei province, the new highway is designed to decrease travel times from many parts of Hebei and both Beijing and Tianjin to one hour, and to push traffic not destined for Beijing around the city to reduce pollution, according to WantChinaTimes. Included as part of the highway network is Zhangjiakou, the main non-Beijing site for the city's bid for the 2022 Winter Olympic Games.
The Beijing Municipal Government has floated the idea of pushing some government offices to nearby areas in Hebei, including Baoding and Langfang, in order to reduce congestion and pollution in the city center. Atlhough the plan has not yet been confirmed, real estate prices in Baoding have already risen on speculation that the move will be approved.
Beijing certainly could have used more roads during the May 1 holiday (we know, more roads doesn't necessarily mean less traffic, don't leave a comment). By 9am, almost 500,000 vehicles were heading out of the city in various directions, creating in one instance a 55-kilometer jam on the Beijing-Tibet Highway. That must have been fun.
Photo: wikipedia.org

Visit the original source and full text: the Beijinger Blog