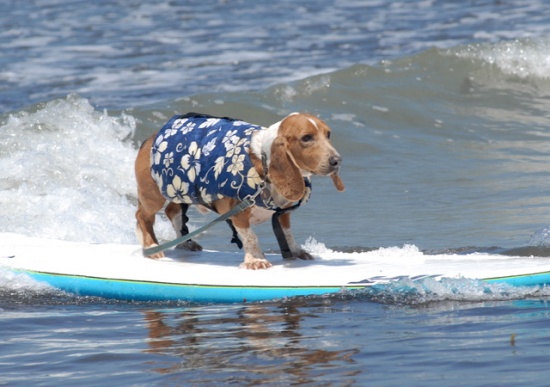 As vacation season gets underway, families are making plans for summer holidays and extended home visits. For pet owners, this poses the question of whether to take the family pet home for the holidays before returning back to China.
You can take your pet home for the holidays but keep in mind that each time you take your pet out of or into China, it is treated as an "original" exit or entry. This means that you must fulfill the PRC exit requirements for pet export outlined in last week's blog on Leaving China with Pets.

Exiting China with Pets
After arriving in your home country, it's best to begin the process of preparing your pets to depart from your current country immediately. Owners must usually begin the process for export at least 30 days before the departure date but this may vary by country so please check with your country's Quarantine Bureau, Agricultural Bureau or relevant government agency for pet export requirements.

To import pets into China, owners must prepare:
Official certification of recent rabies vaccination
An official certificate from your current country (e.g. Quarantine Bureau, Agricultural or relevant government agency) for exporting your pet outside of the country
A health certificate (or letter) prepared by your veterinarian in your current country, attesting to the health of your pet
Check out the Importing Pets into China page on the ICVS website as it provides detailed information and also an example of how to prepare for taking pets out of the US and into China.
RELATED – Dog Days Are Coming: Prepare for 2014 Registration Period
RELATED – Dog Gone: Leaving China With Pets
In recent years, China has stepped up enforcement of its mandatory quarantine requirements for pets entering the country. The current national regulation requires pets to be quarantined upon arrival in China for between seven and 30 days depending on the country of origin. For pets entering China from the US or Canada, quarantine is 30 days. For pets entering from most European Union countries and countries such as Singapore, Japan, Australia and New Zealand, quarantine is seven days. This is a guide but you should check regularly with ICVS as we work closely with the Entry-Exit Inspection and Quarantine Bureau to keep abreast of latest regulations.

Booking airline reservations for pets during summer also presents a greater challenge for owners as more airlines, especially US air carriers, are imposing "summer blackout" periods. This means that from mid-May to mid-September, pets may not be permitted to be checked-in as excess baggage. In these instances, pet owners have two other options:
1. Bringing the pet into the cabin as carry-on luggage, provided the pet is small enough to be stowed underneath the seat in front of the passenger.
2. Shipping the pet as unaccompanied live animal air cargo.

Most pets that are larger than a medium-sized cat or a Chihuahua are probably too large to be stowed underneath an airline seat, so cargo transport may be the only option. Shipping pets as cargo usually requires hiring a professional pet relocation company or cargo agent to handle the freight forwarding and additional paperwork. Cargo transport is usually more expensive than checking in pets as excess baggage.

Most of the PRC airlines may not have "summer blackout" policies so excess check-in baggage for pets is still permitted. PRC airlines do not allow pets in the cabin due to public health regulations, but these policies may change over time as more travelers with pets demand this service. Owners are always advised to exercise greater caution during the summer as higher ground temperatures may subject pets to the risk of hyperthermia, respiratory distress (especially for the brachycephalic or "snub-nosed" breeds), heart disorders and even heat stroke during the hottest months of the summer.

For many pet owners, navigating the export and import requirements combined with travel costs and quarantine requirements may make summer travel with pets unfeasible. Finding trusted friends and experienced pet owners to look after your pets or boarding your pets at reputable animal hospitals may be a more practical solution.

ICVS offers full-service boarding under the supervision of licensed and professional veterinarians and nurses. Visit the Pet Boarding & Kenneling information on the ICVS website for details. Or attend the free information session "Departing from China with Pets" to be held at ICVS on Saturday May 17 at 11am. RSVP by May 16 to confirm your attendance.

Visit the ICVS website for detailed information on pet importing and exporting, relocating to other cities within China, pet travel crates, tips for safe air travel, professional pet relocation companies and contact information for the Entry-Exit Inspection and Quarantine Bureau.

Follow ICVS on Weibo, Twitter and Facebook.

Mary Peng is the Co-Founder & CEO of International Center for Veterinary Services (ICVS).

Photo: petfinder.com

Visit the original source and full text: the Beijinger Blog