If you're looking for a lazy weekend, Spoonful of Sugar's brunch in Dashilanr at 59 Tieshu Xiejie is worth checking out. RMB 168 gets you your choice of salad and sandwich plus an omelet or quiche, a dessert plate and a cocktail. They also just launched a set of gorgeous gift boxes featuring a selection of inventive chocolate bon bons (flavors like white chocolate with chilli and Mandarin orange or dark chocolate with erguotou).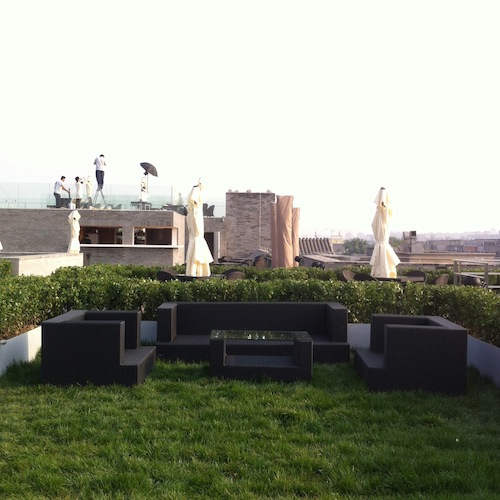 The rest of the afternoon can be whiled away roaming the hutongs of Qianmen with a late afternoon coffee at Soloist or an evening cocktail on terrace of Capital M or the lovely rooftop at the new Emperor Hotel on Xinyukou Hutong off the Qianmen pedestrian street.
Starting May 1, Green T. House Living in Shunyi is offering special summer party packages. The deal is aimed at groups of 80-150 with prices beginning at RMB 150 per guest for drink packages and from RMB 288 for private dining (email here for a personalized quote). I was out there late last August, and it is quite a stunning venue. The White Pavilion, where events are held, possesses a certain surreal, Alice-in-Wonderland quality, while the food – which falls largely into contemporary Chinese cuisine – matches the space in inventiveness.
The deal on party packages runs until June 15, but even if you don't have a chance to pull that many people together, it's worth a trip out there with a smaller group for a special occasion. They've also just come out with a new menu for spring which liberally uses tea in dishes like jasmine dusted pork ribs and an oolong-roasted sea bass.
In Gulou, the much beloved Cafe Zarah has finally reopened after several months' closure for renovations. The wait has been worth it as the space has almost tripled and now includes courtyard and rooftop seating as well as an more open and airy main room with a vaulted ceiling and floor-to-ceiling windows. I'll be posting a more extensive look into the space, so keep your eyes out for that if it's of interest.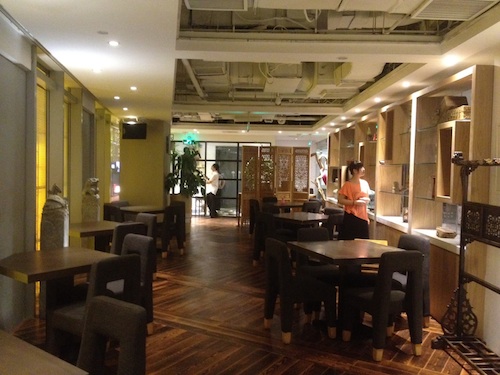 In the nearer future, Karaiya Spice House will be reopening in a few days, potentially as early as May 1. The Hunan restaurant from the Hatsune group closed its Taikoo Li South location a few months back but have relocated just next door to the original location. Chili fiends, get psyched.
Photos: Cat Nelson, Kristen Lum
More stories by this author here.
Email: [email protected]
Twitter: @haimei_baole
Instagram: @haimei_baole
Weibo: @cat_nelson

Visit the original source and full text: the Beijinger Blog