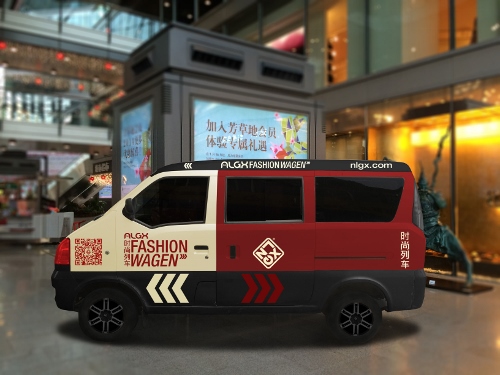 Parkview Green is gaining another retail space, but this time, it it's not a shop – not in the traditional sense at least. In what's considered a new concept for Beijing's shopping malls, NLGX is steering in a transformed mianbaoche (a Chinese "bread van") into Parkview Green's main foyer (Level B2).
The 'Fashion Wagen' will feature products including NLGX's own line of recycled, woven newspaper bags, t-shirt designs for men, women, and kids, gifts, accessories, and KOMMUTE bike-centric apparel.
What's especially neat is they'll have a station for mailing gifts back home in the set up, and for their opening weekend, NLGX will offer free shipping for all domestic gift deliveries and half off all shipping overseas. Also joining them are
Dienastie
, the Swedish sunglasses brand, and
United Kranes
footwear. Check them all out starting May 1.
I recently discovered this cute little shout out to Trash & Diamond on design website eightsix.co, which features their shop's concept drawings from local architect Caopu. If you still haven't been, go check it out. It's a refreshingly well-designed and creative space, despite being a small-sized secondhand boutique.
And speaking of worn clothing, don't cut the shoulder pads out of that blouse just yet – Nostalgia, the vintage shop and editing studio on Andingmen Nei, is celebrating its first year anniversary and want their fans to join them at their shop for a party on Wednesday, April 30. Hitch up your tweed trousers and fluff up your puffy-sleeved dresses for a night of old films, booze, food and swing dancing.
Photo: Courtesy of NLGX

Visit the original source and full text: the Beijinger Blog