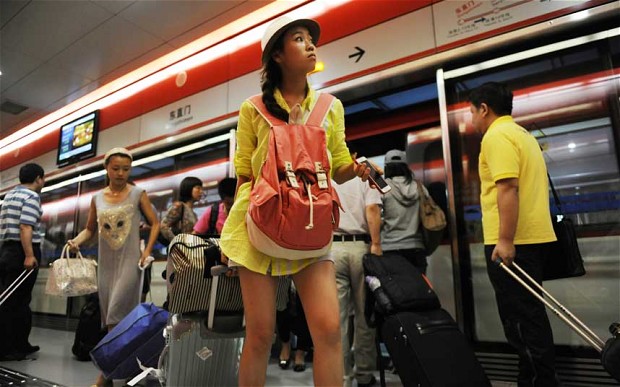 If you're anything like me, just the thought of riding the Beijing subway is enough to get hot and bothered, and not in the good way. But there is one advantage to a daily commute – intense and unadulterated close physical contact with strangers, as Lu-Hai Liang writing for The Telegragh endeavored to explore.
A boring commute combined with a wager and an assumed lack of attention from the ladies elsewhere led Lu-Hai to become 'that guy': the one that hits on you because you're trapped with nowhere to run. Under these circumstances, the subway cart is transformed from a stuffy mobile mosh-pit of baijiu breath, where in and out is all you can think about, so to speak, into the worst party in which everyone brought their phones but no booze and not grinding isn't an option.
RELATED: Literal English Translations of Beijing's Subway Stops and Beijing's 'Most Beautiful Subway Map'
It appears that phones were in this case the general public's savior-cum-chastity belt, allowing them to gaze awkwardly away all the while heightening peripheral vision in case of attack. But no need to worry, all ends well for our carriage creeper as he secures a date with the only person paid not to dash – an unsuspecting member of staff. We wish them the best of luck.
Photo: The Telegraph

Visit the original source and full text: the Beijinger Blog