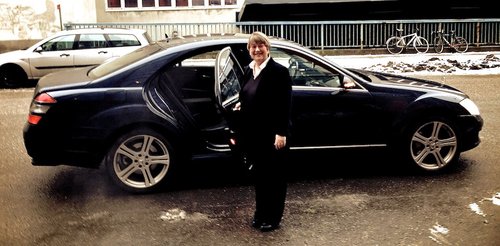 Adding Beijing as its 100th city, car-on-demand service Uber arrived this week, seemingly just in time for the 2014 Beijing Auto Show.
In one of the most boring, softball interviews we've ever read, Uber's Head of Global Expansion Austin Geidt said "Who am I to say I know how Beijing works more than the local who really knows the fabric?" That's good because clearly she doesn't know a lot about Beijing, calling it a city of "11 million" people. Oh boy.
Base rate for the cars is RMB 18, but the minimum fare is RMB 30, as indicated on its website. There's also a charge of RMB 0.70 per minute and RMB 3.85 per kilometer. For now, service is limited to Chaoyang District, although using the site's fare quotation function,  for a trip to the airport from the China World Trade Center, the price was given as RMB 300. And by the way, for now payment is with international credit cards or Paypal. That may provide an advantage for Uber users visiting Beijing from elsewhere, but perhaps not for Beijingers themselves.
We didn't book a car, but, bearing in mind the current limited service area, we requested Shuangjing to Gulou. That was quoted at over RMB 400 because the system identified Shuangjing as being in Tianjin. For the China World Trade Center to the Kempinski Hotel came in at RMB 43-54. Cars used, as indicated on the website, are the Audi A6, the Mercedes-Benz S-Class, and the Lincoln Town Car Signature, the latter a model just introduced to China this week.
Beijing is Uber's fourth city in China. Users in Shanghai indicate that it's you-get-what-you-pay-for: expensive, but good service (if you can get a car). Might be worth a try for a special occasion. Until then, the Beijing Subway is just lovely and still only RMB 2 per ride.
Photo: cngulu.com

Visit the original source and full text: the Beijinger Blog