Brunch is the de rigueur celebratory meal for many in Beijing, but the same old format of endless platters of seafood and lukewarm chafing dishes can get a little stale after a while. Thankfully, Agua has come to the rescue with their Infinity Brunch: order as many dishes as you like from a menu of made-to-order brunch favourites with a Spanish twist. 
Available on Saturday and Sunday from 12pm to 3pm, unlimited food will set you back RMB 298, with an extra RMB 168 securing free-flow drinks, including cava, Spanish Mimosas, Bloody Marys, Sangria, and red and white wine. 
Among the standout dishes was a well executed beetroot Alaskan salmon eggs benedict, complete with perfectly poached egg (a definite advantage of the made-to-order menu).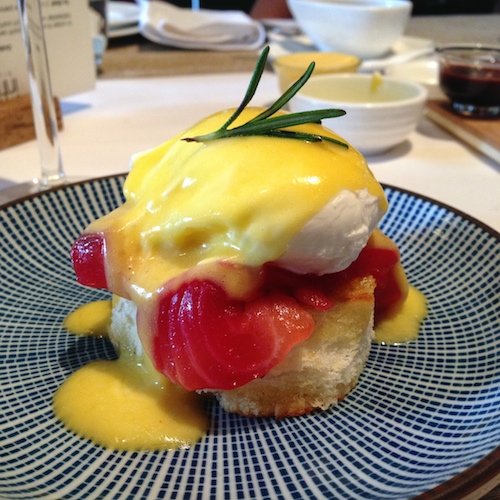 Other favorites with our party included the Agua seafood paella, the sunny side up duck eggs with hash browns and chorizo, and the green pea soup with feta cheese. 
Be sure to save room for the four dessert options, which, although on the sweet side, were a nice light way to end the afternoon.
Service is slightly erratic and it took us a while to flag someone down for our first round of drinks, but we expect this will improve as the weeks go on and Agua will become a firm favorite on the weekend brunch scene.

Twitter: @gongbaobeijing
Instagram: @gongbaobeijing
Weibo: @宫保北京
Photos: Cat Nelson, Robynne Tindall

Visit the original source and full text: the Beijinger Blog