Coming Home, a new film from director Zhang Yimou will be released on May 16th. The drama tells the story of a Chinese man (Chen Daoming) who flees to America after an arranged marriage with Li Gong's character. Following the protagonist's return he is sent to a labor camp, I guess for being a non-attentive husband to the beautiful Li Gong. These details are yet to be disclosed. 
This film will be Yimou's second collaboration with novelist Yan Geling, the first being The Flowers of War, three years ago. Also, the film will be a reunion of sorts for Yimou and Li Gong, who were at one time an item and worked together on some of the more well known films of their careers, including Raise The Red Lantern and Red Sorghum.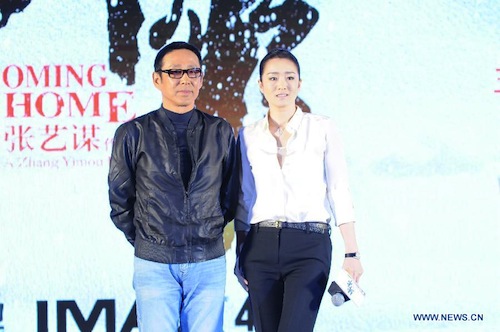 Zhang Yimou described Coming Home as a love story of joy and tragedy, where he tried to return to his early days of film making, focusing mainly on the narrative and developing realistic and deeply emotional relationships between the characters, and less on flashy Hollywood style effects. 
Lucky for us, l there won't be any Hollywood stars hamming it up and sharing the bill. It has been my experience that these collaborations haven't rarely worked well for many co-productions made in mainland. Christian Bale's character wasn't really convincing in Flowers of War, and Adrian Brody in Back to 1942 was kind of a joke. Though these are great actors, they probably lack the supervision needed for a successful bilingual script.

Visit the original source and full text: the Beijinger Blog