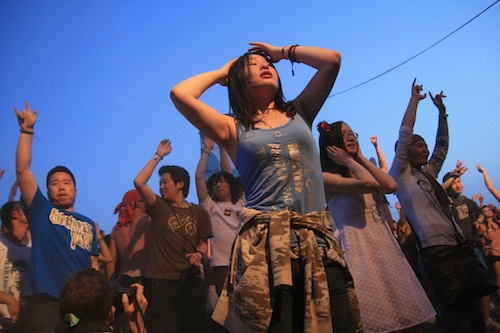 It's shaping up to be a great season of music, with numerous international and domestic artists bringing the heat to the capital to help you cure those summertime blues. Here is your one-stop guide to the most notable music festivals of the next three months, including everything you need to know; how to get there, ticket information, and what you might expect from each of these celebrations.
MIDI Music Festival
This year's festival season of rock & roll mayhem begins with MIDI on May 1-3. Now in its 14th year, MIDI began in 2000 as an exhibition for students of the Beijing Midi School of Music, and quickly became one of the biggest live events for Chinese and international artists. Surely a must see event for any music lover. RMB 120 (advance one day), RMB 300 (advance three-day pass) and RMB 150 per day at the gate.
Transportation: This year's edition will take place near the west 6th ring road, at the scenic Kuangbiao Sports Paradise in Haidian District. Take Buses 22, 16, 367, 387, 302, 331, and 300 to Bei Taipingzhuang station and walk west 300 meters on the north side of the road. Go here for more information.
Thursday, May 1


U.N. TANG Stage
:
Diu Huoche

Rolling Bowling
LMT Connection (Canada)

Dawanggang

Queen Sea Big Shark
Yaksa

Larry Graham & Grand Central Station (US)
Xie Tian Xiao 

Mini-Song Stage:

The Big Wave

IGUBand (Taiwan)

Broke (Denmark)

Sound Toy

Masterplan (Denmark)
Nova Heart
Liquid Oxygen Can
Suede (UK)


Zhanguo Stage:

Loulan

Penicillin
Dark Haze
The Bennies (Australia)
Saving Molly

Wang Weima

Naty (Korea)

Dongzi

Sonar Lights (US)
Misandao


Jäger-Yuan Stage:
Beekoo
X.Lee

Ouyang

Eddie Lv

Oshi


Friday, May 2


U.N. Tang Stage:

Toy Captain

Island Mood
Noukilla

Tomahawk
Orphaned Land (Israel)

Muma
Lacrimas Profundere (Germany)

Miserable Faith


Mini-Song Stage:

Velvet Highway

Randy Abel Stable

Steely Heart

Emergency Gate (Germany)

Iron Kite

Evocation (Hong Kong)
AK-47

Bubble Beatz (Switzerland)


Zhanguo Stage:

Sucker

Zakka

Zuo Bin
Larry's Pizza

WHAI

The Shamans

The Falling

Red Robe

Anthelion (Taiwan)
A.J.K.


Jäger-Yuan Stage:
Shen Yue

Eric Lee

Poppy
Yang Bing

Mickey Zhang


Saturday, May 3
U.N. Tang Stage:
Nine Treasures
LYS (France)

Namo
Los Amigos

Zhao Lei

Sound Fragment

Twisted Machine

Escape Plan


Mini-Song Stage:
Bubble Beatz (Switzerland)

Twinkle Star
Won

Elliot The Bull (Australia)
Suffocated

Subs
Bonaparte (Switzerland)

Reflector


Zhanguo Stage:
Black Mint
Chenmi

Nuoer

Feng Tian

The Ignition (Germany)

Egofall

Flat Foot (Sweden)

Residence A

D.O.A. (Canada)

Sick Pupa


Jäger-Yuan Stage:
Baozi

Harry Ho

Jerryson Tsui
Jerry K
Dio
Strawberry Music Festival:
Modern Sky's Strawberry Music Festival is probably the nation's hottest music festival, spotlighting the best of punk, metal, and electro talents from China and beyond. This three-day music rager explodes during the May holiday (May 1-3) at Tongzhou Canal Park. RMB 480 (advance, three-day pass), RMB 260 (door, one-day pass), RMB 680 (door, three-day pass).
Transport: The fest will be held at Tongzhou Canal Park in the southeast corner of Beijing. Ride the subway to the Batong extension of Line 1, get off at Tongzhou Beiyuan, and take exit A, then continue on to Xinhua Xi Jie, where you can catch bus 322 or 342. Take either bus east until you reach Dongguan Da Qiao. The festival is held on the north end of the park along the canal.
Thursday, May 1
Strawberry Stage:
Xie Tian Xiao
Lure
Mr. Chelonian
Cut Copy (Australia)
Zuoxiao Zuzhou
Zhang Qiang & New Pants
Justice (France)
Love Stage:
Twinkle Star
tfvsjs (Hong Kong)
83 Days (Taiwan)
Casino Demon
Su Yang
Blue Foundation (Denmark)
Tongue Q
Satellite Stage:
Poshangcun
Zhong Tongqian
Mi Zang
Owlle (France)
Streets Kill Strange Animals
Shotgun Revolution (Denmark)
IZ
Sina Music Stage:
Sang Quan
Sparrow
White+
Free Tango
Yu Tan
Carsick Cars
Zhang Ling & Old Gun Blues Band
Heavy Caliber Stage:
Heavy Duty
Nuo Er
Lacerate
Nuclear Fusion G
Egofall
Scream Maker (Poland)
Suffocated
Alienware MAE Electronic Stage:
K.O.O.S. (Netherlands)
Rainbow High
Electronail (France)
Bite-Sized Buddha}
Dexter
Mauro (Italy)
Atoned Splendor (UK)
BaseString (Netherlands)
Outsiders (Netherlands)
VJ: Clockwork Q
School of Rock Stage:
Watermelon Can
Wedge Cut
京P•318
Lady First
Black Mint
4U
Leaves
B-Side
Friday, May 2
Strawberry Stage:
GALA
Ma Fei
Longshendao
Club 8 (Sweden)
Re-TROS
Secondhand Rose
Chen Qizhen (Taiwan)
Love Stage:
Cha Liang Fen
Yao 13
Shuangzi Yu Ci
Hedgehog
Ma Tiao
Low Wormwood
Hanggai
Q•Satellite Stage:
The Fallacy
Saint-Michel (France)
Lost Cloud
Self-Education
Song Yuzhe
Gandhi
Da Bang
Sina Music Stage:
Silver Ash
Hualun
Xiao Laohu & Tang Ren Ti
Snapline
Sandee Peng
Subs
Yang Gima
Heavy Caliber Stage:
Keep Silent
xIt Never Happenedx
Gum Bleed
641
Liquid Oxygen Can
Silent Hill (Taiwan)
Persefone (Andorra)
Alienware MAE Electric Stage:
Da ZhaoGao
Square Loud
Jackson Lee
Danny Flora (UK)
BB Deng
XLF
Weng Weng
Warren Fellow (Netherlands)
VJ: Clockwork Q
School of Rock Stage:
Jin Yang
Panda Eyes
Pink Lie
Li Boning
Kongbai Shijie
Teshurenwu
Chenmi
Saturday, May 3
Strawberry Stage:
Peng Tan
A Si
Lu Guangzhong (Taiwan)
Explosions in the Sky (US)
Song Dongye
Maggie Cheung (Hong Kong)
HIM (Finland)
Love Stage:
The Big Wave
Glow Curve
Ma Di
Supermarket
Waa (Taiwan)
Zhang Weiwei & Guo Long
Hao Yun
Q Satellite Stage:
Spice
Gebituan
Gangzi
Dept.
Chui Wan
Mňága a Žďorp (Czech Republic)
Alcest (France)
Sina Music Stage:
Fire Bell
Joe & CC
Da Fei
Hoochie Coochie Gentlemen
DH & Chinese Hellcats
The Life Journey
P.K.14
Heavy Caliber Stage:
Nerve Resistance
Virus Base
The Samans
Multi-Ego
Tookoo
Four Five
Swallow the Sun (Finland)
Alienware MAE Electronic Stage:
Shackup
Yauman
Veeeky
Sulumi
Blackie
Howie Lee
Oshi
AC Slater (US)
VJ: Clockwork Q
School of Rock Stage:
Seven Fun
Veg Car
Snowman
All Unknown
Dizzy Monkey
Icy Whiskey
Play Now
TYTS
INTRO Electronic Music Festival
Beijing's INTRO Festival will be on May 24. Since its founding, INTRO has established itself as the premiere electronic music event of the year. This annual showcase presents the best of China's thriving electronic music scene in a one day event that will take place again at the amazing Shougang Capital Steel Factory. The organizers have also informed us that German audio giants Sennheiser will be showcasing their and K-Array's new state of the art PA system, and it's probably the biggest that Beijing has ever seen. Advance tickets will be RMB 180 before May 10th and RMB 240 after.
Transportation: Shuttle buses will be running from Wudaokou and Gongti's East gate. Stay tuned for more details about bus times. 
Main Stage:
XLF
Mickey Zhang
Wengweng
Huang Weiwei
Dave K
Diva Li
Elvis T
Ouyang
Juliana Lima
Nee Bing
The Syndicate Bass Stage powered by Sennheiser:
Clir
Blackie
Donkey Tonk
Kay C
Chole
Howie Lee
Conrank
Yauman
Shackup
Einar
Fløøød
Oshi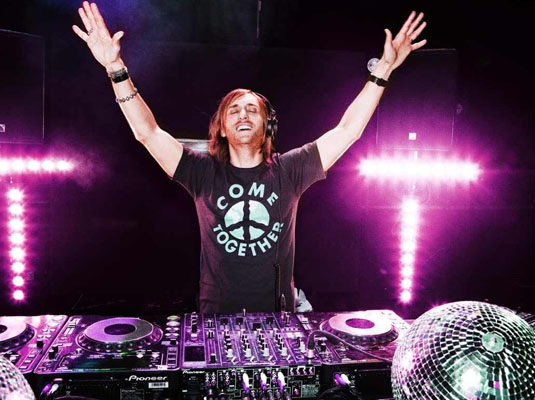 The Great Wall Music Festival
Escape the city on June 1, and kill two birds with one stone by finally checking out the wall accompanied by a killer soundtrack from world famous DJs like Armin Van Buuren, Afrojack, and Paul Kalkbrenner. This is definitely the biggest party of the summer, and each year they add more notable DJs to spark up the festival grounds with beat heavy tunes to make you cut a rug at China's most famous landmark. Tickets are RMB 400 (advance). Cost includes bus transport. RMB 200 (advance) without transport. They are available at Yugong Yishan, Kokomo, Fish Nation, and Serve the People.
Great Wall Stage:
Armin Van Buuren
Afrojack
Don Diablo
Apster
D-Wayne
DJ Mag Stage:
Paul Kalkbrenner
Technasia
Anja Schneider
Supporting DJs:
UFO DJs
DJ Spark
Mansun
Ghost
Chill
Kami
Frankie Lam
DJ L
Jimmy H
DJ Neo
Ouyang
Xiuyang

Gotta catch 'em all!
Photos: tomspender, lumdimsum, shanghaiwow

Visit the original source and full text: the Beijinger Blog