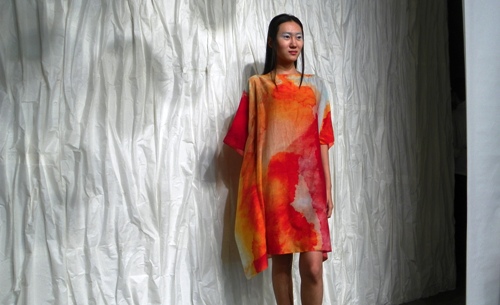 Kathrin von Rechenberg showcased her new SS2014 collection at her beautiful courtyard studio just as the weather was turning warm, and I couldn't decide whether I was more awed by the Chinese-inspired prints and tea silk or the papier-mâché balloons that dotted the open-air foyer. Maybe I shouldn't have to – after all, those balloons (and snack bowls and the invitations), matched the Japanese washi paper featured in several stunning garments.
Rechenberg has delivered her usual wrapping, irregular pleating and draping techniques through youthful and airy, yet sophisticated cuts. I was yearning to take home a blouse whose design was characteristic of the pop of warmth she debuted in her last spring/summer collection, this time a fiery marbled orange and red silk. I overheard members of the show's audience expressing that they wished collection 23 featured even more prints like the last, but it seemed like it was the crinkled cream-colored washi's turn to steal the stage.
I personally couldn't take my eyes off the floor-length tea silk satin shirt dress (pictured above). Its material looks deceivingly heavy for the summer, but its silhouette and flow are graceful enough to get away with it. Its best parts: wide rolled sleeves and cross-body detailing that evoke a playful feel, contrasting masculinity to the peekaboo leg, wrap design. Can't wait to see more of this.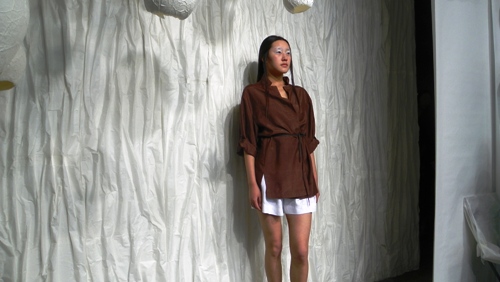 For more photos, check out her website here. To purchase pieces in her new collection, visit her studio.
Photos: Jessica Rapp

Visit the original source and full text: the Beijinger Blog