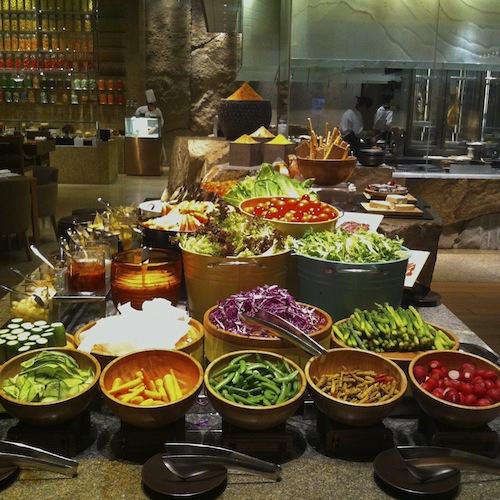 Brunch for dinner? Well, not exactly, but the concept is close enough. Kerry's Kitchen has begun a new dinner (daily 5-10pm) called "Feast-ival" where for RMB 198+15 percent you can eat until you're ill – or for anyone with a modicum of self-restraint, just until you are full. From salad to dessert, everything is without limits.
The salad/appetizer island and dessert bar are set up buffet-style (free for the taking!), while mains are made-to-order and can either be ordered table-side or, for the restless, grabbed at the cooking stations yourself. You will recognize the salad and appetizer selection as a fairly standard brunch line-up with olives, sun-dried tomatoes, fresh lettuce and salad vegetables, a charcuterie and cheese platter, plus amusingly giant baskets of bacon and crispy Parma ham.
The innovative part of the dinner lies in the mains, which you can order with abandon. The menu presents six "signature mains" – a homemade fish noodle soup (Tom Yum), Hong Kong-style tiger prawns, Australian lamb loin, Surf All The Way (crispy cod), braised beef cheek and beef rib-eye. We went family-style so we could try one of each with the crispy cod, the lamb loin and the fish noodle soup making the greatest impression.
Besides the six signatures, a variety of other mains can be ordered, from Japanese items like sushi, sashimi, yakitori and tempura to a variety of protein heavyweights broken down into "red meat" (Australian beef tenderloin, Korean beef short rib), "white meat" (chicken breast, chilli lime chicken wings) and "seafood" (cod fish with sambal chilli, salmon fillet). Staples including Indonesian fried rice, Hainanese Chicken rice, and laksa plus a selection of classic sides like balsamic cherry tomatoes and garlic mashed potatoes are also on menu.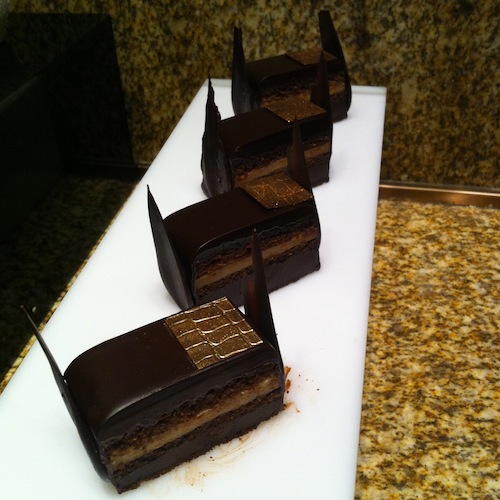 And dessert? You might be tempted to stuff yourself on the savory, but you'd certainly be remiss if you skipped a scoop of the macadamia nut ice cream.
Searching for a stuffing? Look no further. Try one of the many buffet restaurants Beijing has to offer.
Photos: Cat Nelson

Visit the original source and full text: the Beijinger Blog