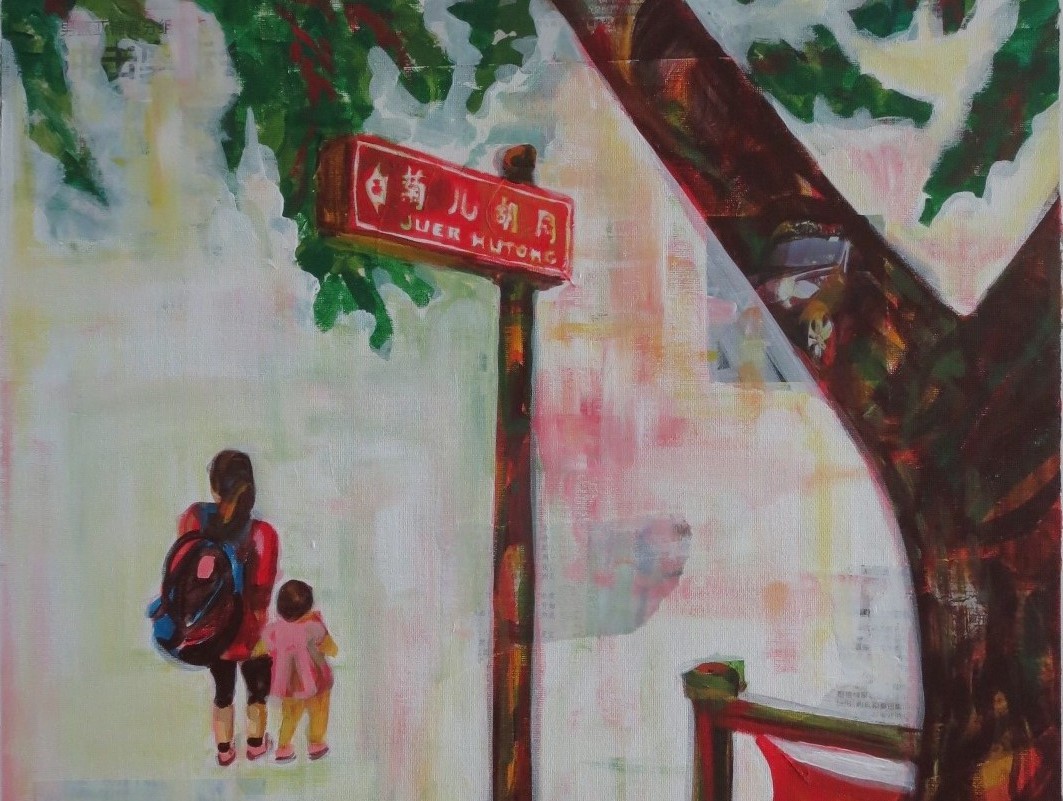 This Saturday (Sep 19), Aurora Bewicke's solo exhibition The Cracks Are How the Light Gets In opens in the Meridian Space. Ahead of its launch, we speak to her about her background, inspiration, and favorite hutongs.
Is this your first solo exhibition?
In 2003, I held a solo show in an arts café named, a bit mysteriously "Offer Roses with a Person" (the name of the café, not my show), but due to the SARS epidemic, I wasn't able to hold any formal opening or related event.
What are the themes of this exhibition?
I wanted to capture a specific moment in time in Beijing. Specifically, with the 2022 Beijing Olympics just announced, I began reflecting on the changes I have witnessed since 2001, particularly to the hutong areas. These last remaining buildings are being upgraded and converted into commercial establishments at a rapid pace. Having come of age in the 90s, the "grunge" aesthetic is deeply embedded in my psyche. I used stained fabric scraps and ripped newspapers to mimic Beijing's vanishing, aged beauty. The use of fabric is also a homage to female artists of ancient times, who were largely relegated to the textile arts, rather than the male dominated painting and, here, calligraphy spheres.
The exhibition is personal in many ways, reflecting on the relationship between being an outsider in a city that has also been home to me for most of my adult life. While the "foreigner in Beijing" theme can become a bit of a cliché, I felt it a necessary angle to explore as I plan to relocate back to my native US, where I've barely lived as an adult.
What is your favorite piece, and which hutong/area is it about?
My favorite piece is the installation, because it is the most conceptual. It's entitled "My Sino-American Curtains" and was crafted with locally found and purchased objects, like baijiu bottles, stuffed pandas, and the distinct red flowered Dongbei fabric. I actually hung the curtains in my own hutong windows for a couple weeks. My neighbors were seeing the same object, but from a different perspective, much like how Americans and Chinese approach Sino-American relations, each from their own distinct lens.
The remainder of the pieces are more narrative and easier to access for those not as into art as philosophy. Among these, the fabric collaged piece based off of a corner of Shoubi Hutong I pass daily and the mixed media acrylic painting of the sex shop on the corner of Ju'er Hutong and Jiadaokou are my current favorites. The first, because it feels the most personal, the second because it makes me laugh.
What is your favorite hutong to explore?
I should really start a Ju'er fan club because I'm really into the hutong I currently live on. In fact, I was contemplating staying in China for six more months, but since my landlord sold my Ju'er flat (to someone who is going to knock down the quirky 1980s interior), I decided I would just leave Beijing this October. Most of the pieces in the show are of Ju'er Hutong or just a few minutes away by foot.
Aurora Bewicke (aka "Borealish") is a painter, performance artist, writer, and lawyer from New York. She holds a minor in Fine Arts from St. John Fisher College; studied studio art and art history in Florence and Rome, Italy; and completed one year of formal painting studies at the State University of New York at Buffalo, where she also began learning Chinese. In 2001, she moved to Beijing, China on a Freeman-ASIA grant to study art and Chinese language. Between 2003 and 2010, she lived in a number of other countries, including Eritrea, Egypt, The Netherlands, and Kosovo. She has exhibited her work at shows and events in both China and the US. Samples of her work may be found at: www.borealish.com/visual-art.html.
The opening party on September 19 runs from 3-6pm, including violin performances. The exhibition itself runs until September 25.
More stories by this author here.
Email: [email protected]
Instagram: s.xuagram
Photos courtesy of the organizers

Visit the original source and full text: the Beijinger Blog