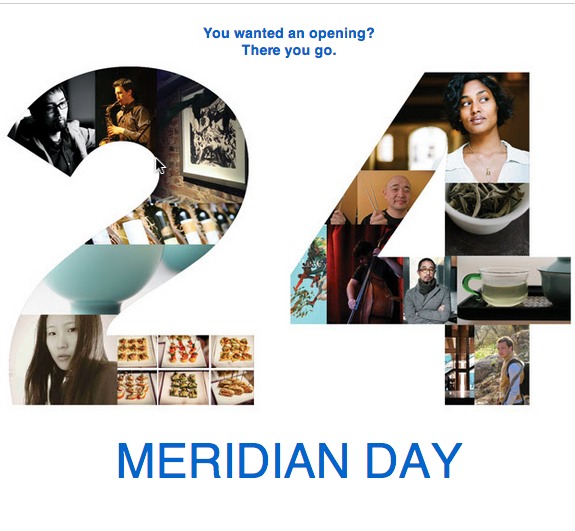 The new Swiss Army Knife of creative spaces, located at the Culture & Creative Park at 77 Meishuguan Hou Jie, is having its 24 hour grand opening this weekend. Meridian's prerogative is bringing together creative people from every spectrum, including art, music, film, design, and food. Then putting them all under one roof just to see what happens. Here is a complete rundown of their entire day of programming. 
Starting this Saturday, April 19, the day will begin with breakfast at their & Cafe, followed by a 10.30am lecture with Architect / Designer Wang Hui. He will divulge about his sources of inspirations and his work process, through a series of his most recent projects. 
From noon-2pm the chefs from Fatface dining will be cooking up a storm of healthy epicurean delicacies. The lunch buffet costs RMB 100 per person, and includes seven courses of fusion cuisine plus a drink. Book in advance before Thursday.  
Afterwards there will be a lecture on tea, featuring specialist Cha Xiaoyin and porcelain artist Dong Quanbin from 3-5pm. Seats to this are very limited so make sure to make your reservations early. 
A mouth-watering dinner set (RMB 60) will be provided from 6-8pm serving up deliciously crafted food and irresistible drinks, designed especially for this evening. Adding to the vibe will be the B+ improv jazz trio. Make your reservations here. 
After dinner, at 9pm there will be a short documentary film screening of Life Cycles. The film by Derek Frankowski and Ryan Gibb explores the exciting adrenaline pounding world of mountain biking through the eyes of a couple of its extreme personalities. The screening is free, and marks the beginning of an ongoing series of illuminating films that will be presented at the space. 
The final event of the evening, from 10-midnight, is a special performance from the Sinotronics collective, where Charm (Josh Feola) will perform a hybrid live/DJ set featuring some tracks from the upcoming compilation, followed by experimental electronica from MMS + Menghan. This is a great chance to experience this incredible group of innovative noise makers in a very curated and unique environment. 
Check out the Meridian Space online for the complete details to this epic event. 
More community events:
Photos: meridian-online

Visit the original source and full text: the Beijinger Blog