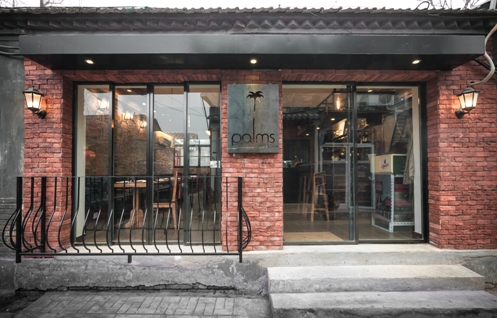 "Everything I am comes from kimchi," declares Roy Choi. He's the godfather of the fusion between Korean and Mexican foods, a nouveau cuisine that took the Los Angeles streets by storm half a decade ago. His creation has skipped across the Pacific – you'll find bulgolgi burritos in Seoul's hippest neighborhoods – and landed in Beijing's hutongs, replete with the pickled product.
Fermentation features prominently – though not exclusively – in Palms LA Kitchen's menu, crafted by City of Angels natives with items like kimchi fritters with sriracha sour cream (RMB 25). "Loaded fries" topped with Korean-style refried pork and cheddar, naturally, have a sprinkling of caramelized kimchi – the highlight of a dish that could do with a bit more of a load to compensate for average fries. And a kimchi quesadilla (RMB 48) satisfies, demonstrating it's hard to be disappointed by cheese.
The star children of this fusion cuisine are tacos and burritos – the tradition of Korean barbecue wrapped in tortillas and shells. Options range from kalbi (beef rib) to spicy chicken and more traditionally, carnitas – with tacos (RMB 38-45 for three) and burritos (RMB 45-56).
If the phrase "Korean-Mexican fusion" still raises eyebrows, lower them – and lift up a glass. The signature cocktails (RMB 50) are outstanding. The grassy taste of yerba mate-infused vodka permeates El Imigrante with a bit of sparkle lent by Sprite, while a tie-dye-colored LA Water makes for a successful riff on a Long Island Iced Tea.
Yes, there are misses (an oddly-textured guacamole, scant on the avocado), but, with cocktail in hand, we support them in concept and in kimchi.
Palm's LA Kitchen and Bar
Daily 11.30am-midnight. 14 Zhangwang Hutong, Dongcheng District (6405 4352)
东城区张旺胡同14号
450m south of Guloudajie station (Lines 2 and

Also try: Cantina Agave, Saveur de Coree or see what Beijinger's thought was the best Mexican in our 2014 Readers Restaurant Awards.
Photos: courtesy Palms LA Kitchen and Bar

Visit the original source and full text: the Beijinger Blog